Looking at Bollywood and cricket's happily-ever-afters!
Few things are as celebrated as cricket and movies in our country. And when the stars of these two spheres unite, it's glamour heaven.
Aren't we all curious to catch a glimpse of Bollywood's leading lady cheering for her sporty beau from the VIP stands or show up hand in hand at red carpet events?
Sadly, many alliances of this nature seem to have a rather short shelf life. Be it Reena Roy-Mohsin Khan, Mohammad Azharuddin-Sangeeta Bijlani, Shane Warne-Elizabeth Hurley or, the recent reported split of Virat Kohli-Anushka Sharma, they're all instances of high-profile romance gone kaput.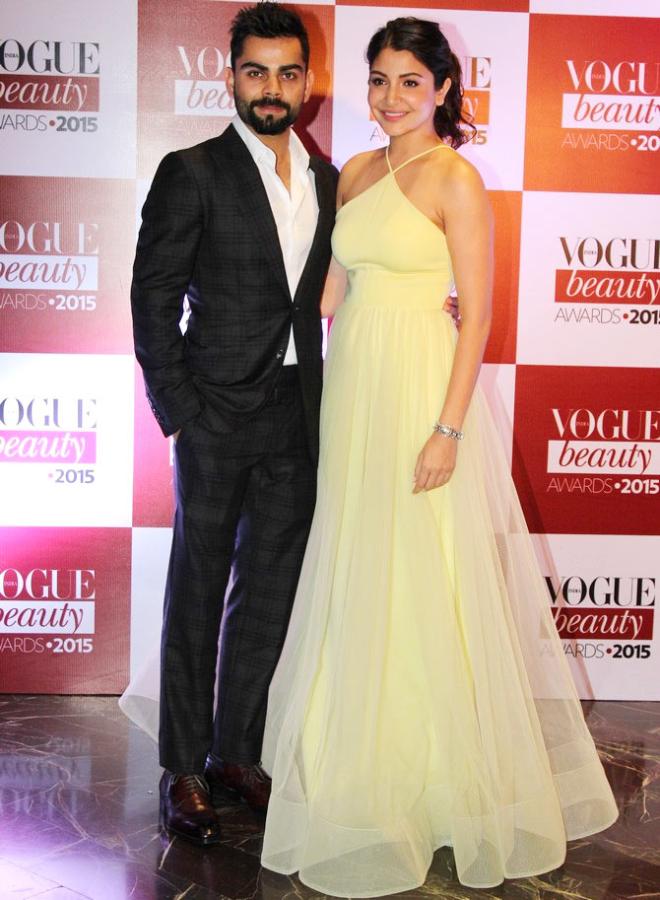 Image: Virat Kohli and Anushka Sharma
Virat and Anushka, who stayed strong through many ups and downs, are apparently no longer together.
Not all cricketer-actress romances culminate in heartbreak though.
Some have stayed reassuringly rock-solid. Take a look.


Mansoor Ali Khan Pataudi and Sharmila Tagore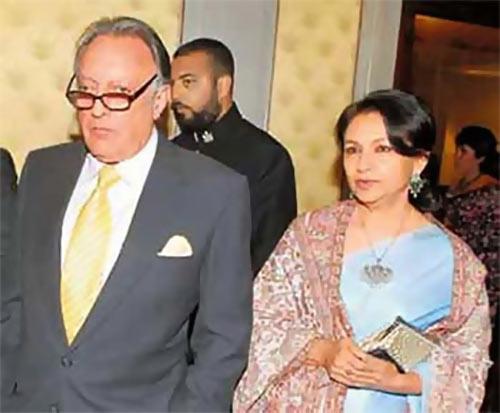 Image: Mansoor Ali Khan Pataudi and Sharmila Tagore
Back in the 1960s, when the suave Nawab of Pataudi and Indian captain met Bollywood's A-lister diva, sparks were inevitable.
While neither -- Sharmila or 'Tiger' Pataudi's -- parents lend instant approval to this inter-religious match, love won against all odds.
The classy husband and wife pair and parents to three children (Saif, Soha and Saba), stayed happily married for over four decades till Pataudi's demise in 2011.


Manoj Prabhakar and Farheen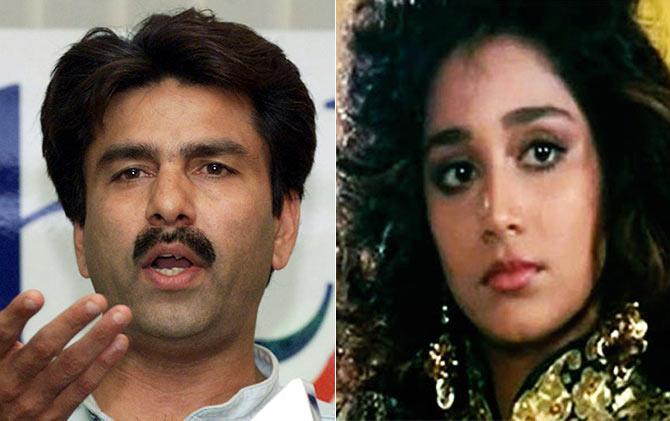 Image: Manoj Prabhakar and Farheen
Remember Farheen -- the Madhuri Dixit-lookalike Ronit Roy wooed amidst tremendous parental opposition in Jaan Tere Naam? Her real-life romance was no less turbulent.
Farheen's involvement with the controversial, much-married Indian bowler Manoj Prabhakar led to the latter's ugly divorce with first wife Sandhya and her disappearance from the movie scene.
Despite the obstacles, the duo subsequently tied the knot and now reside in Delhi with teenaged sons -- Rahil and Manavansh -- as well as Rahul, Prabhakar's son from his earlier marriage, his wife and baby.
Now this is what you call a real Hum Saath Saath Hai!


Harbhajan Singh and Geeta Basra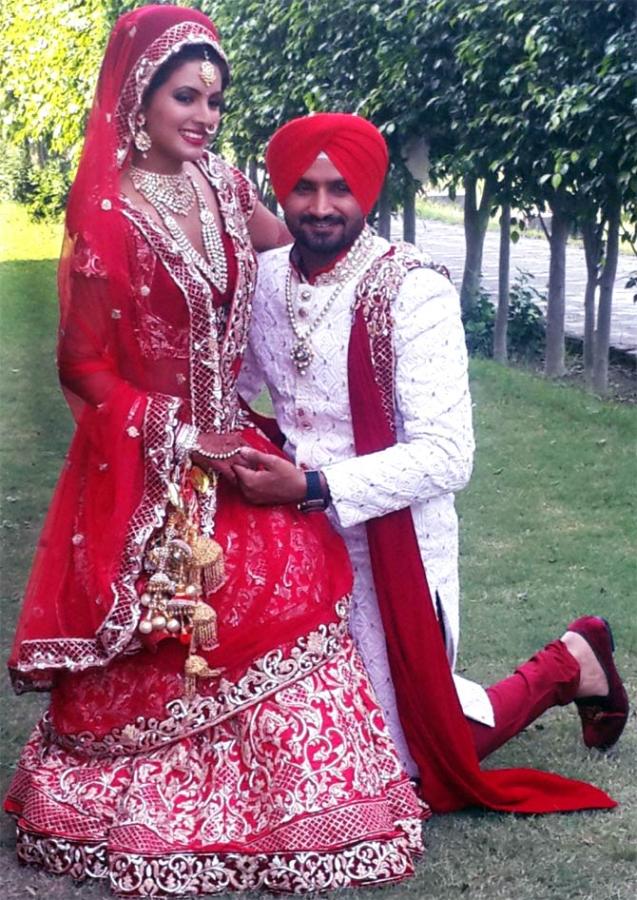 Image: Harbhajan Singh and Geeta Basra
In a classic case of clean bowled, cricketer Harbhajan Singh fell head over heels for The Train actress Geeta Basra whom he met through common friends.
Even so, the shy spinner preferred to keep his affair under wraps in public.
The couple dated for a good eight years before making it official last year around a traditional gurudwara ceremony in Bhajji's hometown, Jalandhar. Everyone from Prime Minister Narendra Modi to colleagues like skipper M S Dhoni attended the grand reception in New Delhi.


Anirudha Srikkanth and Arthi Venkatesh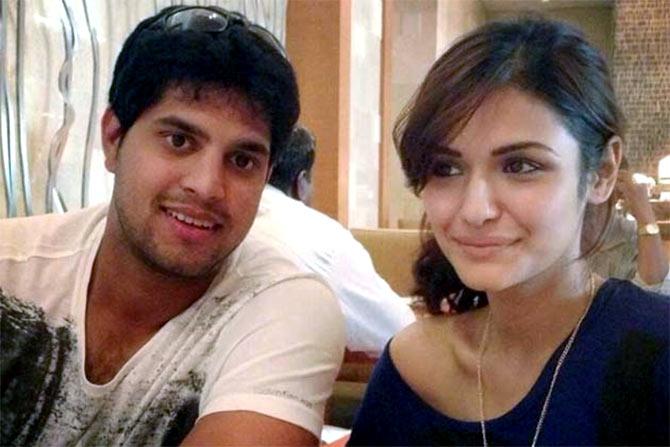 Image: Anirudha Srikkanth and Arthi Venkatesh
Following in the footsteps of a famous batsman father is not an easy job but Krish Srikkanth's Anirudha is trying his best.
Best known for scoring quick runs during his IPL stint as Chennai Super Kings opener, Aniruddha and his gorgeous model wife Arthi Venkatesh are quite the IT couple in Chennai's social circles.
Arthi, her website states, 'has over 250 runway shows and 300 plus photoshoots to her credit.'


Yuvraj Singh and Hazel Keech
Image: Yuvraj Singh and Hazel Keech
Linked to several Bollywood beauties like Kim Sharma and Deepika Padukone, Indian cricket team's star all-rounder and cancer survivor Yuvraj Singh finally found his Ms Right in Hazel Keech.
UK-based Keech, who's acted in Salman Khan-starrer Bodyguard and competed briefly in the seventh season of reality show, Bigg Boss, met Yuvi through friends and connected immediately.
Last November, the good-looking couple got engaged in a private ceremony at Bali.
Needless to say, we are certainly looking forward to their big day sometime this year.