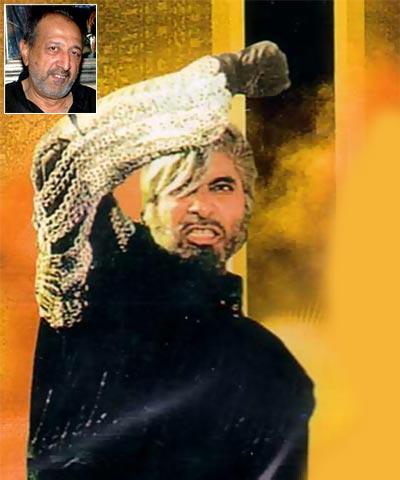 In his long career, Amitabh Bachchan has touched the lives of many in the film industry. Among them is actor-filmmaker Tinnu Anand, who directed the superstar in some of his landmark movies like Kaalia, Shahenshah, Main Azad Hoon and Major Saab.

As part of our celebration of the iconic hero, who turns 70 on October 11, we speak to those who worked closely with the Big B.

We begin the series with Tinnu Anand.

Amitabh Bachchan played the role I was supposed to play in Saat Hindustani but I cannot say he got his first film because of me. He had already been cast in the film, but was playing a different role.

I had to go to Calcutta to assist Satyajit Ray on a film, so he got my role, and his role was given to someone else.

I have directed Amitabh in four films -- Kaalia, Shahenshah, Main Azad Hoon and Major Saab -- and we have always been hand-in-glove.

We have had our fights and our patch-ups -- that has not spoiled our relationship. We are professionals on the sets and friends off it.

Amitabh had to say a dialogue in the film Kaalia which went like this: 'Tu aatish-e-dozakh se darata hai jinhe hain woh aag ko pee jaate hain paani kar ke'
My father was the writer. 
Amitabh thought the dialogue was very inconsequential and did not want to say it. We had an argument and it came to a point where he told me to change the actor if I still wanted to keep the dialogue. I told him I would not direct the film because if I did, I would keep the dialogue.
Amitabh saw I was very adamant, so he gave up and told me that since I was very stubborn, he would say the dialogue. But he added if this dialogue got an applause from the audience, he would give up acting. The dialogue got an applause but Amitabh did not give up acting!
When he was working on Shahenshah, he had a muscular disease. Even then he insisted on wearing the heavy costume -- the arm alone weighed 18 kilos!
He would insist on wearing it in all the fight scenes.
I tried to give him a lighter uniform but he refused to wear that saying the body language changes with a lighter gear. His commitment is immense, his professionalism is absolutely total.
I worked with him on Agneepath, where we acted together. I played his uncle. Everyone, including Amitabh himself, wondered how I would play his uncle since I was younger than him. I knew what I had to do. I shaved my head, gave myself a receding hairline and some bald patches. He was shocked to see me when he saw me for the first time.
We are still in touch now but not that regularly. We have a lot of love and affection for each other. That will not decrease due to distance or time.
Tinnu Anand spoke to Patcy N