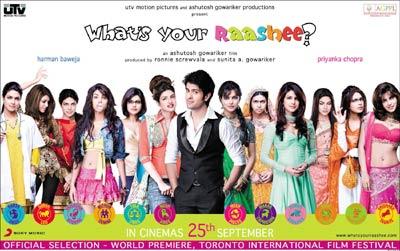 If variety is the spice of life, Priyanka Chopra sure has good taste.
The Fashion star sports not one or two but a good twelve looks in Ashutosh Gowarikar's lighthearted, What's Your Raashee? 
The rom-com reunites the actress with Hurman S Baweja, her co-star in the abysmal sci-fi flick, Love Story 2050. The two were said to be romantically involved only to split soon after its release.
Slated for a September 25 release, What's Your Raashee? has been officially selected to have its world premiere at the prestigious Toronto International Film Festival.
The plot: an eligible bachelor hoping to find the perfect match in an arranged marriage scenario and limited duration leads to a meeting with twelve different astrological signs is brings back memories of Ketan Mehta's amusing 1989 TV series, Mr Yogi.
Considering its subject, inspired by US-based author Madhu Rye's novel Kimball Ravenswood, revolves around the twelve zodiac signs and their varying characteristics, Priyanka's wardrobe and make-up transforms accordingly.
And so you have PC play the doctor diva, the pose-happy fashionista, the greasy-haired behenji, the bubble-smacking teenybopper, the lady geek with spunk and specs and the free-spirited 'east meets west' concoction, a la Chinese bhelpuri. Then there is, it would seem, the K-serial addict followed by the village belle with Frida Kahlo-inspired eyebrows, everyone's favourite girl-next-door, the quintessential Bhartiya Nari who bows her head and doesn't believe in eye contact or the Hare Ram Hare Krishna-spewing art of living practitioner and, finally, the super sexy showgirl.
While Baweja makes up his mind, one version of Priyanka is certain to play the bride anyway.
So which one gets your vote? Tell us!