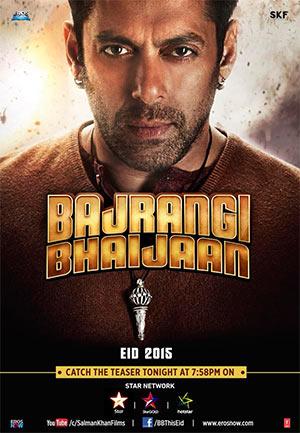 It is safe already to etch in granite the prediction that Bajrangi Bhaijaan, will be a record-breaking box-office whopper, says Raja Sen.
The future may be uncertain for Salman Khan -- although the slippery-wristed superstar continues to evade handcuffs -- but it is safe already to etch in granite the prediction that his next film, Bajrangi Bhaijaan, will be a record-breaking box-office whopper. It releases this Eid, it's being promoted by recent Salman-hugger Shah Rukh Khan on Twitter, and Salman fans who have probably already commissioned stripey pyjamas to emulate their hero, will leave no stone unturned in making this a smash hit.
It seems safe also to say that this will be a moronic film.
The text on the screen gives it away. Produced by Salman Khan in collaboration with Rockline Venkatesh -- a Bangalore-based remake king with the name like a Bond villain -- the film, we're told, is about "a little girl from Pakistan" who is "lost in India." So far so good, but then the makers start ratcheting up the threat level. "Without her voice," says the caption, as we see a rosy-cheeked girl cry. This "voice" bit may be the fact that she's robbed of an identity, trapped and voiceless, OR, shrugging off any need for metaphor in classic bhai fashion, it may well mean she is literally incapable of speech, which indicates that the film might go either the Shamitabh or the Hatya way. Ulp.
Next up is the big reveal. She "finds a man with a heart", the kind of line that opens up a slew of possibilities: Is he a man who walks around with a disembodied heart that he flings at villains, a la Indiana Jones' fedora? Is this, contrary to look and expectation, a sci-fi film where he is the only male left with a functioning heart? Is he a lion freshly back from a meet-and-greet with the wonderful wizard of Oz?
None of these questions, I suspect, matter. And that's a shame because I wager each of them will lead us down funner storylines than Kabir Khan's upcoming film. The line about "heart" is when where the percussion kicks into overdrive, gulaal is thrown around and Salman storms onto screen "to take her home". Looking for all the world like a bhanged out politician canvassing on Holi, Khan walks through a crowd with his arms folded… Then, naturally, the namaste-ing hands turn into a dance step as Kareena Kapoor looks happily on.
The mission appears simple: Khan will take the innocent girl back home. This may not be a bad thing -- that one-line has more story than Khan's last three-releases, and Kabir Khan has, in the past, gotten him to make an actual effort and play a character instead of Salmanning it, but the film looks cliched, melodramatic and exhausting. At one point Nawazuddin Siddiqui, apparently a Bhai-cohort this time, asks how Salman could possibly find the girls parents. He says Lord Hanuman will help. "Even in Pakistan?" asks Siddiqui, his eyes brimming with EMIs.
That's the kind of thing that passes for a joke. Not that opinions matter, because, as said, the film will be a box office behemoth. Then again, Bajrangi Bhaijaan is a film where the hero is wearing a gada-shaped talisman -- or, in other words, carrying mace. Is Salman Khan scared?