'The difficult part is that there is no script and you have to be impromptu. So by the end of the day, I am very tired.'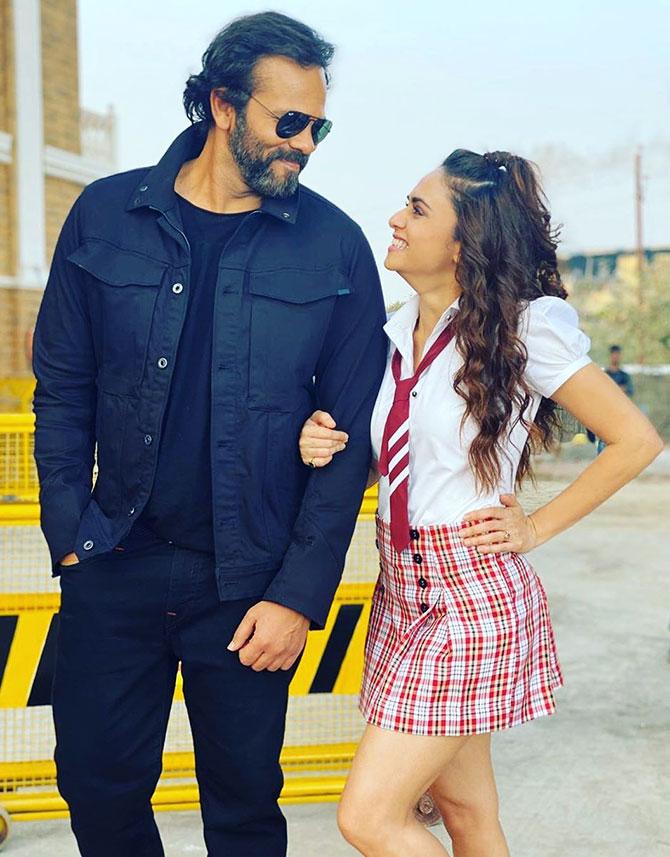 Khatron Ke Khiladi is back in its 10th season with its superstar host Rohit Shetty.
The show takes us to Bulgaria this year, with contestants Shivin Narang, Dharmesh, Karan Patel, Karishma Tanna, Amruta Khanvilkar, Tejjaswi Prakash, Adaa Khan, Balraj Sayal, RJ Malishka and Rani Chatterjee.
"You just cannot just come and host this show, you need to know what action is all about as well as the techniques," he tells Rediff.com Contributor Rajul Hegde.
Every season has a different set of celebrities. How challenging does it get for you to bond with them?
It doesn't become that difficult because they belong to the same fraternity.
It's difficult only if they are not from this industry.
Here, the contestants are either an RJ, a choreographer or an actor, so somehow we know each other through work or have met socially. So it becomes easier.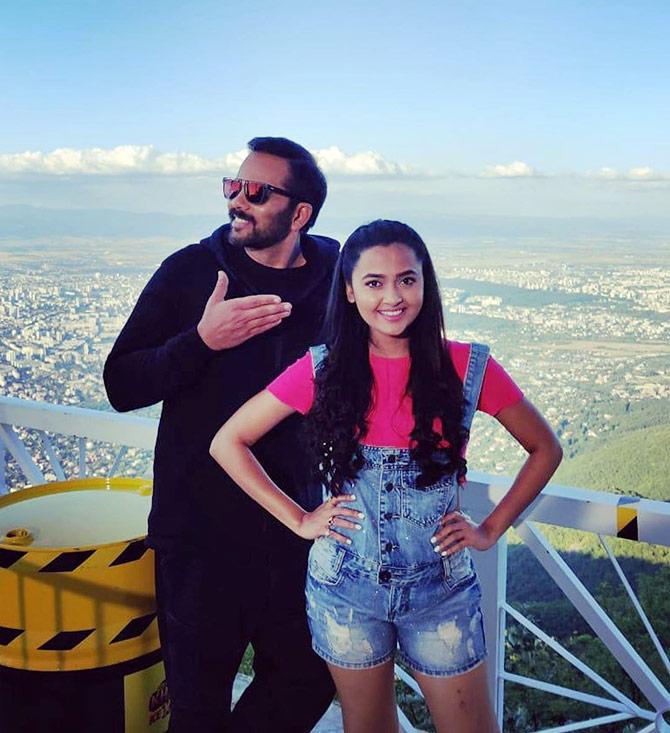 Which contestant surprised you?
Tejjaswi has an unique USP. You will know why when you watch the show.
She is lovable, and totally different from what she has been doing on TV.
For that matter, RJ Malishka has never done something like this before and she performed well.
All of them have their own USPs.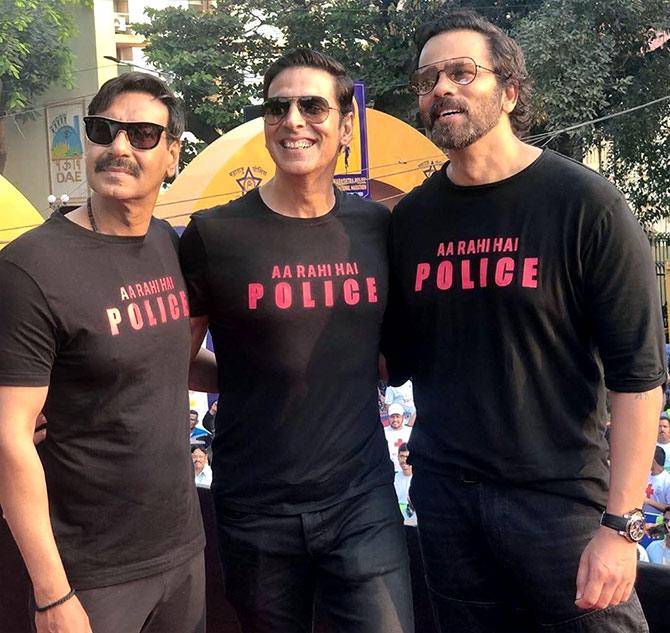 If you have to pick a host for this show from your cop franchise movies -- Ajay Devgn, Akshay Kumar and Ranveer Singh -- who would you pick?
Ajay and Akshay, as they are seniors. They are from '90s action where we were trained without any cables and CGI.
You just cannot just come and host this show, you need to know what action is all about as well as the techniques.
I have done action and know that these two have also done action for real.
I have been with them in their journey for so many years.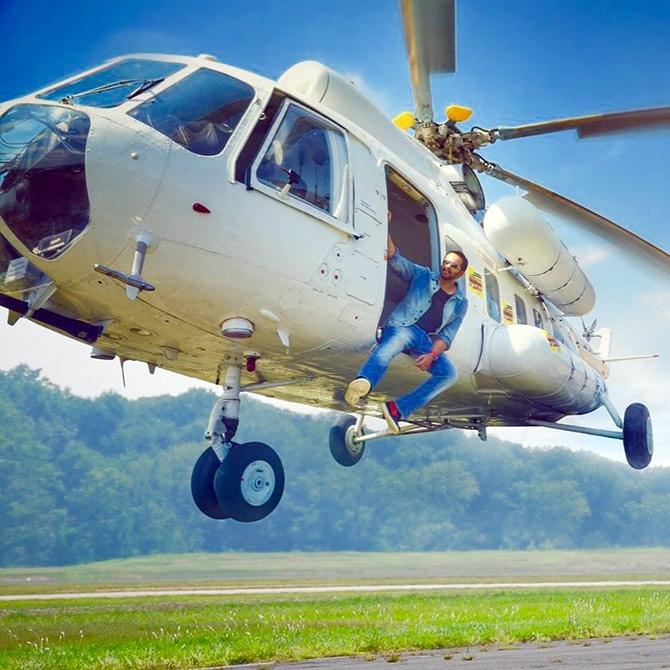 With the show getting good numbers in all the seasons you have hosted, does it give you a sense of validation?
The format is working, not only me.
If you see the show, it's like a film and that's what I take care of.
It's just not action or shouting. It has to be a wholesome entertainer.
When you cut and edit, these things are at the back of my mind.
People either know me for my films like Singham and Golmaal or Khatron Ke Khiladi.
So you know what kind of audience will watch this show and what they will expect from it.
If you see the promos, there is action as well as humour.
The difficult part is that there is no script and you have to be impromptu. So by the end of the day, I am very tired.
My editing is going on in my brain and when the action is over, I am thinking about how to take it from here.
At the same time, I'm wondering how to break the ice and bring out the traits of the contestants.
In the first two days of shooting, I have to see what traits they have, where I have to push them, where I can bring that humour out, how we can show the growth...
Most of them come with genuine phobias, so how can we remove that?
By the end of the show, you can see the character arc like a film.
It's quite adventurous.
You have a hit record as a director and show host. Does that put pressure on you?
I am lucky and blessed for the kind of popularity and love I have got from audiences.
Now it has become difficult because you have to work harder and expand the budget because people come to watch films with certain expectations. Whether you like it or not is a different barometer; at least we are catering to what audiences want.
I tell my ADs (assistant directors) and my son that only two things happen on Friday -- either people talk when the film does well or talk when it doesn't do well.
I am nervous every Friday that I have a release.
And that fear should be there.
I believe in giving what audiences expect from me as a film-maker, but the most important thing is to give your 100 percent. That should be your life's motto.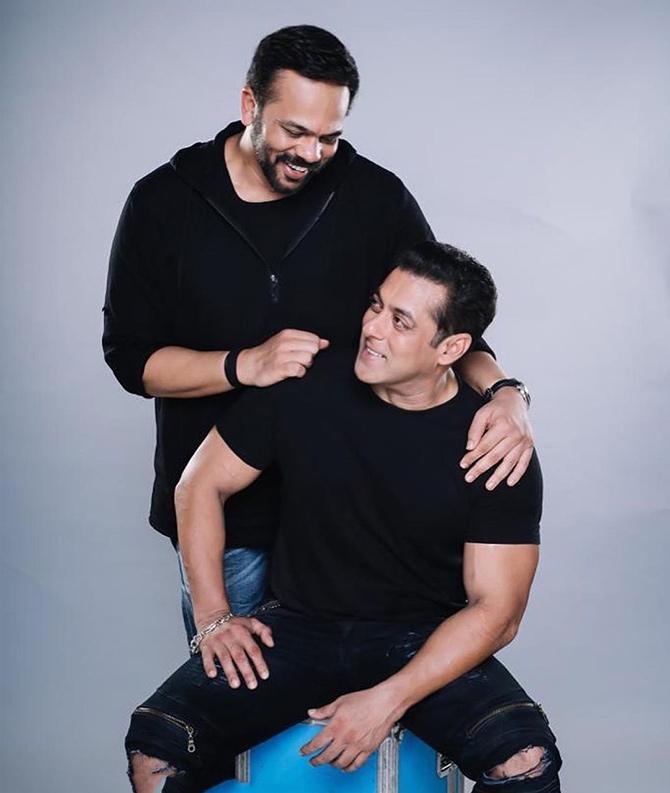 There are rumours that you are doing a film with Salman Khan.
No, I am not.
We have never worked together, but we share a special bond.
That bond is because of our families. He loves my mom more than me.
There is a mutual respect where Amitabh Bachchan, Ajay Devgn and Salman are concerned, as we go back a long way -- more than 45 years.
So it's not a bond because he is a superstar or I am a successful director.
When I went to the Bigg Boss finale, the first thing Salman asked me was how my mother was. He didn't ask how I was.
That is the kind of respect we have for each other.
That's why I call ourselves old school.
The bond, values and ethics we have belong to the old school, and that's what makes it special.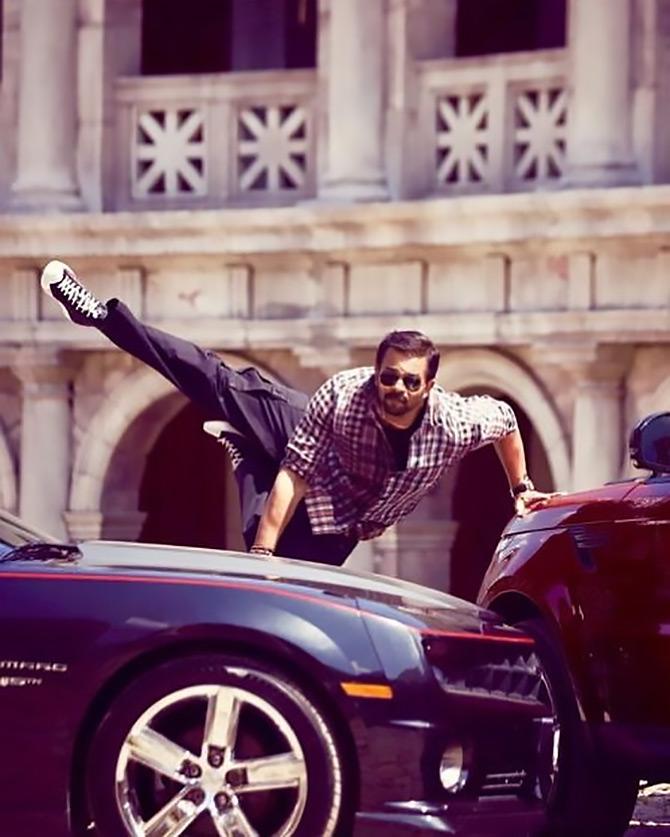 Is Alia Bhatt doing Golmaal 5?
We have not started working on it.
We have a basic idea, but we will start working on it once Sooryavanshi releases.
Any plans of producing a television show or Web series?
Being a host is fine.
(Producing a TV show) is a tedious job because they are always running against time.
There are so many issues like actors's dates.
It's a stressful job and I don't want to do it.
In cinema, you have time and a budget.
I am lucky that Khatron Ke Khiladi is the costliest show and I am hosting it.
My team is doing a Web series for Amazon Prime. It's an action-based show, and we are still developing it.