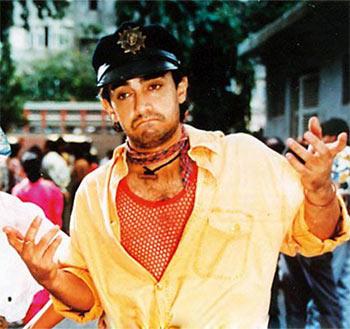 What happens if a movie ends differently? Reality checks in, of course.
Remember the time Aruna Irani breastfed a snake in Doodh Ka Karz?
Or when Mithun Chakraborty's brain transplant led to Madhoo's instant recovery in Diya Aur Toofan?
Or the miraculously eyesight/memory restoring accidents?
Or how in the recently released Fan, people identify or ignore Shah Rukh Khan's lookalike as per the script's convenience?
Bottom-line, suspension of disbelief is a prerequisite to enjoying Bollywood masala.
So we decided to have fun with it by picking some of the most implausible scenarios in Hindi movies and what they would seem like if treated more realistically.
Here's what we found:

Rangeela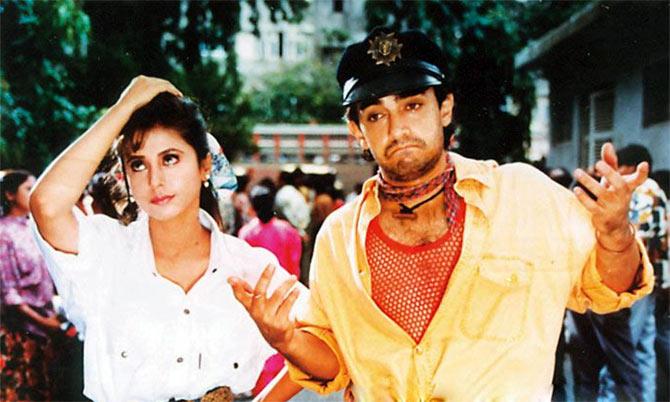 Reel: Urmila Matondkar leaves the grand premiere of her debut opposite a superstar, who's clearly crushing on her, to hunt her tapori-speaking, black marketeer pal Aamir Khan to admit her previously undeclared affections.
Reality: She would sit through the premiere, pose for pictures, bask in her new found fame, sign half a dozen films, become an A-lister and fake smile for a photograph with Aamir's three kids some 10 years later.

Saajan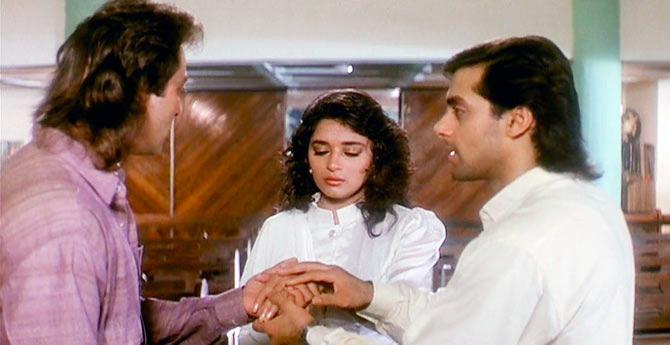 Reel: Madhuri Dixit paints Ooty red with Salman Khan, believing him to be the famous poet Sagar. But as soon Salman realises his best friend Sanjay Dutt is Sagar, he forgoes his love and tells Madhuri to hook up with Dutt instead.
Reality: Madhuri would whack both the guys for playing passing the parcel with her feelings, un-friend them for good and wait for a real poet who can at least pronounce Ghalib from the epiglottis.

Raja Hindustani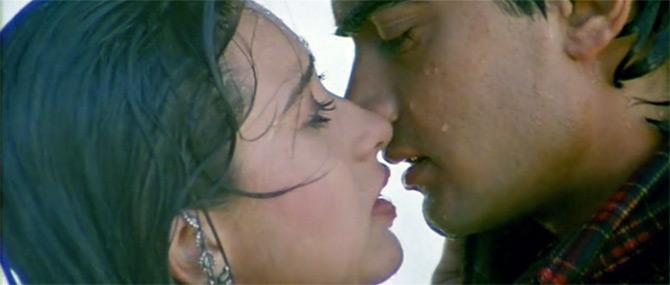 Reel: Karisma Kapoor's wealthy heiress falls in love with Aamir Khan's hill-station cabbie. He sings Pardesi pardesi jaana nahin and so she marries him.
Things go sour, they split but he tries to steal their baby. Again, Aamir sings Pardesi pardesi jaana nahin and she returns to him.
Reality: Karisma would not be this daft nor Aamir so wishful.

Deewana Mujhsa Nahin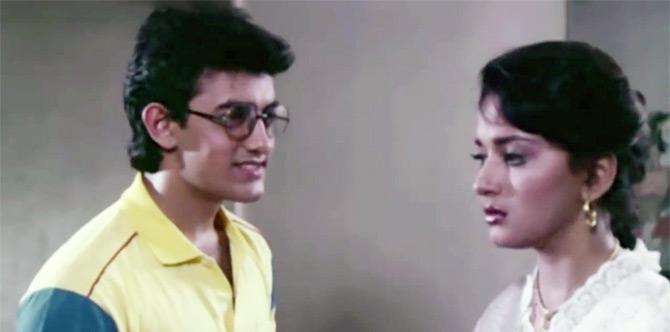 Reel: Aamir Khan plays a photographer, who stalks Madhuri Dixit into marrying her even though she's not interested and happily engaged elsewhere. Eventually, she lends her consent to his harassment and runs into his arms.
Reality: She'd file a case of harassment, ensure he did time behind bars and badmouth him out of work in the modeling industry.

Saajan Chale Sasural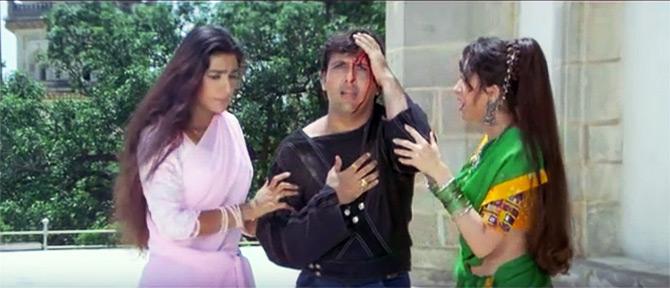 Reel: Govinda marries both Karisma Kapoor and Tabu, happily oscillating between the two women oblivious to the other's presence. And when they do learn the truth about their husband, they are foolish enough to live with it.
Reality: Double the battering, double divorce.

Beta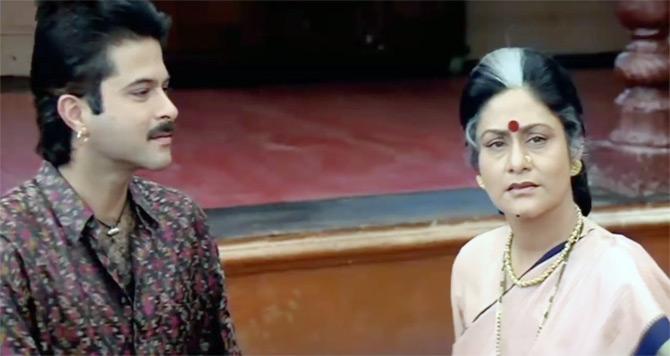 Reel: Aruna Irani engages in all sorts of cruel tactics to control her dutiful stepson Anil Kapoor and deprive him of education or authority. She makes his married life a hell and even tries to get him killed in the lure of acquiring all his wealth. Despite everything, he forgives and forgets.
Reality: If not hand her to the cops for attempt/accomplice to murder as well as debilitating his father, he would book her in an asylum far away from home.

Hum Aapke Hain Koun..!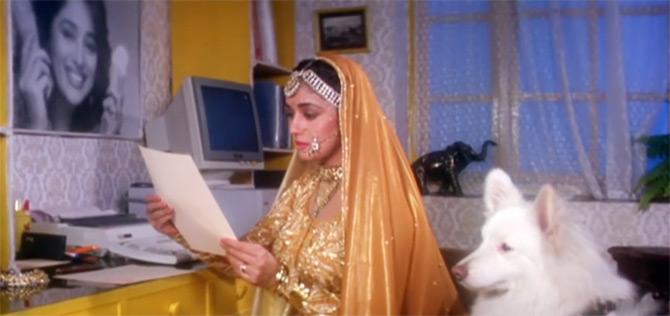 Reel: Tuffy, the wonder-Pomeranian is responsible for HAHK's famous happy ending. The pooch uses his smarts and hands Madhuri Dixit's tell-all letter to the man she's set to marry (Mohinish Bahl) instead of the man she wants to marry (Salman Khan).
Reality: Given the amount of food one sees in a Sooraj Barjatya's flick, Tuffy would drop the letter or dribble on it and erase all contents in his preoccupation to search for a treat to gorge on.
And poor Sallu would've address Mads as Bhabhi.

Coolie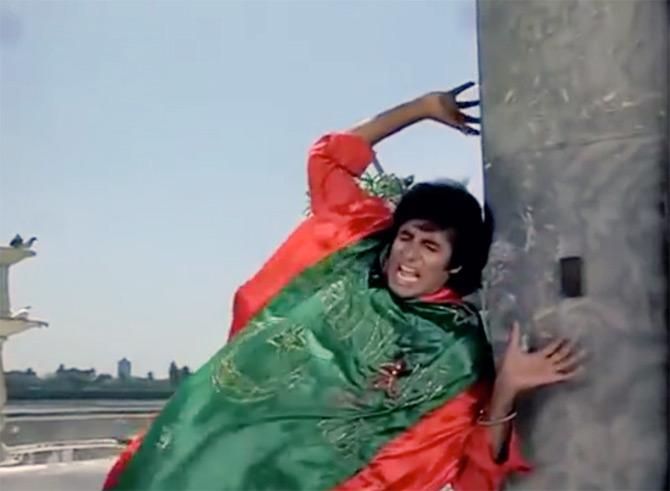 Reel: Amitabh Bachchan's character is shot by Kader Khan, multiple times on his chest, but easily survives thanks to the the holy 'chaadar' he's draped in.
Reality: R.I.P on the spot.

Mausam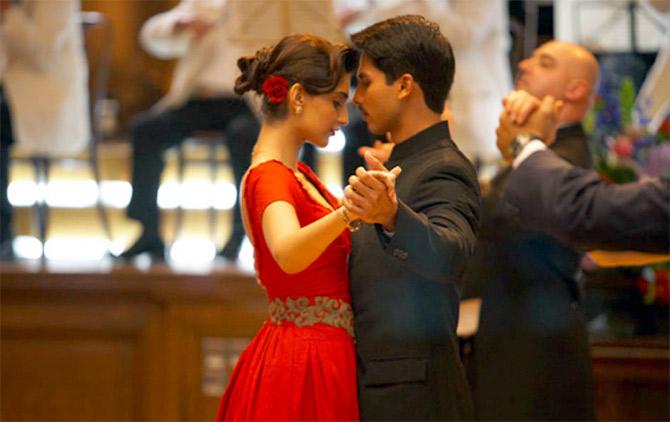 Reel: Shahid Kapoor and Sonam Kapoor meet and part. They meet and part again, so on and so forth.
They don't know where the other lives. Numbers and addresses don't work. And no, it's not a period drama.
Reality: They'd stick to a service provider. They'd have a Facebook account. They would move on with their respectful lives.

Tanu Weds Manu Returns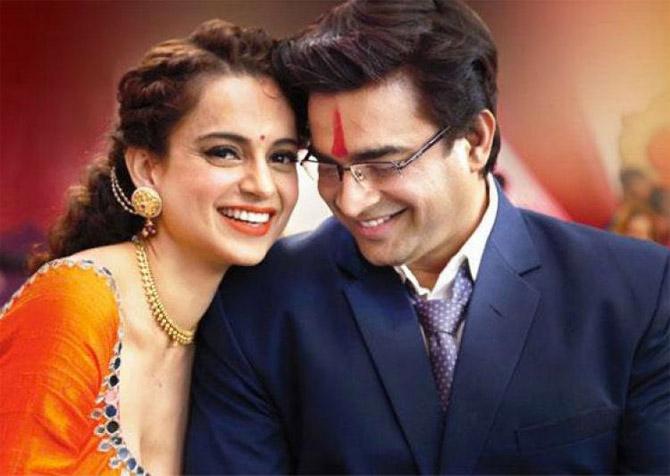 Reel: Kangana Ranaut sends her husband to a mental hospital, hangs out with her ex-flame but decides to get back the same husband on discovering that both he and her ex-flame want to marry her lookalike.
Ultimately, the way cooler and sensible lookalike walks away heartbroken and the unreasonable Kangana reunites with the same confused, no-good husband she didn't want to do anything with.
Reality: The lookalike Kangana would blow the living Woh dekh kabootar's out of this reckless titular couple.
The original Kangana would realise she's better off without any guy. And if an alternate reality were legal in this country, both these fiery women would end up with each other.
Disclaimer: This is a satire feature. Viewers are advised to take the content with sufficient quantities of salt.