Ranjita Ganesan lists the movies we should look forward to.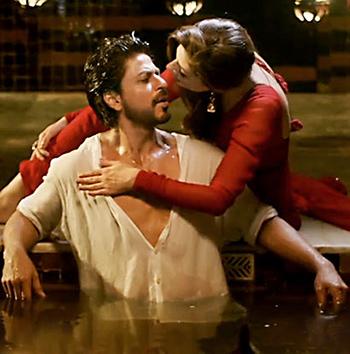 There's a lot happening in Bollywood, Hollywood and world cinema this year.
We break it up for you.
Bollywood: Masala mix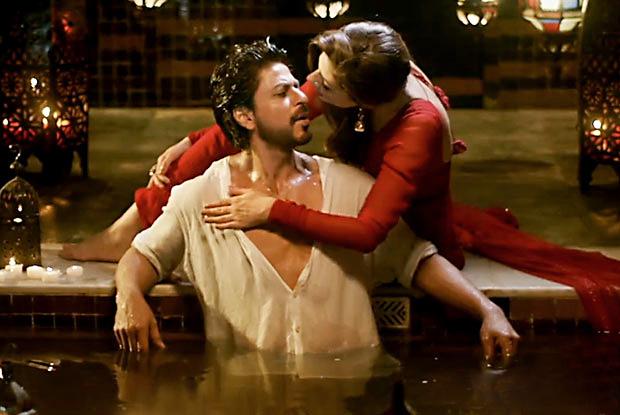 IMAGE: Shah Rukh Khan and Mahira Khan in Rahul Dholakia's Raees,
Director Rahul Dholakia's track record is curious. It includes the dud Kehta Hai Dil Baar Baar as well as the moving Parzania .
Raees could go either way, but its cast and punchline-heavy trailer make it the most-anticipated popular release of next year.
Vishal Bhardwaj's next, Rangoon, is set in the World War II period. It will star Shahid Kapoor, Kangana Ranaut and Saif Ali Khan. Bhardwaj reportedly considers it his most ambitious venture.
After his memorable outing as the romantic lead in Piku, Irrfan Khan will play one half of a couple trying to fit in with the Delhi elite in Hindi Medium, opposite Pakistani actress Saba Qamar.
The film is directed by Saket Chaudhary who previously made Pyar Ke Side Effects.
Bareilly Ki Barfi, set in Uttar Pradesh, will follow three young protagonists played by Rajkummar Rao, Ayushmann Khurrana and Kriti Sanon. This will be Ashwiny Iyer Tiwari's second film after Nil Battey Sannata.
Director Hansal Mehta's Simran too will release next year. Kangana Ranaut reportedly plays the role of an NRI working as a nurse in the United States.
Vikramaditya Motwane returns with releases three years after his second film, Lootera. His Trapped, starring Rajkummar Rao, which had its debut at the Mumbai Film Festival, will likely come out in 2017, as might Bhavesh Joshi, where Harshvardhan Kapoor plays a vigilante.
Regional cinema: Mind your language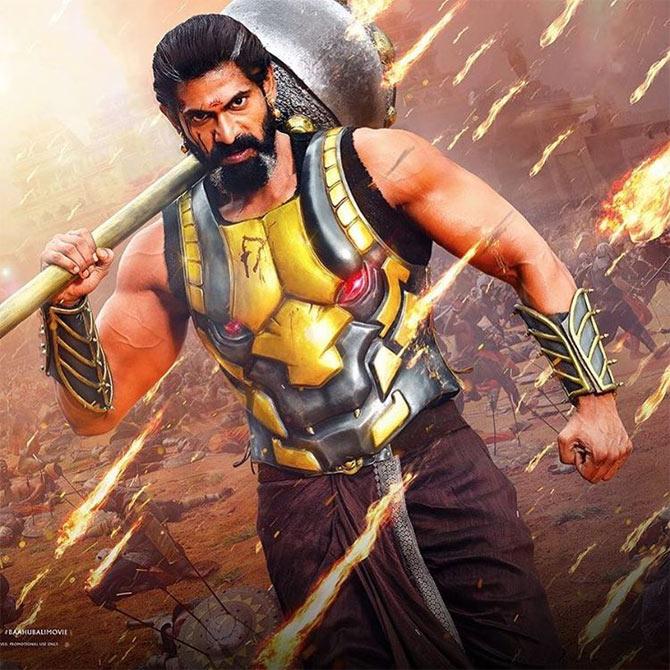 IMAGE: Rana Daggubati in S S Rajamouli's Baahubali: The Conclusion.
As the first installment of the epic drama Baahubali ended on a cliffhanger, the sequel has been eagerly awaited.
S S Rajamouli's Baahubali: The Conclusion will release in April.
Tamil actor Vijay Sethupathi, who has earned commercial and indie success, will be part of two high profile titles next year. He joins Dhanush for National Award winner Vetrimaaran's Vada Chennai, which will hark back to North Chennai of the 1970s.
Thiagarajan Kumarajan, who made the memorable gangster noir Aaranya Kandam, will team Sethupathi with Malayalam star Fahadh Faasil for Aneethi Kathaigal (Stories of injustice).
In a film rumoured to be titled Sakha, Malayalam actor Dulquer Salmaan will be directed by Amal Neerad. Details of the story are under wraps except that Salmaan plays a man named Aji Mathew, a local hero.
Ten years after The Bong Connection, Anjan Dutt will release The Bongs Again, a story about young people in the two cities of Kolkata and London. Among others, the film stars Jisshu Sengupta and Parno Mittra.
Hollywood: Welcome to Hollywood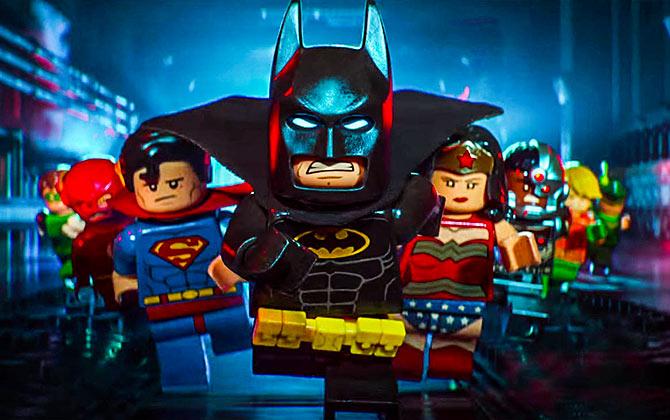 IMAGE: A scene from The Lego Batman.
The American roster for next year brims with tedium-generating superhero and action titles, but a handful of them promise to be interesting.
The brick hero of The Lego Batman Movie is sure to be more comical than his troubled comic book-counterpart. He will be played by Will Arnett (think BoJack Horseman) whose talent in voice work is matched by few.
There is also Thor: Ragnarok, directed by New Zealand's Taika Waititi all of whose previous films, including debut Boy and the recent Hunt For The Wilderpeople, have created box office history in his home country and won critical acclaim globally.
The Hulk, essayed by Mark Ruffalo, will also feature in this film.
Fans will no doubt clear their calendars next December for the release of Star Wars: Episode VIII, the plot of which is top secret, although several theories have been floating on the Internet for months now.
Andrew Garfield stars in two big titles that may have an India release given the Oscar buzz.
In Mel Gibson's Hacksaw Ridge, he is a pacifist medic who took part in the Second World War but never handled weapons because his faith didn't allow it.
For Silence, which had been in the making in Martin Scorsese's imagination for some 30 years, Garfield becomes a Jesuit priest who travels to Japan during a period when Christianity was outlawed there.
The Circle, starring Emma Watson and Tom Hanks, is a thriller set in an internet company. Directed by James Ponsoldt, known for Spectacular Now, it will explore themes of surveillance and freedom.
Darren Aronofsky of Black Swan-fame is expected to release his next, Mother, a story in which uninvited guests disrupt a couple's peaceful relationship.
The cast is the highlight, including among others, Javier Bardem and Domhnall Gleeson who has made a habit of working with the best in the business.
World and Independent Cinema: Stories from across the globe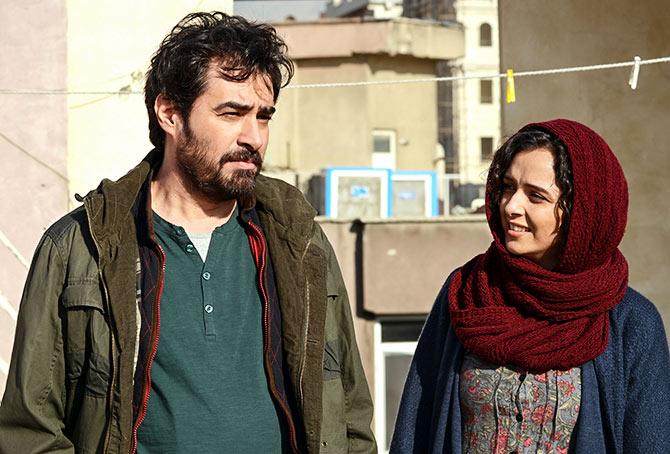 IMAGE: A scene from Asghar Farhadi's The Salesman.
Perhaps the Oscar chatter will help Asghar Farhadi's The Salesman release in cinemas or streaming services in Mumbai. Its screenings were among the most sought-after at the Mumbai Film Festival, with good reason.
A couple, which stars in a local production of Death of a Salesman, faces challenges on renting a home in a new neighbourhood.
As they seek to repair their lives after a traumatic experience, unexpected parallels emerge in the story and Arthur Miller's play. Shahab Hosseini's turn as the husband is exceptional.
Colin Farrell, one of few actors who are equally articulate on- and off-screen, will re-unite with the director of The Lobster. Not much is known about the premise of The Killing of a Sacred Deer except that Farrell plays a surgeon. Expect Yorgos Lanthimos to create an atmosphere of uneasiness and bleak humour.
Danny Boyle will direct a sequel to Trainspotting, his trippy 1996 comedy depicting the rejected sections of Edinburgh. In T2 Trainspotting, most of the original characters (and cast) return 10 years later and are connected by the pornography business.
Jeff Nichols has created what some critics have called an 'exasperatingly restrained' film. Loving portrays an American period story about an inter-racial couple battling to protect its marriage. It may offer respite from the Hollywood habit of showing heroism to be more impassioned than it often is.
Documentary: A touch of reality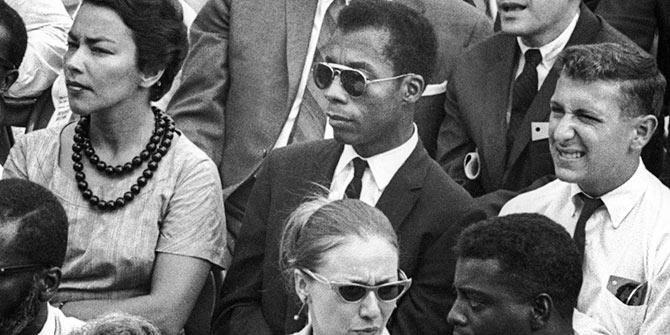 IMAGE: A scene from Raoul Peck's documentary I Am Not Your Negro.
I Am Not Your Negro, Raoul Peck's documentary, will use the words of writer James Baldwin to examine the work of Malcolm X, Martin Luther King Jr, and Medgar Evers and what it means to be black in America.
It also features the voice of Samuel Jackson.