'I have no keys to my house; it works on biometrics and electronic identification.'
'Every time anyone enters, the camera captures it and I get a message on my phone.'
Yes, Upen Patel's home, Rajul Hegde discovers, is a must-see.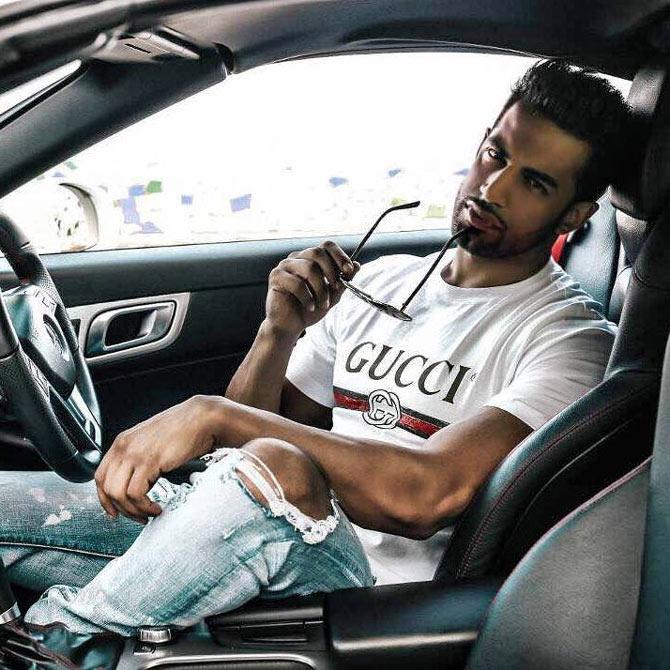 Photograph: Kind courtesy Upen Patel/Instagram
Welcome to Upen Patel's comfortably done-up bachelor pad in Bandra, northwest Mumbai.
The apartment is done up tastefully -- it is contemporary, minimalistic and has everything you would need to make it a delight to live in.
The actor, who will be seen in Suneel Darshan's Ek Haseena Thi Ek Deewana Tha, gives us a quick tour of his home.
VIDEO: Take a walk inside Upen Patel's house...
Upen bought this spacious three-bedroom apartment 12 years ago.
Spread over 2,400 square feet, he occupies 600 square feet while the rest of the apartment has been rented out.
"I don't need a bigger space because I am single," the actor, who was last seen in Nach Baliye 7 and Bigg Boss 8, explains.
"I am traveling most of the time and am hardly home. I have invested my money in real estate and have four properties in Mumbai."
His home enjoys a lovely view, a lot of sunshine and a good breeze.
The building was made keeping vastu shastra in mind, and that is one of the things that attracted Upen and his mother.
"My mom liked the energy of the place when we came here," he says.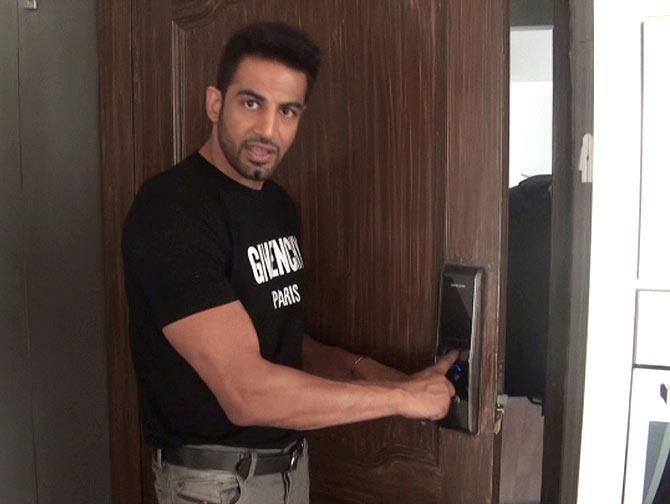 "I have no keys to my house; it works on biometrics and electronic identification. Every time anyone enters, the camera captures it and I get a message on my phone," Upen says with a smile.
The entire house works on remote control.
"I set the timer for the lights to go dim or off... the blinds roll up when the alarm rings..." he says.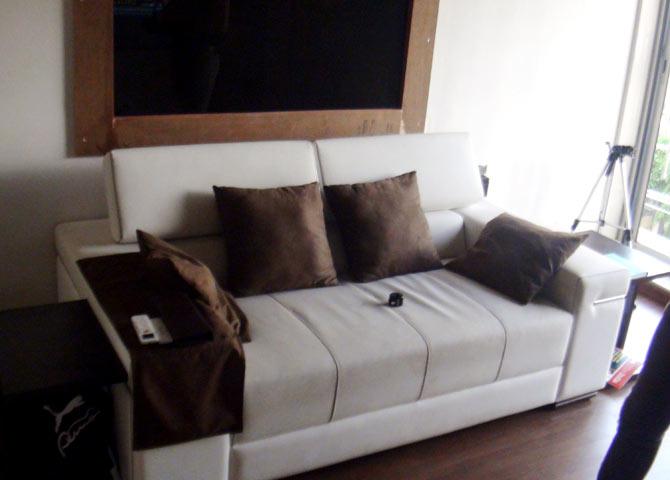 The actor plans to add a fish tank to his house, and it is being constructed at the moment (there it is, behind the sofa).
He likes to watch television (he has an 85-inch TV) sitting on his rocker.
"It has become a daily routine to watch my latest film songs and see the number of views they get!" he exclaims.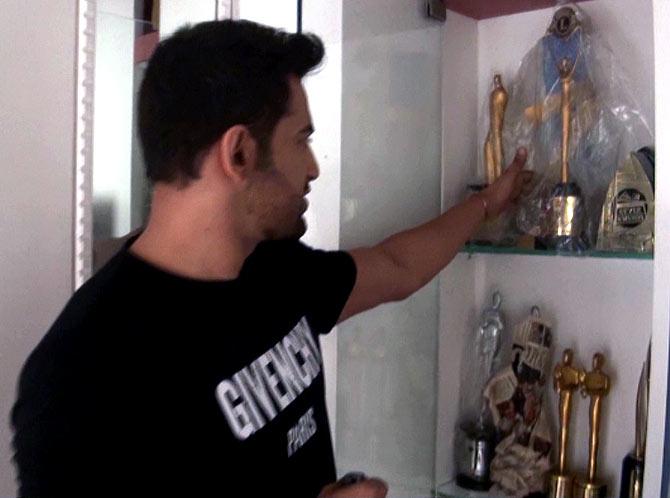 Pointing to his trophies corner, Upen says, "These are my achievements. They remind me why I am here and how much more I have to achieve."
One of the trophies is a Best Newcomer award for his first film, 36 China Town in 2008. He has also acted in hits like Namastey London and Ajab Prem Ki Ghazab Kahani.
"I get a lot of film offers, but you have to be very careful about the kind of films you choose. I want to do something that I believe in," he says, adding, "I was getting a lot of offers to star in erotic dramas. I don't have anything against the genre, but I'm not comfortable with them."
"I have always done commercial cinema and have been lucky to have worked in good family films."
What attracted him to Ek Haseena Thi Ek Dewaana Tha? "I have grown up watching commercial cinema, where there is lot action, drama, romance and emotion. This film has all that. It has the perfect mix of story, cast and music," he says.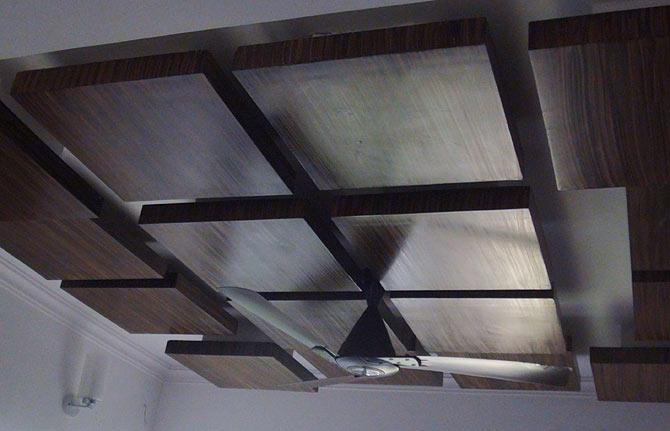 Upen's house has a unique ceiling as well.
"There are cubes on the ceiling," he explains. "I designed this. I was sitting around one day and got really bored of these white walls. Then, I saw this in a magazine. It is painted to look like wood."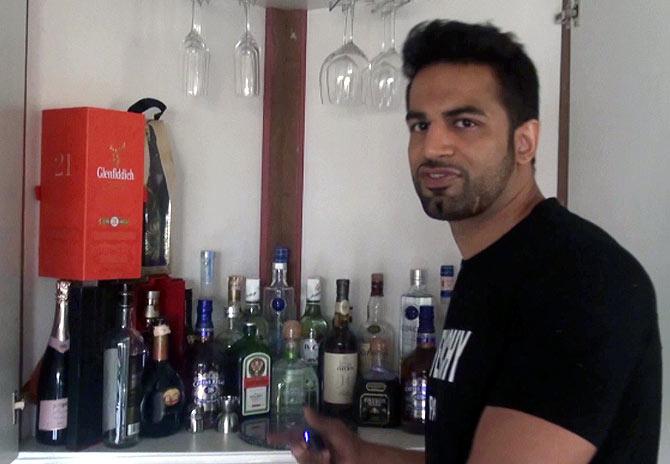 Upen does not drink, but he has a well-stocked bar to entertain friends.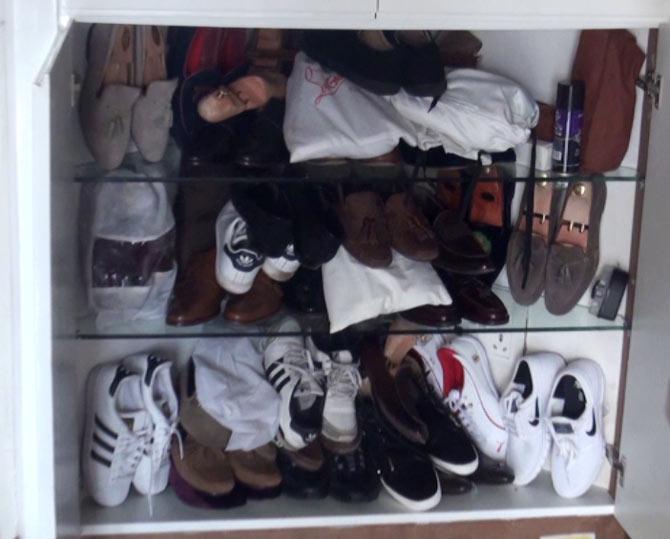 He likes designer shoes and opens his cupboard to show them off.
Gucci, Christian Louboutin...
"I wanted comfortable seating, and wanted to colour co-ordinate it with my ceiling and the floor. I didn't want something bulky, so I got a stack of cushions sewn together," he says.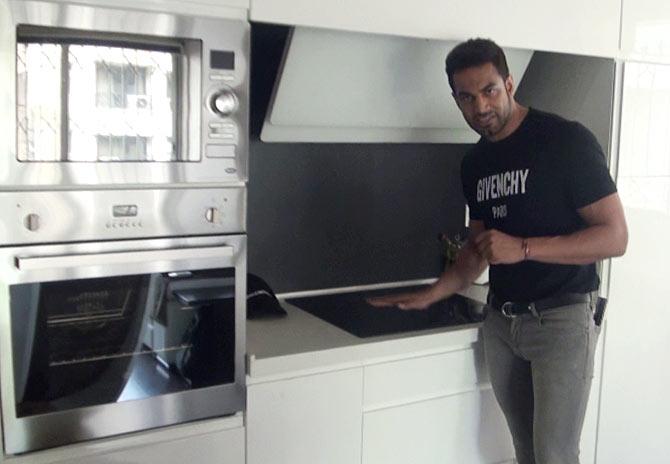 "I don't like to spend much time in the kitchen," Upen says, giving us a tour.
"Everything is built in, so the area looks bigger," he says.
'Everything' is an electric stove, a microwave, a dishwasher, a washing machine, a steamer, a fridge and a tea/coffee machine.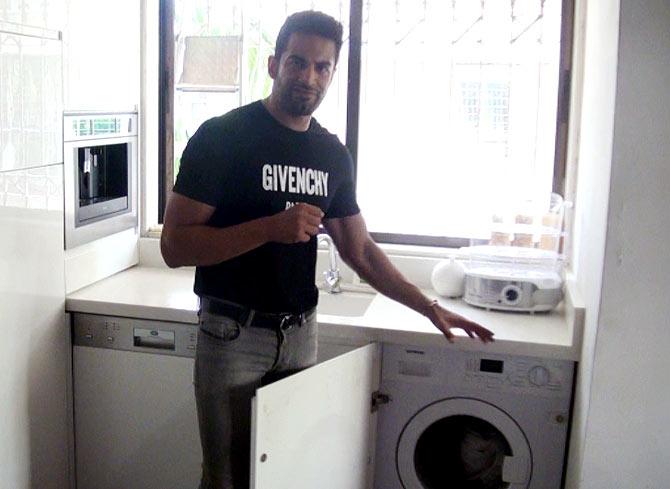 After Ek Haseena Thi Ek Deewana Tha, Upen will be seen in a Tamil film, but he does not want divulge any details.
"I am nonstop working as an actor, be it films or reality shows. The most important thing is you are working. Reality shows are quick money and need less time. Now, Web series are getting bigger. If something good comes my way, I don't mind taking it forward."
Photographs, video: Afsar Dayatar/Rediff.com