'Today, music directors do not work on a song that turns out to be the biggest hit of the year.'
'Their main focus is on creating a song which becomes an instant hit.'
'Whether the audience remembers that song after a couple of months or not, that does not concern them anymore.'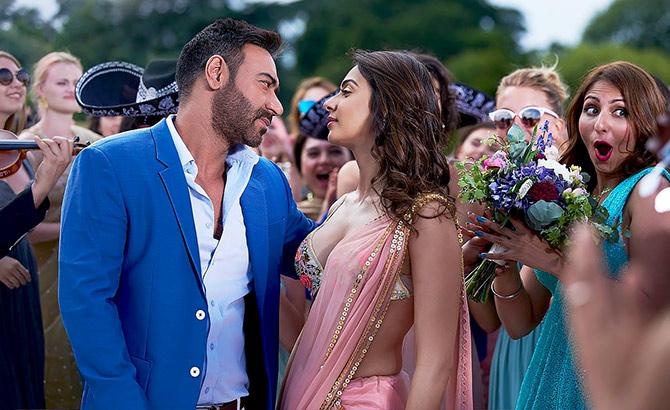 Composer Vipin Patwa always knew he was not cut for anything ordinary.
Disagreeing with his parents over his future and taking risks to follow his dreams has finally paid off. After composing music for Bollywood Diaries, Laal Rang and Daas Dev, the new age composer has just delivered the biggest hit of his career in Vaddi Sharaban, a high-energy, peppy, number from superstar Ajay Devgn's De De Pyaar De.
Asked how it feels after receiving such a warm response for his song, Vipin smiles and tells Rediff.com Contributor Mohnish Singh, "I still remember the day when Ajay Devgn's first film Phool Aur Kaante released. I had not even started learning music back then. Today, I am working in his film. He is dancing on my number. What else one can ask for? Obviously, it feels amazing."
Tell us about your beginning in music.
I come from a non-musical background. My family was into a small-sized business. My father had a small shop and he thought I would also join him in the future and take the business forward.
I always knew I was different from the others; there was something in me which differentiated me from people around. I was always inclined towards art, nature and music and had a great aesthetic sense.
In 1994, I sang at my school function for the first time. My teachers felt my voice was really good.
After that, people started inviting me to their functions to sing. I started attending mushairas. I used to sing a couple of songs before the main function.
It was a great feeling when people invited me to sing at their functions and appreciated my talent. After all, who does not like the sound of applause?
I was in the 7th or 8th standard when I decided to take music more seriously.
When did you begin your formal training?
Around 1995. I took permission from my family and started formal training in music. I learnt music for 3, 4 years.
There was no exposure to music in my hometown. It's a small, rural, area. Most of the people did not look at music in a good way; it was frowned upon. Things have changed a lot now though.
After a point, my family also started raising objections. They were like, "What are you doing with my life? Children from respected families do not do this."
I still remember the time when I had to sing stealthily at marriages, because my family had barred me from pursuing singing at all.
It was impossible for me to disassociate myself from music completely, so I paid a band party and started singing with them in other villages. Generally, they pay their singers, but here I was paying them to allow me to sing in their band.
One day, someone from my village saw me sing at a marriage in another village. He informed my brother. My brother scolded me and I was barred from singing at marriages too.
What did you do then?
Then I joined a qawwal because, as I said, it was impossible for me to live without music.
After completing my 12th, I moved to Gorakhpur for my further education. There I studied music from various gurus. Around 2000, I also started working with All India Radio in Gorakhpur.
In 2004, I reached Delhi for my post-graduation. I took admission at the Ramjas College. After completing post-graduation, I did an MPhil in music.
Even after studying so much and securing degrees in music, I never wanted to become a teacher. That was not my area of interest.
The musician inside me was very anxious. I was always thinking of leaving Delhi and heading off to Mumbai.
My MPhil guide also suggested I go to Mumbai. He said, "This is not the right place for you. You will get frustrated. It's better you go to Mumbai. Instead of taking up a job now and quitting it later, you better leave now."
I had just enrolled for a PhD. But I left everything behind and came to Mumbai. It was 2012.
How did the city of dreams treat you?
Very well. I had to struggle for one-and-a half-years before I got my first film Luv U Soniyo in 2013.
Looks like you did not have to struggle a lot to get your first break.
Struggle was definitely there. But it was great that I did not have to struggle a lot like many other people out there.
So how did you get Luv U Soniyo?
Initially, no one was ready to listen to me. This happens with everyone, I guess. Until you have some credibility, no one wants to invest their time in you.
Coming to how I got Luv You Soniyo, I got the film through some political connections. Initially, the director was not available to listen to my music. So I cashed in on some political connections that I had to fix a meeting with him.
I was very active in student politics in Delhi. I had done some big shows there, so I had some great contacts.
I knew that nobody can force a director to give me work, but all I wanted was a meeting with the director. I knew an MLA, so I requested him to at least introduce me to Joe Ranjan.
I met Joe Rajan. Initially, he wanted to take only one song of mine. But when I requested him to listen to my other tunes, he agreed and three songs were locked in the first meeting itself.
As I was getting ready to leave his office, he handed me a cheque. That's how it all got started.
How do your parents react to your success now?
The good thing is that I did not have to convince them for anything; they themselves got convinced. They knew I would never leave the path that I had chosen.
I did not disappoint them either. I studied as much as I could to make them feel secure and happy.
Today, I am eligible to teach at any university or institute across the country. So I assured them that I would not live hand to mouth. Even if I fail to achieve much in music, another career option is available there.
ee, what all parents want is that their children are secure and independent while they are still alive. There is nothing wrong with that.
Initially, I would think that they were wrong, but over the period of time, I have come to realize that they were always right. They have given you birth, so obviously they would be concerned about your well-being.
Your latest song Vaddi Sharaban from De De Pyaar De has received great response from music lovers. How does it feel?
It feels great.
I still remember the day when Ajay Devgn's first film Phool Aur Kaante released. I had not even started learning music back then. Today, I am working in his film. He is dancing on my number. What else one can ask for? Obviously, it feels amazing.
I remember I was very young when Phool Aur Kaante released and I was even beaten up for watching the film. I watched it on VCR, because there was no theatre in the vicinity.
So how did you get De De Pyaar De?
I believe in one thing: Keep going and keep working hard. If you work with complete dedication and remain honest with your craft, things do fall in place. They may take some time, but ultimately, you will be rewarded.
I had once met the makers of the film and expressed my desire to work with them. When they started working on this project, they remembered me and I got one song in it.
I am hopeful that this song will take my career to a new direction. It is the beginning of a new segment of my career. Things will change drastically for me after this song, I hope.
What is next after De De Pyaar De?
I am doing over half a dozen new films. I won't mention their names, but what all I can say at this moment is that all my next films will be bigger than movies which I have done so far.
My focus is to better myself with every new project and do the kind of music which the audience do not expect from me.
I want to make people who know me feel proud of my work.
How do you look at the trend of having multiple composers onboard for one film?
I think corporates are responsible for that. But, at the same time, I also believe that whatever happens, happens for good.
Let's take the case of De De Pyaar De. Had there not been five composers, would I have got the entire film? I was not a brand, right?
The makers were open to working with me just because they wanted a fresh song from me. They thought I was good enough to give them that type of a song.
I feel if the film is really big, then there should be only one music director to maintain the tone of the film. The kind of larger-than-life films Pritam, Shankar-Ehsaan-Loy and (A R) Rahman do.
I have also done solo pictures like Bollywood Diaries (2016), but yes, they were not big-budgeted ones.
I am hopeful that my time will also arrive where I get to work on big project as a solo composer. But before that, my focus is on doing great songs in films having multiple composers.
Who is the singer you want to work with?
I have worked with almost all famed voices of India and Pakistan. Now, I am channelising my energy towards teaming up with international artists.
I have done a couple of songs with Arijit Singh, but I want to work with him more and do some terrific songs.
In times to come, I want to do singles and work with some international artists.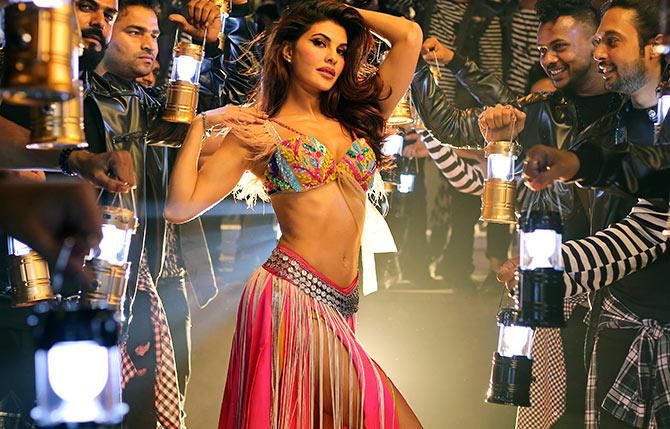 What is your take on recreation?
Maybe that's what works these days. Composers who are recreating old songs are doing a great job and people are appreciating them.
But if I ask you to tell me a recent, original, song which remained with you, you will probably find none. You go blank. That's not fine, I guess.
Recreation should be there, but there has to be a proper supply of new songs as well.
If you do not create new compositions, what are you going to tell your future generations? Are you going to tell them that you were busy recreating only old songs?
If recreation is needed, do it, but do not overdo it. Do not do it at the cost of new music.
There is nothing like that we do not have enough talent to create original music; we have loads of talented people. We just need to focus on them.
What I have realised over the years is that the industry runs after what works. So, if recreated songs are working well, they will keep churning out them till they are working. After some time, they will move on to something else.
We are creating music in haste.
Today, music directors do not work on a song that turns out to be the biggest hit of the year. Their main focus is on creating a song which becomes an instant hit.
Whether the audience remembers that song after a couple of months or not, that does not concern them anymore.
Listeners are also in haste. Nobody has enough time to let a song grow on them. Earlier, the length of a song used to be around 6 minutes. Now, it is hardly 2:30 minutes.
People do not listen beyond the hook line. Today's public wants a climax, it does not believe in foreplay at all.
I feel that independent music will bounce back once again, because film music has limitations. Nowadays, many international singers and bands are collaborating with Indian artists, because we have a huge market, thanks to our population (smiles).
Is the Internet a boon or bane for music in the digital era?
It is a boon. Earlier, even good artists used to struggle for the right platform. Nowadays, if you are good, the platform is already ready for you.
If you feel your song is good, it will find an audience. You can see how many stars the Internet have given in no time.
I have only one request to all those who do online music, that train properly. Take proper training in music before beginning your career. It adds weightage to your talent.
We see so many one hit wonders. So always remember that only those who have trained properly sustain here.
Earlier, there was only Bollywood music. It used to dominate the entire market. With digital, things have changed.
Now everybody is getting opportunities. New genres of music are being explored, like rap and all. It is great.
Of all the lyricists that you have worked with who, according to you, pens best lyrics to your tunes?
I will have to be biased. If I name one, others may feel bad (smile).
Though I have worked with several lyricists from the new generation and all of them are very talented, I gel well with Kumaar.
The best thing about him is that he is very quick. With others, it takes a lot of time. I need to explain a lot to them. But that is not the case with Kumaar. You just give him your tune and he will add lyrics in no time. His energy is great. His vibe is great.
Who picks up the lyricist for a song?
Sometimes I decide and sometimes the director or the producer of the film also decides who would write the lyrics.
Who is your favourite composer?
A R Rahman, Pritam Dada, Vishal-Shekhar, Shankar-Ehsaan-Loy and Amit Trivedi, to name just a few.
What about singers?
I will talk only about the singers who are still alive and kicking.
Arijit sings really well; he is a wonderful artist. You rarely find a talent like him, who has achieved so much in no time.
Jubin Nautiyal also sings well. Papon is also good. From the new crop of singers, Darshan (Rawal) sings really well. We should appreciate them.