'I am an accidental lyricist,' confesses the superstar who has written Haanikaarak Bapu, Emotional Atyachar, Abhi Mujh Mein Kahin, the songs for Yeh Jawaani Hai Deewani and Ae Dil Hai Mushkil and many, many, more chartbusters.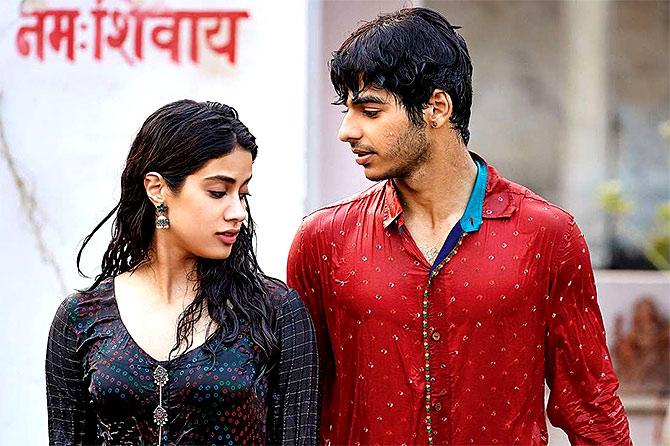 He has appointments with the likes of Karan Johar and Aamir Khan, so it is but natural that Bollywood super lyricist Amitabh Bhattacharya won't have time for lesser mortals like me.
After hearing the songs of Ae Dil Hai Mushkil in October 2016, I had called Bhattacharya, but he didn't answer.
I then sent innumerable text messages requesting an interview.
Again, no reply.
After chasing him for some more time, I gave up.
Two years later, in June 2018, I hear the songs from Dhadak. Once again, I feel the urge to interview the man who had penned those lyrics.
This time, my call gets a prompt reply. 'Sorry, unable to take calls. Kindly text.'
'Beautiful lyrics for Dhadak :)', I quickly type.
I get an instant response. 'Thank u so much. Sorry, I don't have this number saved. Who's this?'
I begin to feel hopeful and introduce myself. 'My name is Syed Firdaus Ashraf. I am a journalist with Rediff.com. Trying for an interview with you since Ae Dil Hai Mushkil days. You didn't respond then but as your big FAN I couldn't stop myself from praising Dhadak :)'
Then, I text him a Mirza Ghalib poem.
'Mehrban ho ke bula lo mujhe chaho jis waqt. Main gaya waqt nahin hun ki phir aa bhi na sakun (Call me whenever you are feeling benevolent. Unlike time that has passed, I am not someone who can't return)'.
Within two minutes, Bhattacharya calls. He thanks me for the compliment and promises an interview after a week when he would be back in Mumbai.
He texts his publicist's number and asks me to get in touch with her for the exact date.
Which I do.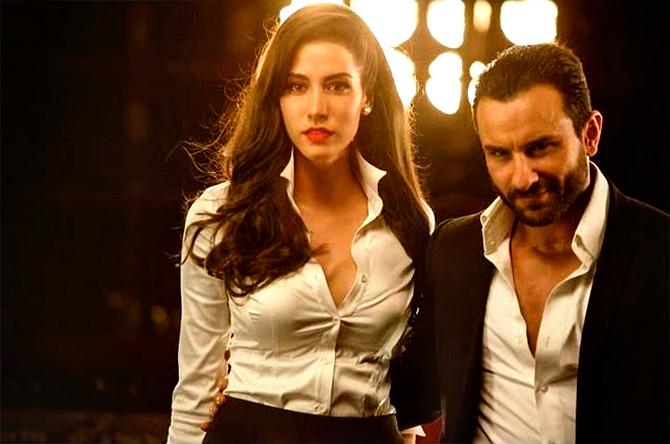 A week later, there is no word from the publicist or from Bhattacharya.
I call her and learn he is out on an assignment, writing lyrics for a new movie. She promises to fix an appointment as soon as he is free.
A month passes by.
I call the publicist again and get the same reply.
After the sun rises and sets 15 times, I am almost ready to give up -- Bhattacharya seems lost in his lyrical world.
It is clearly not easy to meet the creative mind that crafted the lyrics for songs like Haanikaarak Bapu (Dangal), Emotional Atyachar (Dev D) and Abhi Mujh Mein Kahin (Agneepath). He also wrote all the songs for Yeh Jawaani Hai Deewani (except Dilliwali Girlfriend) and Ae Dil Hai Mushkil, one of my all-time favourite albums.
It looks like my dream of interviewing Bollywood's top lyricist will remain just that -- a dream.
After two more days of silence, I decide to try once more. I text Bhattacharya a Mir Taqi Mir poem.
'Kya kahiye kya rakhen hain, Hum tujh se yaar khwahish, Ek jaan, Ek dil, Hazar khwahish (What expectations can I have from you, my friend, one life, one heart, a thousand expectations). Still waiting to interview you, Mr Bhattacharya. Thanks, Firdaus from Rediff.com'
For the next week, I stare at a wall of silence.
Then, on August 27, I get a message from the publicist, asking if I could meet Amitabh Bhattacharya for the interview on August 31.
D-Day dawns. I meet a friend, a journalist from another publication, and casually happen to mention my appointment with Bhattacharya.
He is shocked! "Are you sure he is meeting you?"
He can't believe it. "Amitabh Bhattacharya is a very reclusive man. He rarely speaks to the media."
I show him the confirmatory text message.
My friend replies, "Why don't you re-confirm your appointment? I challenge you, he will cancel."
I call the publicist immediately to confirm the interview.
She says she needs to re-confirm the appointment and disconnects the call.
"I told you," laughs my friend. "It is not easy to meet Amitabh Bhattacharya. She will call back to say the appointment has been cancelled."
Just then, the phone rings. My heart sinks.
"Hi Syed. The interview is confirmed for 4 pm. Thanks."
I laugh in relief.
My friend decides to accompany me; in the eight years he has been an entertainment journalist, he has not seen Amitabh Bhattacharya.
When we reach the venue at 4 pm, the publicist asks us to wait. "Amitabh Bhattacharya will arrive in 10 minutes."
And he does, finally ending my two-year chase.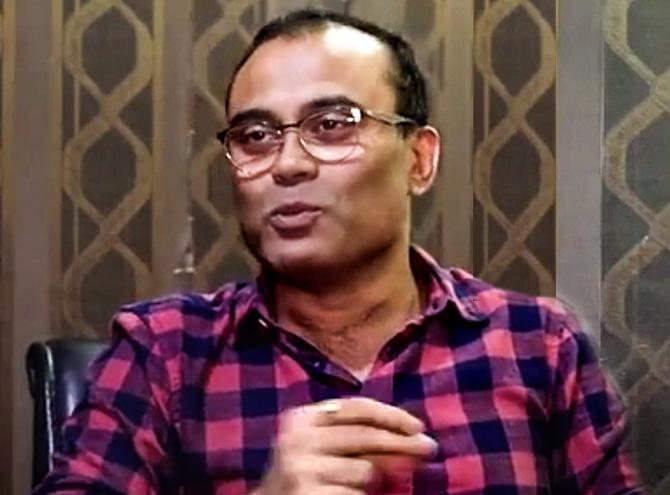 "I am sorry to keep you waiting for so long," Bhattacharya apologises immediately.
"My publicist tells me I must speak more often on Twitter and other mediums. But I prefer not to speak much," he says, revealing how shy he is.
"During my days as a struggler (Bhattacharya wanted to become a singer), I was at Empire Studio (Andheri, north west Mumbai), I don't remember why now, and I bumped into Anu Malik. I froze."
Bhattacharya was holding his own album which he had got recorded.
"I was just a boy from Lucknow. I had just come to Mumbai. Seeing Anu Malik was seeing like God. I had grown up singing his songs on stage. I lost my courage; I could not open my mouth."
Had he always been this shy? Does he become an extrovert while writing poetry?
"Actually," he clarifies, "I am an accidental lyricist. I learnt to write on the job."
Bhattacharya had come to Mumbai to become a singer, but Destiny had other plans.
Bollywood's top lyricist confesses, "Till date, I have never written a sher (couplet) or a kavita (poem). Therefore, I don't call myself a kavi, poet or shayar."
"Many people find this funny that I don't even have a diary of my poems. At best, I can call myself a geetkar (song writer)."
So how did a wannabe singer become a lyricist?
Bhattacharya takes me back to a night in the mid-nineties, a night that changed this Lucknow boy's life.
"My Class XII results had been declared and I was to join a hotel management course in Bhubaneshwar. That night -- I was to leave the next day -- I could not sleep."
He had always wanted to become a singer. Then why, he asked himself, was he taking up a course in hotel management.
"I told my parents how I felt," Bhattacharya recalls.
They, unlike most Indian parents, let him follow his dreams. Their only condition was very Indian-parent-like :)
"I had to get a degree as a back-up in case my dreams backfired on me," grins Bollywood's hottest lyricist.
"I began singing with bands and doing stage shows in Lucknow for which I was paid Rs 350 per performance."
In 1999, once he completed his graduation, he moved to Mumbai.
Unlike many outsiders, he didn't have to struggle for a roof; his maternal uncle lived in the city.
Bhattacharya confesses he will be eternally grateful to the city of his birth, the genteel Lucknow, which ensured his grasp over both Hindi and Urdu.
Though he has no direct connection with West Bengal, his Bengali roots ensure he loves the language, culture and cuisine. "Especially Kosha Mangsho (a mutton dish)."
Four months passed, but singing assignments remained scarce. Bhattacharya did not want to continue imposing on his uncle and found a flat where he shared the rent with friends.
His first professional job was a jingle he sang for Amar Mangrulkar. He was paid Rs 3,000.
"I was ecstatic," he recalls. "It was a huge amount for me."
Much to his disappointment, though, the jingles did not translate into singing assignments in the movies.
He managed to get in touch with composer Pritam who was also struggling to make his impact in Bollywood. Bhattacharya offered to assist him for free, hoping it would eventually lead to his big break.
Pritam, who had no work in hand, didn't want an assistant. But composer Rajesh Roy, who was also struggling to make his mark, did.
Pritam performed the introductions.
"I assisted Roy for a year, hoping to get my big singing break some day," says Bhattacharya. "Meanwhile, I was singing in the chorus and doing the job of a runner (delivery boy). I also did any kind of office work that was needed."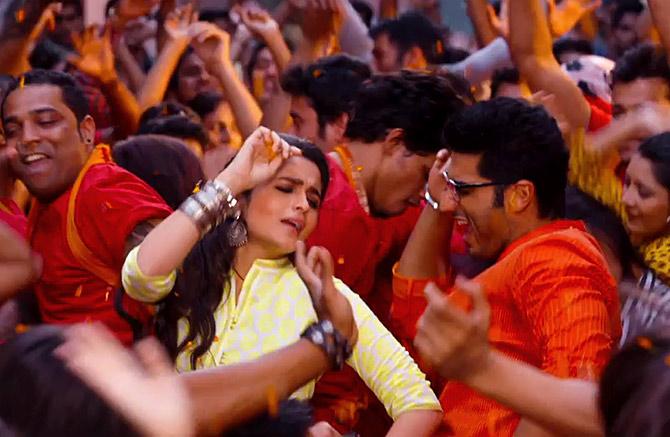 In a couple of years, Pritam found his footing and needed an assistant; he called Bhattacharya. Which is how Bhattacharya got to sing the scratch for the Dhoom title song before it was finalised and recorded with established singers like Shaan and Kunal Ganjawala.
A disappointed Bhattacharya continued to be a sincere assistant, hoping he would some day become a "singer".
One day, while working with Rajesh Roy, he wrote the rough lyrics for a song ("I don't remember which one," he confesses in a charmingly candidly manner). Everyone liked it so much that it was retained for the final version.
Explaining how music is scored for films, Bhattacharya says, "Generally, a composer creates the music for a song and sends it to the lyric writer. Sometimes, though, the composer wants some rough lyrics to play around with, so that the producer and director get some understanding of the song he is making and the situation on which he is creating the song. Since I was always available, I became a scratch lyricist."
Bhattacharya realised he was enjoying his new role. But he was worried. He didn't want to be known as a lyricist; he wanted to become a singer.
"I took on a pen name," he says. "Indranil."
Bhattacharya explains his fear. "Fifteen years ago, if you were tagged a lyricist, that's what you became. You could try as hard as you wanted, but you would never become a singer."
Man proposes and, in Bhattacharya's case, Destiny disposes.
Emotional Aatyachar from Dev D came his way.
"Dev D's director Anurag Kashyap, gave music director Amit Trivedi two words, Emotional Atyachar, and said he wanted them in a song. I wrote the scratch lyrics and everyone loved it so much that they refused to bring in another writer."
Emotional Atyachar became a youth anthem and recreated Bhattacharya's life.
It got him a call from director Sajid Khan. Let Bhattacharya tell you what happened next.
Videos: Hitesh Harisinghani/Rediff.com
That meeting changed his life.
"I realise now that a song is all about voice casting. Four elements are needed to create a song -- melody, the lyrics, the singer/s and how the song is produced. Each of these need to bring something to the table to take the song to the next level."
"As a singer, I was good, but not good enough. That is why my voice was used in the scratch and never in the final take. The music directors were my friends so they were polite about my failings. It was Sajid Khan who put things in perspective."
After that, there was no stopping Amitabh Bhattacharya, the lyricist.
"I came to Mumbai to become a successful singer. Instead, I have become a successful lyricist. I am happy," he says.
Today, he can also see how his junoon (passion) to become a singer has made him a good lyricist.
"Since I wanted to be a singer, I learnt hundreds of song by rote. Today, when I sit to write a song, this is what helps me. The words flow automatically."
Does he ever find himself staring at blank pages, struggling to write?
"Yes, many times," he smiles shyly.
Then, he makes a confession.
Nope, we aren't going to tell you what it is. Watch the video below to find out.