Staying home this weekend? Grab these DVDs and unwind!
Little Black Book
Cast: Brittany Murphy, Holly Hunter, Kathy Bates, Ron Livingston, and Julianne Nicholson.
Director: Nick Hurran

Plot: A talk show producer's personal and professional life goes for a toss after she digs into her live-in boyfriend's little black book, containing contacts of his former girlfriends.

Aces: Zany and unpredictable, Little Black Book is a refreshing change from run of the mill romances. Hurran lends the plot a mix of genuine confusion and spoofed ambition, making it an engaging proposition to take up. One must mention that without Brittany Murphy's sprightly presence and beaming smile, this dark comedy just wouldn't be the same. Oscar winner Holly Hunter lends a hyper hand too. Fed up of pink hued chick flicks? Try Little Black Book.

Extras: Available in English and French subtitles. Featurette 1. Be My Guest: Inside Daytime Talk Shows 2. Live & On-Air: The Making of Little Black Book. Trailers: Sony Pictures Previews.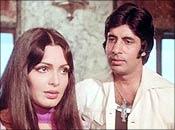 Majboor
Cast: Amitabh Bachchan, Parveen Babi, Farida Jalal, Rehman and Pran.
Director: Ravi Tandon

Plot: A young man faces the responsibilities of fending for his aged mother, handicapped sister and kid brother. Even as he struggles to make ends meet, he becomes a suspect in a criminal case. If that's not enough, doctors discover a fatal tumour in his brain. To make the most of his remaining life the guy takes a difficult call only to realise worse lies ahead.

Aces: Followed by the success of Zanjeer, Abhimaan and Namak Haraam, Big B's superstar magic was steadily on the rise. Around this time, under the direction of Ravi Tandon (Raveena Tandon's father), the angry young man delivered an intense act in Majboor. With able support from writer duo Salim-Javed's winning plot and Laxmikant-Pyarelal's catchy tunes (Dekh sakta hoon main, Aadmi jo kehta hai) the actor notched another winner here.

Extras: Available with English subtitles
Buy the DVD now!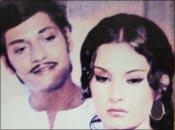 Chhoti Si Baat
Cast: Ashok Kumar, Amol Palekar, Vidya Sinha and Asrani.
Director: Basu Chatterjee

Plot: This one involves the metamorphosis of a shy and awkward chap into a smart and confident man, under the unconventional schooling of a retired army man, to impress the girl of his dreams.

Aces: For once a makeover didn't involve replacing glasses with contact lenses or buying an all-new glamorous wardrobe. Instead, Basu Chatterjee's frothy caper suggests confidence and not vanity is the key to success through the transformation in its principal protagonist's personality. One of the best aspects about this adorable flick is Amol Palekar's extremely believable performance. Note how effectively he creates a clumsy body language and stuttering tone for his character. Besides a wonderful supporting cast and Salil Choudhary's superb soundtrack, there are pleasant surprises owing to cameos from Dharmendra, Hema Malini and Amitabh Bachchan.  

Extras: Available with English subtitles.

Buy the VCD now!


Ever After: A Cinderella Story
Cast: Drew Barrymore, Anjelica Huston, Dougray Scott, Patrick Godfrey, and Megan Dodds
Director: Andy Tennant

Plot: Like the title suggests, it's the classic Cinderella tale retold sans fairy godmothers and pumpkin chariots.

Aces: There is something instantly sweet and appealing about this film despite its unexceptional premise. Director Tennant (Hitch, Sweet Home Alabama) blends the simplicity of the storyline by inserting humorous props to the screenplay. Technically too, Ever After scores big with its detailed art design, imaginative costumes and George Fenton's bewitching soundtrack. Shot against the gorgeous locales of France, this retake on the beloved fairytale looks great and has a heart. 

Extras: Available with subtitles. Original Theatrical Trailer.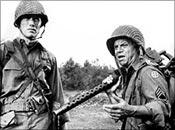 Kelly's Heroes
Cast: Clint Eastwood, Telly Savalas, Don Rickles, Carroll O'Connor and Donald Sutherland
Director: Brian G Hutton

Plot: In the middle of World War II, an ex-lieutenant forms a mini army of unlikely candidates to burgle gold worth $16,000,000 from a German bank.

Aces: There is war. There is action. And there's plenty of comedy. Kelly's Heroes take you on a memorable ride that thrills from the word go. Clint Eastwood, one of the top draws at the box office in 1970, swaggers his cowboy gait in military uniform here. The delicious cynicism and disdain for conformity in Kelly's Heroes sets the movie distinctly apart from serious war dramas and yet it doesn't shy away from mocking those who do.

Extras: Available in English and French subtitles.