Here are five ways to spice up your weekend!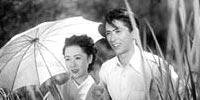 The Lady of Musashino (Japanese)
Cast: Kinuyo Tanaka, Masayuki Mori, Yukiko Todoroki, Akihiko Katayama
Director: Kenji Mizoguchi

Plot: In post-War Japan, Michiko, an unhappily married woman maintains a dignified stand even as her husband cheats her with a friend. Though attracted to her young cousin, who harbours great love for her, she refutes his advances. In the end, Michiko must decide her own fate.

Aces: What can you say about a film whose maker is greatly admired by Akira Kurosawa himself? The Lady of Musashino works on a lot of levels. It's about the tremendous change that came about in the Japanese society post WWII and the impact it has on the four crucial protagonists of this drama. The story moves ahead through their conflicting ideology and actions. In a brief running time of 85 minutes, Mizoguchi covers a lot of ground both in terms of story and characterisation. A memorable classic.

Extras: Available with English subtitles.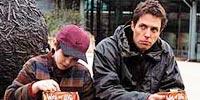 About A Boy (English)
Cast: Hugh Grant, Nicholas Hoult, Toni Collette, Rachel Weisz, Sharon Small.
Directors: Chris Weitz, Paul Weitz

Plot: A 30-plus guy living off his songwriter dad's royalties chases skirts and surfs television in the name of work. On the other hand, there is a 12-year old boy, a loner by nature. His main concern is to make his perennially depressed hippy mom happy. When the paths of these two boys cross, an unconventional bond blooms.

Aces: Adapted from Nick Hornby's novel, About A Boy was a huge hit at the UK box office. Thanks to its quirky humour, feel-good emotionality, delightful camaraderie between its two leads and unconventional approach by its director duo, the British comedy emerges a winner on all counts. Tired of seeing Hugh Grant play a stuttering idiot in movie after movie? About A Boy is just what we recommend. Badly Drawn Boy's zippy score is another USP. Not to miss!

Extras: Available Audio Tracks: English (Dolby Digital 5.1). Deleted Scenes with Directors' Comments.  Making of About A Boy featurette. Outtakes. Music video.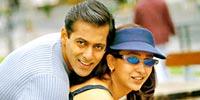 Dulhan Hum Le Jayenge (Hindi)
Cast: Salman Khan, Karisma Kapoor, Om Puri, Anupam Kher and Paresh Rawal
Director: David Dhawan

Plot: A boy and a girl meet on a tour. The inevitable happens and they fall in love. But the real task begins when the boy has to woo the girl's three eccentric uncles.

Aces: Karisma Kapoor may have settled in matrimony and motherhood, but her fans can still enjoy her old movies. Dulhan Hum Le Jayenge, which has her sporting short hair and a trendy wardrobe, is one such flick. In this typical leave-your-brain-aside-to-have-fun brand of romantic comedy, the cute pair of Salman and Karisma amuses you with their playful chemistry. Om Puri, Paresh Rawal and Anupam Kher tickle and Himesh Reshammiya, who was just starting back then, regales with his pleasant and catchy compositions like Mujhse shaadi karogi, Pyar dilon ka mela hai and Dheere dheere chalna. A breezy entertainer but no classic!

Extras: Available with English subtitles.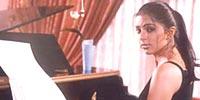 Missamma (Telugu)
Cast: Sivaji, Laya, Bhoomika Chawla
Director: Neelakantha

Plot: Getting a promotion is not all fun and games when the lady chairman of a leading company is at helm. Her unconventional tests take a toll on a prospective contender's professional and personal life.

Aces: Dramatic and comic, Missamma is entertaining, engaging and unpredictable all rolled in one. Most of the credit goes to its two key players. Bhoomika sheds her girl-next-door image and convincingly slips into the part of a to her touch-as-nails boss. Sivaji's pitiable antics keep the mood light. Though the subtitles, as far as the songs go, are painful. Oh Ratanmala, don't tease me like a lovebird. O cuckoo, don't sing. Do you want the world to notice? Ulp! That and a somewhat lame climax aside, Missamma is worth a watch. National award winner Neelakantha's Missamma bagged the Golden Nandi Award for Best Film in 2004. Find out why.

Extras: Available with English subtitles.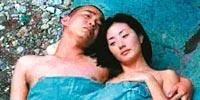 Spring, Summer, Fall, Winter... and Spring (Korean)
Cast: Su Oh-yeong, Kim Young-min, Seo Jae-kyung, Kim Jong-ho and Kim Ki-duk.
Director: Kim Ki-duk

Plot: The tale of an old Buddhist monk and his restless disciple, living by the lake in a secluded temple, narrated through the metaphor of changing seasons.

Aces: A spiritually fashioned yarn told with cinematic restraint and brilliance, Spring, Summer, Fall.. impresses with its striking simplicity. It sheds wisdom on the complex nature of a man's psyche without being too preachy or verbose. Gorgeously filmed by Dong-hyeon Baek, Spring, Summer, Fall.. won several awards and accolades at Film festivals including Locarno and Blue Dragon. A must-watch!

Extras: Available Subtitles: English, French. Available Audio Tracks: Korean.