Staying home this weekend? Here are five ways to spice your weekend!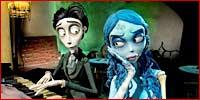 Film: Corpse Bride
Cast: Johnny Depp, Helena Bonham Carter, Emily Watson, Tracey Ullman, Paul Whitehouse, Albert Finney, Christopher Lee
Director: Tim Burton, Mike Johnson

Plot: During the prim and propah Victorian times, Victor and Victoria are arranged to marry by their monetarily starved parents. But owing to Victor's bumbling manners, their wedding rehearsal is a complete fiasco. While practising his wedding vows, Victor accidentally slips the ring on a twig. To his horror, it turns out to be the finger of a corpse bride. Murdered on her D-day, this bride awaits her groom in shining armour to come to her rescue. Only Victor is not too pleased to play his part. What happens next? Rent the DVD.

Aces: This incredible stop-motion animation is actually inspired by a very old Russian-Jewish folktale. But filmmaker Burton, with his trademark quirkiness and Johnson's animation wizardry, makes Corpse an unusual and, of course, entertaining experience. Burton favourites, Johnny Depp (in an awesomely unrecognisable voice over) and Danny Elfman (composing an enchanting score) make their presence felt strongly in the film that lost out to another stop-motion flick, Wallace & Gromit: The Curse of the Were-Rabbit at the Oscars earlier this year.

Extras: Available subtitles: English, Spanish, French, Inside the Two Worlds, Danny Elfman Interprets the Two Worlds, The Animators: The Breath of Life, Tim Burton: Dark vs Light, Voices from the Underworld, Making Puppets Tick, The Voices Behind the Voice, The Corpse-Bride pre-production galleries, Theatrical trailer, Music-only track.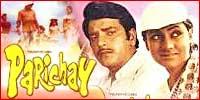 Film: Parichay
Cast: Jeetendra, Jaya Bachchan, Pran, Vinod Khanna.
Director: Gulzar

Plot: A young man comes to tutor five disorderly youngsters. Does he succeed?  

Aces: Parichay draws its inspiration from Sound of Music, but Gulzar's touch makes all the difference. This endearing film about family features spontaneous performances from the child actors and a strikingly sober Jeetendra. R D Burman's music, especially the track Musafir hoon yaaron, continues to be a huge hit.

Extras: Available with English subtitles.


Film: Saajan
Cast: Sanjay Dutt, Madhuri Dixit, Salman Khan.
Director: Lawrence D'Souza

Plot: Two friends fall for the same girl. Girl is in love with an anonymous poet. One of the friends happens to be that handicapped poet. He'll also be the one willing to sacrifice his feelings in the name of friendship. Too many complications later, the love triangle reaches a final conclusion.

Aces: The chemistry between the lead actors was superb, be it Dutt and Khan or Dutt and Dixit. A hard-core entertainer, Saajan was high on romance, melodrama and dramatic confrontations. A massive hit at the box office, the musical went on to win the Filmfare trophy for Best Music (Nadeem-Shravan) and Best Male Playback Singer (Kumar Sanu, Mera dil bhi kitna).
Extras: Available with English subtitles.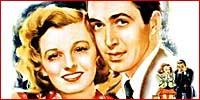 Film: The Shop Around the Corner
Cast: James Stewart, Margaret Sullavan, Frank Morgan, Joseph Schildkraut, Sara Haden.
Director: Ernst Lubitsch

Plot: Set in Budapest, The Shop Around the Corner revolves around two co-workers at a gift shop who simply don't get along. Secretly though, they are in love with their respective pen pals, blissfully unaware that their object of irritation and affection is one and the same.

Aces: This 1940 feel-good romance was the inspiration behind the Meg Ryan-Tom Hanks' starrer You've Got Mail. The original's wonderful narrative and charming performances make it an ideal watch for any age at any time.

Extras: Available subtitles: English, Spanish, French, 'A New Romance of Celluloid' documentary,  'The Miracle of Sound', Theatrical trailers for The Shop Around the Corner, In the Good Old Summertime, and You've Got Mail, 'A Great Story Is Worth Retelling' production notes.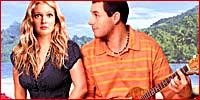 Film: 50 First Dates
Cast: Adam Sandler, Drew Barrymore, Rob Schneider, Sean Astin, Lusia Strus.
Director: Peter Segal

Plot: A playboy vet finds true love in a charming girl with a unique sickness. She suffers from short-term memory loss, which means he has to woo her every single day. 

Aces: Drew Barrymore! She's quite the cutie, isn't she? She conveys the sweet natured disposition of her character without any difficulty and makes an adorable pair with Sandler. So it's no surprise the duo won the Best On-screen Team prize at the MTV Movie Awards. An oddball love story that will keep you hooked and smiling all through.

Extras: Available subtitles: English, French. Commentary by: Drew Barrymore and director Peter Segal, Five deleted scenes with optional director commentary, The Dating Scene: The Making of 50 First Dates, Music videos: Hold Me Now by Wayne Wonder, live performance of Amber by 311, Love Song by 311, Comedy Central Reel Comedy special, Gag reel and Talkin' Pidgin featurette.