'It really kills me to see an elderly man come to the office regularly in the hope of a role to run his house.'
'Casting leads is tough, as it's tough to cast the perfect combination of talent and beauty, presence and personality. If I crack a lead, I'm happy.'
Shanoo Sharma -- the woman responsible for launching the careers of Ranveer Singh, Arjun Kapoor, Vaani Kapoor, Bhumi Pednekar and Alia Bhatt among others -- tells Ronjita Kulkarni/Rediff.com what casting is all about.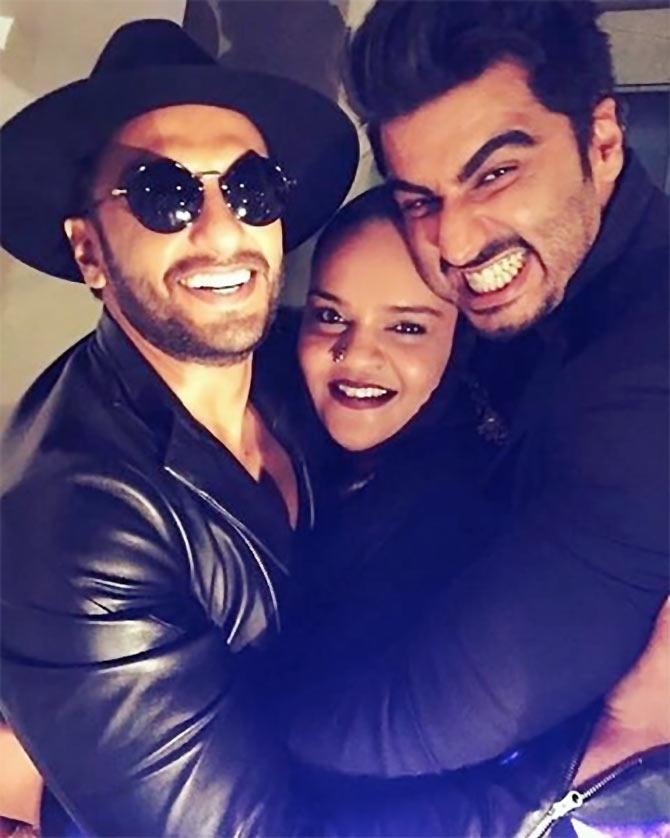 IMAGE: Ranveer Singh, Shanoo Sharma and Arjun Kapoor. Photograph: Shanoo Sharma/ Instagram.
If Ranveer Singh has to thank anyone for his super successful career, he'll probably start with Shanoo Sharma.
Arjun Kapoor, Vaani Kapoor, Bhumi Pednekar and Alia Bhatt owe their careers to her as well.
Shanoo is one of Bollywood's biggest casting directors, someone who has worked on movies like Kurbaan, My Name Is Khan, Band Baajaa Baarat and Ra.One. She has been working at Yash Raj Films for the past six years.
Shanoo never expected her life to pan out this way.
If she had her way, she'd be a housewife with kids, running a restaurant. That's her two-year plan, anyway.
As we celebrate the super successful women of Bollywood, Shanoo tells Ronjita Kulkarni/Rediff.com her story.
Shanoo's maternal grandfather was the legendary singer Mukesh while her paternal grandfather was a film distributor, who worked with movie mogul B R Chopra for 55 years.
Her parents were the only ones in the family who weren't connected with the movies -- her father was a hotelier while her mother was a dentist.
Her parents travelled a lot, taking their two children with them, Shanoo and her brother Sameer, who is seven years older than her.
Shanoo spent the first six years of her life in Jaipur, and then four years in Lucknow.
When she was about 10, the family shifted to South Africa and opened a restaurant.
"I would go to school, come back and then hang out at the restaurant. Have you seen those sitcoms where families ran restaurants? Well, that was us!" Shanoo says with a laugh.
They did that for nine years, then packed up and came to Mumbai for good.
"When we came back, I did several odd jobs from working in restaurants, opening bars, doing PR, working with jewellery and fashion designers, styling, acting... anything that people expected me to do."
"I would work for pocket money because my father would say, 'I'll give you khana, ghar and kapda. After that, you have to earn your own money. I'm not buying you silver, or paying your phone bills."
Her brother is the reason Shanoo became a casting director.
Sameer Sharma, who later directed Luv Shuv The Chicken Khurana (and is now directing Bhumi Pednekar, Ayushmann Khurana and Vicky Kaushal in Manmarziyan), started off as a writer and associate director on many films.
When Sameer was working on Sudhir Mishra's 2007 film Khoya Khoya Chand, he asked Shanoo to cast for the film.
"I had broken my leg and was stuck in bed for a really long time. I had started talent management at that time. I did not like dealing with actor baggage, and wanted to get out of it. When Khoya Khoya Chand came to me, I said yes," Shanoo says.
Soha Ali Khan and Shiney Ahuja had already been cast in the film. Shanoo cast everyone else, starting from Sonya Jehan.
Shanoo went on to help with the casting in Aaja Nachle (she cast the girl who plays Madhuri Dixit's daughter), Buddha Mar Gaya (Anupam Kher, Om Puri and Paresh Rawal), an American film called The Other End Of The Line (Anupam Kher), the unreleased Tere Kya Hoga Johny (where she cast her cousin Neil Nitin Mukesh) and Rock On!! (Purab Kohli and Shahana Goswami).
She has cast for many more films like Kurbaan, My Name Is Khan, Sikandar, Tere Bin Laden, We Are Family, I Hate Love Storys, Yeh Saali Zindagi, Band Baajaa Baarat and Ra.One.
She then joined Yash Raj Films, and her first casting assignment was for the 2011 film Luv Ka The End.
***
'I don't have a man in my life, but if I just make a wedding list, and start losing weight, it'll all just happen'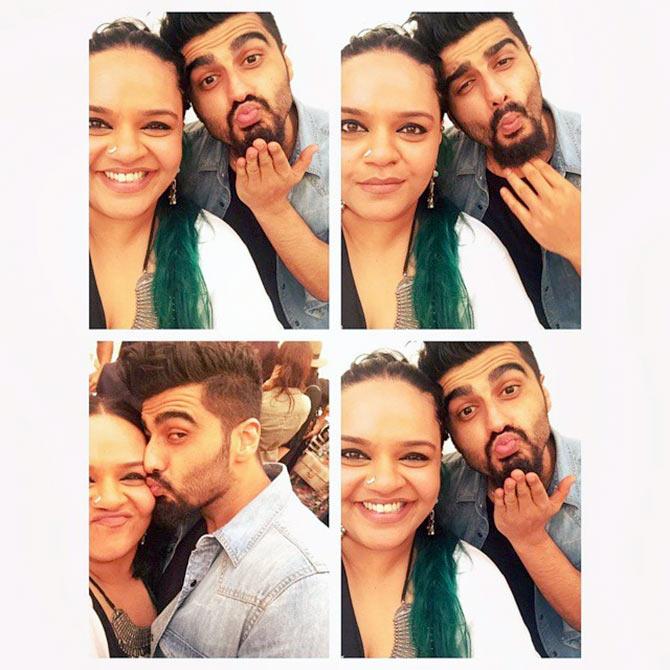 IMAGE: Arjun Kapoor and Shanoo Sharma goof around. Photograph: Shanoo Sharma/ Instagram.
Ranveer Singh is Shanoo's best friend, and she had always wanted to be responsible for his career.
When YRF was looking for a lead for Band Baaja Baraat, Shanoo grabbed the opportunity and recommended Ranveer.
'This is your guy,' Shanoo told her then boss Abhimanyu Ray.
Ranveer auditioned for the role, and bagged it.
Shanoo went on to introduce Arjun Kapoor and Parineeti Chopra in Ishaqzaade, Alia Bhatt in Student Of The Year and Vaani Kapoor in Shudh Desi Romance.
"I had auditioned Tahir Raj Bhasin and knew he would make a great villain," Shanoo says, referring to the menacing kingpin in the Rani Mukerji-starrer Mardaani.
Bhumi Pednekar started her career as Shanoo's assistant.
"Bhumi was a casting surprise for me," Shanoo says, with a smile. "I always knew she would act, but I didn't know there would be a role for an overweight girl. And look at what happened to Dum Laga Ke Haisha! It started as a really small film but became the biggest YRF hit that year. Bhumi wiped out every award!"
Shanoo herself has no acting ambitions.
"I would never act! And if I did, I wouldn't want to play an overweight girl. I would want to play the leading woman opposite Amitabh Bachchan, Anil Kapoor, Salman Khan, Sanjay Dutt, Shah Rukh Khan or Ranveer Singh. Or all of them together!" Shanoo says, grinning.
"But I don't think I'm going to get cast opposite these men. Eventually, I'm going to get married, have children and open a restaurant."
In fact, her Twitter handle describes her as a 'Future homemaker'.
"I have told my parents that I'm getting married in the next two years. I don't have a man in my life, but if I just make a wedding list, and start losing weight, it'll all just happen!"
"I have been in relationships, but they did not work out. Once you get into this profession, it's not easy being in a relationship. The whole world tries to link you up. I've realised you don't have to be a hot girl to get linked up."
"You can be as overweight as me and people will just talk. I've been linked with men and women I've cast. I'm glad I'm not casting animals!" laughs Shanoo, who lives with her parents, brother and grandmother.
***
'*Anybody* could be the next big thing'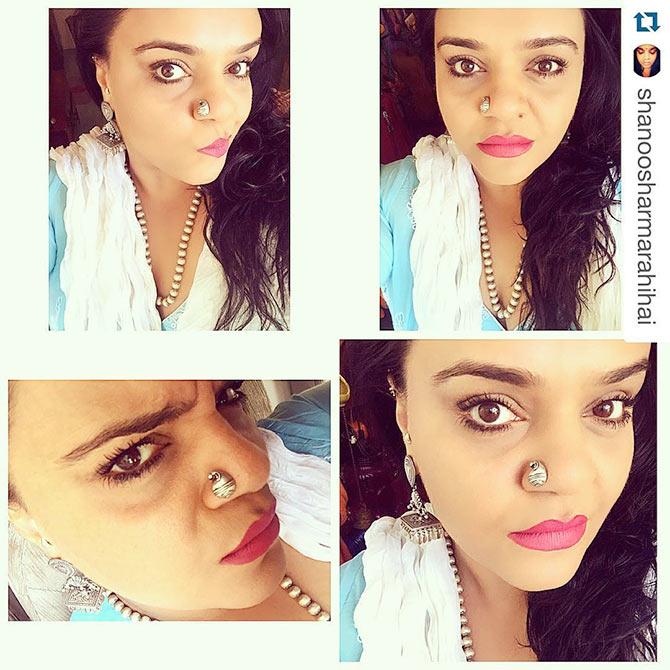 IMAGE: The many moods of Shanoo Sharma. Photograph: Shanoo Sharma/Instagram
The building which houses the Yash Raj casting office also has Anupam Kher's acting school, Actor Prepares, and Suresh Wadkar's singing academy.
The compound has a bunch of young men, pacing up and down and memorising their lines. There are some more on the higher floors, right up to Shanoo's third floor office level.
Inside the office, there is a larger crowd of people, waiting, chatting, laughing nervously.
Her office is elegantly decorated, and almost looks like a movie set. There are cut-outs posters of Sridevi in ChaalBaaz, pictures of James Dean and Michael Jackson on the shelves. There are also various mementoes given to her by various actors who she helped bag roles, like mugs and a pen set.
Shanoo, who sits by the window, wearing full make-up, will not meet any of the actors waiting outside. Her team of five will do the needful.
She explains how the casting process works.
The doors are open for all kinds of actors on Mondays and Tuesdays. They can walk in and introduce themselves on camera. The rest of the days are dedicated to movie auditions.
She makes announcements via her official channels like Facebook, Twitter and Instagram and invites actors to give auditions.
"If I ask for female characters, 1,000 women will walk in. When we asked for Sikhs, 150 people walked in," she says.
Shanoo goes through the auditions every night, and makes her decisions.
"If there is a north-eastern lady, we'll put her in the north-eastern folder, the Sardarji will go in the Sardarji folder etc. I may also call some people and test them again," she explains.
"*Anybody* could be the next big thing," Shanoo asserts. "And that's the hope I wake up with every day, that koi ladki khobsoorat si ya koi ladka talented aayega. Or I'll see someone really beautiful at Prithvi Theatre. When you find that, you get very excited. Like, when I was casting for a film last year, I found a retired school teacher from Jamnabhai Narsee school. She was a beautiful 80-year-old lady."
Shanoo is always on the lookout for interesting faces, and has approached people on the streets several times.
"I never go out without my assistants, and this is one of the reasons. If I see somebody, my assistant can jump out of the car and get the number," she says.
***
'I thank god that he's given me a position in life where a girl with a dream waits for me for 45 minutes'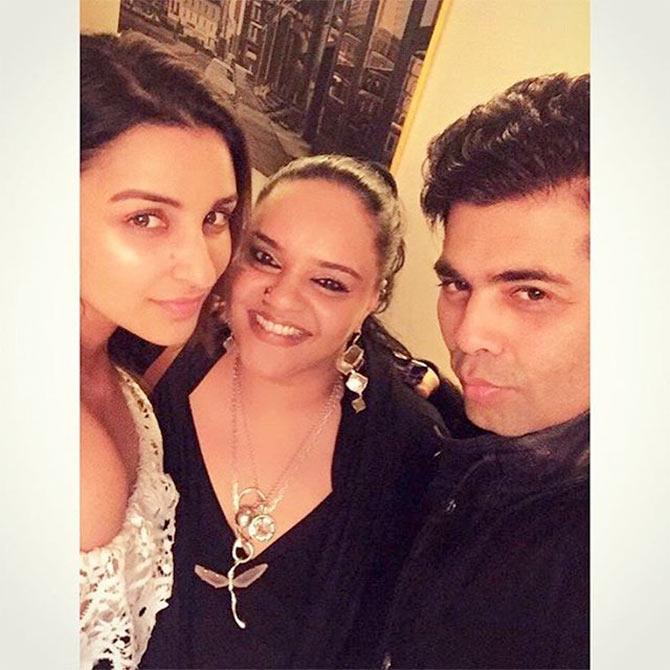 IMAGE: Parineeti Chopra, Shanoo Sharma and Karan Johar. Photograph: Shanoo Sharma/ Instagram
Shanoo's day has no routine.
"If I feel like going for a manicure now, I will," she says. "I need to back away sometimes and think how to up my game. I've cast Ranveer Singh but I can't survive on that. That's done, and now, I have to find my next Ranveer Singh."
"My mind is always working. I may not be in office every day. Even if I'm getting a pedicure and the TV is on, I'll send a voice note to my assistant and say that I have just seen a commercial, find out who this girl is. There are constant voice notes!" she laughs.
The job isn't always simple.
"It really kills me to see an elderly man come to the office regularly in the hope of a role to run his house. I get touched when my office is full of kids coming for an audition. I hate casting children," she says.
"Casting leads is also tough because today's audiences are very particular. It's tough to cast the perfect combination of talent and beauty, presence and personality. If I crack a lead, I'm happy," she adds.
But the toughest part is to tell someone they have lost the role. "Sometimes, someone may get selected for a part but then get dropped. And you have to call him and tell him even though he's very excited and he has told his family and everybody," she explains.
"The other night I was shopping for gifts in a shop in Lokhandwala (Complex, a residential area close to the YRF HQ in northwest Mumbai). A girl came up to me and asked me if she could speak to me, I was in the middle of my shopping, and the shop was about to close. So she waited for me for 45 minutes to talk to me."
"I don't disrespect that. I appreciate that. I thank god that he's given me a position in life where a girl with a dream waits for me for 45 minutes."
***
'I'm not going to ask someone to meet me at a hotel at night'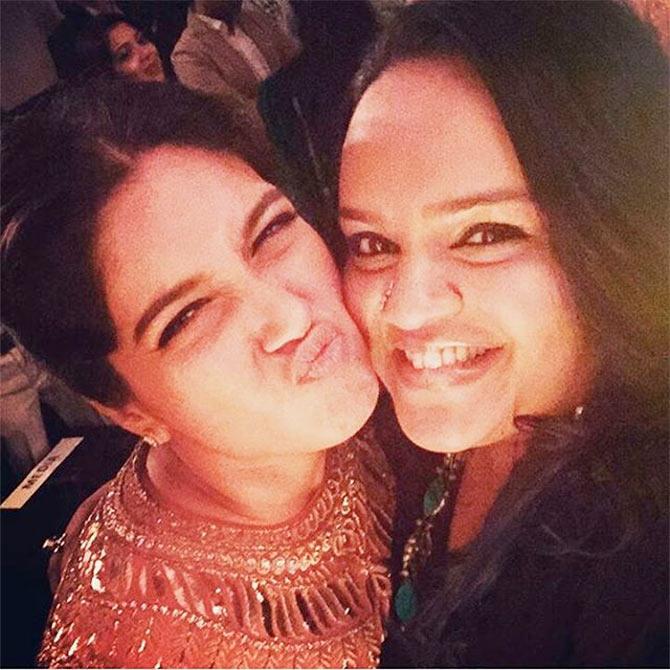 IMAGE: Bhumi Pednekar and Shanoo Sharma. Photograph: Shanoo Sharma/Instagram
Shanoo has just finished casting for Aditya Chopra's Befikre and is presently casting for the Parineeti Chopra starrer Meri Pyaari Bindu, Karan Johar's Ae Dil Hai Mushkil, and two untitled films.
"I'm looking for cops, traffic light attendants and waiters," she offers.
Is she a part of all casting decisions?
"I will not decide if Salman Khan is going to be in Sultan. But if there is a film like Bewakofiyaan and if we have to decide between Rishi Kapoor and someone else, then I am a part of that decision," Shanoo explains.
Finally, the all-important question: Does the casting couch exist?
"I believe the casting couch happens at a lower level with coordinators or at much higher levels, but not at our level. Today the casting business has become very professional. I'm not going to ask someone to meet me at a hotel at night. I'll be scared for myself!"