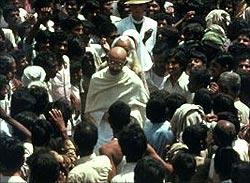 Richard Attenborough's Gandhi celebrated 30 glorious years on November 30.

On Friday, some key players gave Rediff.com fascinating accounts about the making of the epic.

Aseem Chhabra looks back on four memorable days when he played an extra in Gandhi:
One early morning in December 1980, before sunrise, my younger brother and I hopped into an autorickshaw in Delhi. It was freezing cold, but we were heading to one of the most exciting events in my life.
We had been cast as front-line extras in Richard Attenborough's hugely ambitious project Gandhi.
It was a two-day job and we were going to earn Rs 75 each, per day -- a lot of money for university students.
I first heard direct reports about the film from my actor friend Alok Nath. We were classmates in New Delhi's Modern School and later acted in plays produced by Ruchika, a Delhi-based theatre group.
Alok always played the lead, but I was often cast in smaller supporting roles or performed backstage tasks to satisfy my creative interests.
The young, handsome and slim Alok was still at the National School of Drama, but he had been cast to play a small role in the film. I had also heard that another Ruchika alumnus, Neena Gupta, was going to play Abha, one of Mahatma Gandhi's nieces in the film.
Then I heard from university friends that the Gandhi team had set up office at the Ashoka Hotel and they were looking for extras. Many of my classmates and other students had already appeared as extras in crowd scenes ranging from the depiction of Partition, to Gandhi's assassination.
So my brother Rajat and I showed up one day at the casting office at Ashoka Hotel with our passport size pictures. Within minutes, we had been hired to play passengers in a train that was supposed to arrive at Sabarmati Ashram. We were given our costumes -- white kurta pajamas -- that we had to wear when we arrived for the shoot in the morning.
On the day of the shoot, a large group of us were bused from Ashoka Hotel to a small railway station near Faridabad in Haryana. That station in Haryana was to become Sabarmati Ashram in Gujarat.
At the shoot, there was terrific breakfast -- fruits, baked goods, coffee and tea. This movie business already looked exciting.
We were asked to board a compartment in a train at the station. I grabbed the window seat from where I could see the hustle bustle of a movie set. I remember talking to my photographer friend Pablo Bartholomew (another classmate from Modern School) and also Amal Allana (I had operated lights for a Ruchika play that she directed) who along with her husband Nissar worked in the art department for the film.
And then I saw Attenborough welcoming the terrific Delhi stage actor Vijendra Razdan, who looked exactly like the character he was playing, Maulana Azad. Attenborough was short, round, and had a very warm demeanour. I remember him asking Razdan in his British accent: "How are you, young man?"
The first shot of the day was to capture the arrival of the train at the Sabarmati Ashram. I cannot remember how many takes they must have shot, but for most of the morning our train left the station, travelled approximately a quarter of a mile away, and then would slowly arrive at the station. We went back and forth, sitting in the cold train, until it did not seem like fun.
We broke for lunch -- sandwiches from Ashoka Hotel. The food was good, but then I noticed that most of the crew and the lead actors were escorted to an enclosed tent where they were supposedly given better quality food. And that is when I learned an important lesson: There is class division at film shoots. Extras did not eat with lead actors.
After lunch, there was another star sighting. Saeed Jaffrey, who I had seen in Shatranj Ke Khilari and Chasme Buddoor, boarded our compartment and sat across from us. Jaffrey was playing Sardar Patel in the film. Seated next to him was another extra, who introduced himself as Amitabh. And so, there were several takes of Jaffrey getting off the train.
At one point, in between takes, Amitabh told Jaffrey that the actor had given a perfect shot in the last take. A few minutes later, Jaffrey -- now back in our compartment, turned to Amitabh and told him in a stern voice that he should never comment on an actor's performance in between takes.
The day ended with the bus ride back to Ashoka Hotel. The same routine happened the next day. We were back at the Ashoka Hotel before sunrise and then bused back to the fake Sabarmati Ashram.
The next day's shoot involved the arriving guests being welcomed at the station. We took the same positions in the train, but now the camera focused on British actress Geraldine James, playing Miraben. There were coolies running back and forth at the station and from a distance, I saw a group of western extras -- European tourists hanging out in Delhi, now dressed up as proper sahibs and memsahibs, getting off the train.
I later learned that the Western actors earned Rs 150 per day -- double of what we made. There was a third category of extras -- actual villagers brought from nearby villages and who rode on top of the train during the shoot. I was told they were paid Rs 25 per day.And I remember wondering about what Gandhi would have said about this class division.
At the end of the second day, one of the assistants handling the extras gave us good news. There was more work for my brother and me.
The next two days, our bus took us to Delhi's Birla Bhavan. Attenborough had shot some scenes leading to Gandhi's assassination, but due to changing weather conditions, he still needed to capture Gandhi's walk to the prayer ceremony, just before his assassination.
Fortunately, the sun was out that morning and we spent a substantial part of the day walking back and forth on the graveled path leading to the main garden in Birla Bhavan where Gandhi used to hold his daily evening prayers. There were a lot more extras, and at lunch break, I noticed the food was not as good as the sandwiches from Ashoka Hotel.
During one of the shots, I saw actor Harsh Nayyar -- Nathuram Godse in the film -- as he walked along with the extras heading to the prayer ceremony. I also saw Neena Gupta and spoke to her briefly. But most important, I saw Ben Kingsley -- transformed into Gandhi, as he walked besides Gupta's Abha.
Day four of the shoot, the clouds were back. The extras waited the whole day, sitting in the Birla Bhavan garden, waiting for the clouds to clear. But the sun never came out. We ate our meals, and were eventually sent home, after we had been paid.
That ended my four days at the Gandhi shoot -- the easiest Rs 300 I earned.
Two years later, in December 1982, I was a student at Columbia University's Graduate School of Journalism when I went with many of my Indian friends to see Gandhi at Manhattan's Ziegfeld Theatre. By then, I had told them all about my experiences at the film's shoot.
Towards the early part of the film, we saw the Sabarmati Ashram train station scene. The two days of shooting lasted a couple of minutes on the screen.
For a slight moment, I caught a glimpse of my face looking out of the train window as Jaffrey stepped out of the compartment onto the platform.
My heart skipped a beat as I saw myself on the giant screen. I have watched the film a few times since then. And I can still see my face in that brief shot, immortalised like the rest of the film.