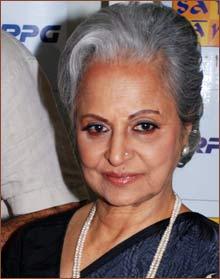 Waheeda Rehman has taken up voluntary retirement.
The iconic actress, who has
an ardent fan in Amitabh Bachchan
, explains: "Where are the roles? It's getting tiresome to play mother and grandmother's roles. I don't enjoy it any more. It's unlikely that I'd accept anything else now.
Bas, ab bahut ho gaya (enough is enough)."
The screen legend, who began her career in 1955, was last seen in
Delhi 6
. But now, she claims there's nothing exciting coming her way.
Reminiscing about her switch-over to mother roles, Waheeda
ji
said, "I got the role of a lifetime in Rajinder Singh Bedi's
Phagun
in 1973. I had to play Jaya Bachchan's mother. That did it for me. I was suddenly flooded with mother's roles. I found myself playing Rajesh Khanna's mother just nine years after I played his leading lady in
Khamoshi
."
Waheeda
ji
blames the male-dominated film industry for the premature matriarchal status accorded to leading ladies. "The heroines for our established heroes are getting younger and younger. So the heroines, who started their careers with these established heroes, are quickly promoted to senior roles."
Isn't this unfair? Waheedaji says reasonably: "It's the norm in cinema everywhere. Look at Meryl Streep. She contemplates quitting every year and then Hollywood quickly offers her another role. Sadly in our industry, there's no such remedial procedure. Once a heroine is beyond a certain age, she has to graduate to mother's roles or quit."
Waheedaji had sold off her farm in Bangalore a few years ago to settle permanently in Mumbai, where she lives with her son and daughter.
"I'm happy to be doing other things. My days are full and I have no regrets," she signs off, and ends the career of one of the greatest actresses ever.
Don't want Waheeda Rehman to quit? Tell her yourself!
.