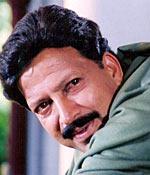 Dr Vishnuvardhan, who passed away on Wednesday, besides being a great actor, was a role model.

Despite a massive fan following, he was a simple, helpful person.

As an actor, he stuck to the basics from day one. Dr Vishnu, who was trained by the noted director Puttanna Kangal, was known for his punctuality and discipline. 


In fact, the Kannada movie industry has had two icons -- Dr Raj Kumar and Dr Vishnuvardhan. Like Raj Kumar, Dr Vishnu also shunned politics. He remained a lifelong torchbearer of Kannada cinema.

Dr Vishnu acted in films of all the South Indian languages and also did five Hindi films. His Bollywood debut was with Ek Naya Ithihas, in which he was paired with Hema Malini. He produced Inspector Dhanush in Hindi, in which he acted in the title role. Ashanth and Zaalim were the other two Hindi films he acted in.

He shared screen space with other South superstars like Rajnikanth (Vidudalai), Mammotty (Kauravar) and the Kamal Haasan-directed Marudanayagam, which was however shelved after a few days of shooting. Earlier, Dr Vishnu acted with Prem Nazir in a Malayalam film.  

Dr Vishnu won many prestigious awards, including seven state and six Filmfare awards. 

Among his notable films are Vamsha Vruksha,  Nagarahaavu, Bandhana, Nagarahole, Muththina Haara, Suryavamsha, Veerappa Nayaka, Yajamana, Aaptha Mithra and Sirivantha. 

He was also a philanthropist. He started an organisation called Sneha Loka to promote harmony and to help during calamities like floods. He was heavily involved in many charitable causes, but took care not to publicise many of them. He was a brand ambassador to the Vikram Hospital in Mysore and paid for the expenses of many financially weak rural children suffering from heart ailments. 

Dr Vishnu and his wife Bharathi Vishnuvardhan had adopted Melukote town in Mandya district where he had dug borewells in the water-starved temple town. Many of his other charitable donations were revealed only when the beneficiaries came forward themselves and spoke about it.

Dr Vishnu had many close friends in the neighboring film industries like Rajnikanth, Kamal Haasan, Chiranjeevi, Venkatesh, Mohan Babu, Suhasini Manirathnam and Radhika. Not surprising then, among the many artists who came down to Bengaluru to pay their last respects were Sharath Kumar, president, Tamil Nadu film artists association, his actress wife Radhika, and noted singer Dr S P Balasubramanyam.  

Karnataka Chief Minister B S Yediyurappa described Dr Vishnu's death as the greatest loss to the state of Karnataka this year. The government has allotted two acres of land for his burial and for creating a memorial for him.