Richa Chadha to play Shakeela... Vidya Balan turns producer...
Subhash K Jha's Bollywood Buzz...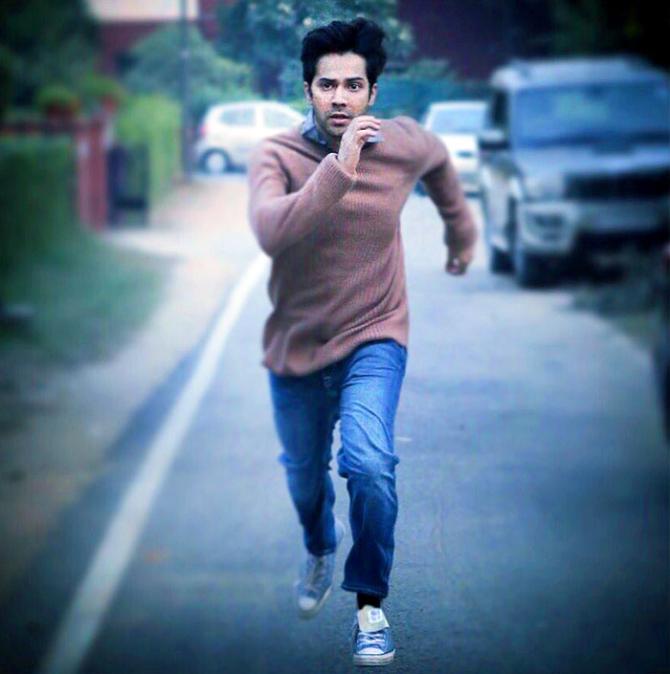 IMAGE: Varun Dhawan in Shoojit Sircar's October.
David Dhawan plans to go serious.
David wants to do a serious (read non-comedy) film with his son in the lead.
This decision came after seeing Varun Dhawan's work in Shoojit Sircar's October.
Says David admiringly, "I can't believe the work that my son is doing. When I look at the work he is doing I forget everything I've done so far."
"Varun is not afraid of failure," his dad says. "He doesn't follow any formula nor adheres to any set pattern. I need to also move away from the set formula, find an adventurous route."
"He tells me it's very liberating. I must try it."
David promises to get together with Varun to do something "entirely unexpected, even shocking."
"If Varun can fall so comfortably into my formula in Judwa 2, I can just as easily move away from the formula to create something completely unexpected with Varun."
***
Richa to play Shakeela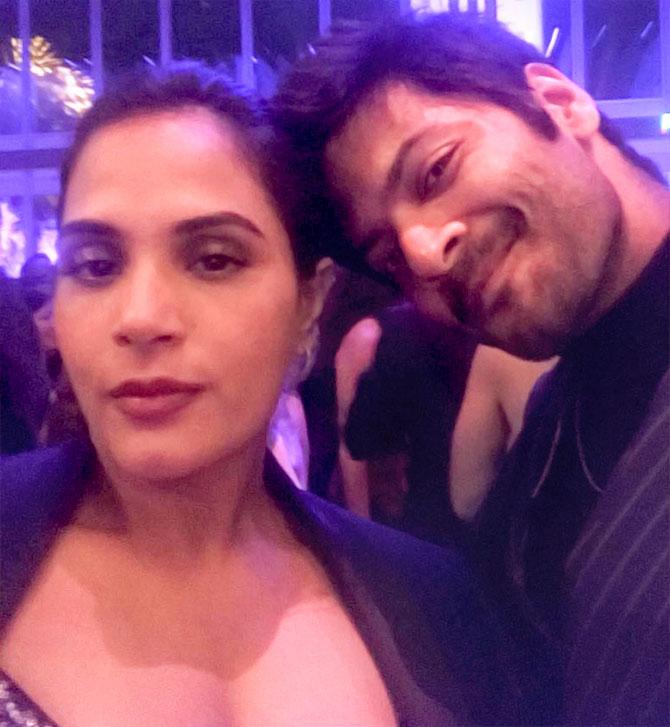 IMAGE: Ali Fazal and Richa Chadha at Vanity Fair's Oscars party. Photograph: Kind courtesy Richa Chadda/Instagram
Richa Chadha -- seen as the chawl's resident femme fatale in 3 Storeys -- was seen with her boyfriend Ali Fazal at the Oscars parties in Los Angeles earlier this month.
"I had some work in LA and Ali had to attend these pre-Oscar events, so we decided to make a mini-vacation out of it. It was a lot of fun. We got to attend a lot of high-profile prestigious events like Elton John's AIDS memorial dinner, the WME (William Morris Endeavor Entertainment) party and the Vanity Fair party in addition to some other really posh parties where we got to interact with really interesting people from all over the world."
"I wasn't disappointed when Ali's film Victoria and Abdul did not win any Oscar. I was just proud he was part of this film. Tell me how many Indian actors get to play the title role in a Hollywood film and that too opposite the indomitable Judi Dench?"
"I am very proud of Ali and the film. For the rest of his life we can be proud that Ali was showcased for the nominations in two major categories."
Her voice fills up with pride while talking of her boyfriend's achievements. But she doesn't like discussing Ali in print.
"I hate discussing my relationship and possible marriage. That becomes the headline and I hate that. I don't enjoy so much scrutiny of my personal life."
Richa has just given the nod to a bio-pic on Shakeela, the Tamil/Telugu/Malayalam star of adult content.
She isn't willing to reveal much about the role. "It is still under discussion and we are still trying to figure out the logistics. Shakeela was an entertainer ahead of her time. I will play her as a someone who didn't fear the camera."
About her guest appearance in 3 Storeys, Richa says, "It was always meant to be a brief role. 3 Storeys has an ensemble cast and I am just happy to be part of such a brave film."
"I've a much more substantial role in Sudhir Mishra's Daas Dev. It is a romantic thriller set against a political backdrop. Daas Dev offers a revisionist take on Saratchandra Chatterjee's Devdas. My character is a feminist interpretation on Paro."
Richa says her life is looking good. "I've just signed a few more interesting films. And I am also finding my feet in Hollywood thanks to the trip we just made to LA. My Fukrey Returns has been a success and that has made a lot of difference to my career."
***
Vidya turns producer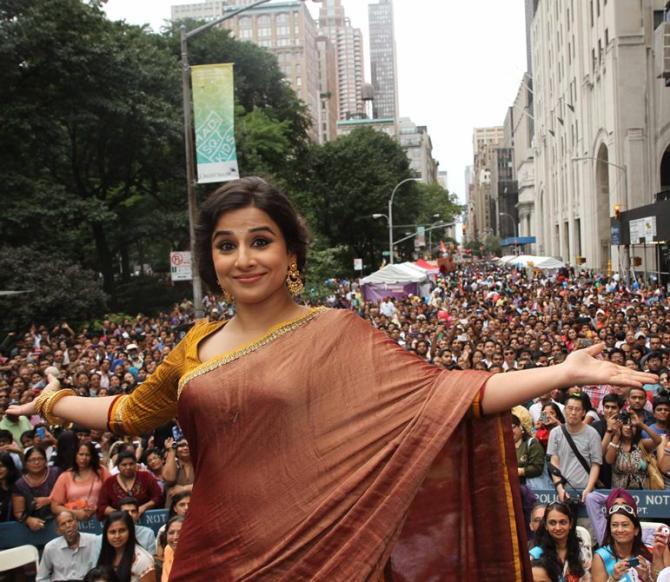 IMAGE: Vidya Balan as the Grand Marshal at the annual India Day Parade in New York, August 17, 2013. Photograph: Paresh Gandhi
Sidharth Roy Kapur won't produce the Indira Gandhi Web biopic based on journalist Sagarika Ghose's biography Indira: India's Most Powerful Prime Minister.
The Web series will be produced by Sid's missus. Vidya Balan will produce films now under the banner Vidya Balan Films, quite separate from her husband's SRK Productions.
"Vidya," says a source, "now feels the need to generate content that she would like to be part of. Not that she will star in everything she will produce. But Vidya will most certainly like to do biopics on personalities she admires such as Indira Gandhi and Lata Mangeshkar."
Some years ago Vidya was pencilled in to do a biopic on the legendary singer M S Subbulaxmi and more recently she had agreed to be part of a biopic on poet Kamala Das,
Both projects fell through, prompting Vidya to take matters into her own hands.
Adds the source, "The Indira Gandhi biopic will require loads of research on Vidya's part and her entire dedication for the next few years. Vidya doesn't intend to make it as a feature film but as a Web series, as the vast stretches of plot and incidents in Mrs Gandhi's life cannot be rendered in two hours."
Vidya is not the first actor to aspire to play India Gandhi.
Ten years ago Manisha Koirala was all set to play Mrs Gandhi in N Chandra's biopic. That never happened.