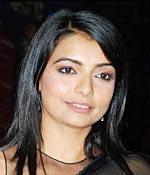 Choreographer Vaibhavi Merchant caught the attention of Bollywood with her first solo work in the song Dhol Baaje for the hit film Hum Dil De Chuke Sanam. She bagged a National Award for it. Her work is featured in many award winning films like Devdas, Veer Zaara and Lagaan.

She also choreographed one of the most popular songs of the last decade Kajra Re for the film Bunty Aur Babli.

One of the busiest choreographers in India today, Vaibhavi is now heading towards Berlin where Don 2 is being shot. Her musical show, Merchants of Bollywood, is currently touring the US, and has become a hit.

She tells Arthur J Pais more about it.

Are you surprised that this show has become an international success story?
It began as a small show, and now I believe it has travelled to over a dozen countries. My big concern when (writer-director) Toby Gough met with me was that it should be an authentic show and reflect Indian traditions.
Helping this production mount must have been a very unusual experience to you.
Here I got a platform to do something very different from what I do for films. I was not dealing with a story lived by somebody here. I am confined to the script in films, though I have to create dance movements of my own. But this production became my soul and life because everything started from scratch. It is more than a story of two journeys -- that of my grandfather Hiralal and myself. It is a journey of our film industry over the last six decades.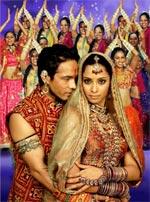 Was this going to be the story of a grandfather and granddaughter from the start?
What you see now is our story, and the clash of cultures. But it is also a story about bonding, principles, and work ethics.
It is a fun show. One of its unique selling points is that every year or so we make suitable changes, incorporate new and popular songs.
But when Toby came to see me in Mumbai, he had something like a Bombay diary in mind -- various dance and music episodes. Things changed dramatically when I spoke about Bollywood and its various dance traditions.
And I spoke about my grandfather, his journey in Mumbai and Chennai where he also choreographed some big budget films like Vanjikottai Valiban, starring Vyjayantimala, Padmini and M G Ramachandran (made by Gemini Studios in 1958). There is a wonderful piece of choreography in that film in which Vyjayantimala and Padmini are competing against each other. It is an amazing piece of dance and editing. In those days, they had a fraction of resources we have today and yet they achieved something that has remained evergreen.
When Toby heard of my grandfather's journey and my own journey in Bollywood which began about 10 years ago, he declared: 'This is the show.' I could not believe what I was hearing. Toby wrote the story, incorporating many imaginary episodes. I came aboard to design the choreography.
Gough has said it was tough meeting you, that he had to chase you all over the town.
(Laughs) I have a friend, who plays practical jokes all the time. So when I got a call from a man with a foreign accent saying that he is looking to meet with me to discuss a dance and drama show, I thought it was my friend playing a prank. I said something rubbish. But the man on the other side of the phone line persisted, and I learnt that he was not my friend but someone who was really serious about doing a Bollywood-inspired show.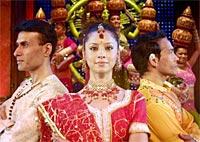 The show offers some of your famous dance items.
But it also uses the more traditional dances, especially set in my grandfather's times. We have used the popular tunes that went with my dance items but Salim and Suleiman Merchant have also composed original music for the show.
What have you taken most from your grandfather?
My life lessons are incorporated seamlessly in the show. I grew up to the sounds of tablas and gunroos. My grandfather, who passed away in Bangalore in 1989, would have admired this show. This is the story of a generational clash but it is also a story of reconciliation and bonding. My grandfather's outlook was pan-Indian, and I wanted this show to embrace various Indian traditions.
If someone had told you two decades ago that part of your own life would be the inspiration for a popular show that has found audiences from China to America...
(Chuckles) I would not have believed it. When I was training as a dancer (also groomed by uncle Chinni Prakash, a noted choreographer), I could not have imagined where my life and career were going. Now part of my life, and the history of Indian film choreography have found audiences across the world.