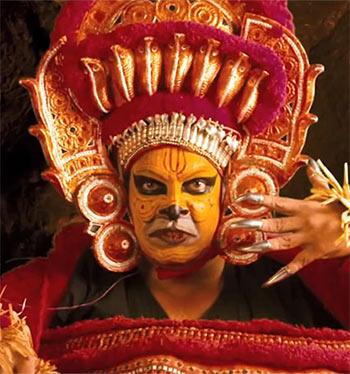 'I had a great experience working in Uttama Villain.'
'For a newcomer to be working with Kamal Haasan, with the added bonus of a musical, is an opportunity few are blessed with.'
Music composer M Ghibran talks about his experience of working with Kamal Haasan on Uttama Villain.
Refreshing, soul-stirring, classy, experimental and brilliant are the words most often used to describe the work of music composer M Ghibran.
He worked in the advertising industry for over a decade, creating hundreds of jingles, before making a stunning debut in Tamil films as music composer for Vaagai Sooda Vaa in 2011.
This was followed by a series of terrific compositions in Naiyaandi, Thirumanam Enum Nikkah and Amara Kaaviyam.
Though widely appreciated for the music, the films failed at the box office.
This did not deter the legendary Kamal Haasan from giving Ghibran the opportunity to compose music for not one but three of his upcoming ventures - Vishwaroopam 2, Uttama Villain and Papanasam.
As he awaits the release of Uttama Villain next month, an elated Ghibran opens up on what it means to be a part of a Kamal Haasan film, box office success, and his role in a short film that will be screened at Cannes later this year.
Three films in a row with the legendary Kamal Haasan; how did that happen?
I was told that somebody played the music of Vaagai Sooda Vaa to him during the making of Vishwaroopam.
Both he and the crew liked it and I was called for a meeting. I still remember every moment of that session.
I was very nervous, but he made me feel comfortable. He narrated the story to me and we immediately started composing a song.
It was a one-on-one session, which was a new experience for me. We even finalised the tune for a particular song that very day.
About three or four months later, when we had almost completed the composition for Vishwaroopam 2, he introduced me to Ramesh Aravind, his director for Uttama Villain.
I was not sure why he was introducing me. It was more like a social meeting. We were talking and chatting and suddenly he started narrating the story. It was only then that I realised I was a part of that film.
It was the same for Papanasam. Suddenly one day, he wanted to know if I had seen Drishyam. I replied in the affirmative and very casually he mentioned that the team director will contact me.
And just like that, I became a part of all his three films.
What was Kamal Hassan's involvement with the music in the films?
He directed Vishwaroopam 2, so of course he was completely involved.
The story, screenplay and dialogues of Uttama Villain were by him. The choreography too, and he is also co-producer of the film. So, it was his baby.
But in Papanasam, the remake of Drishyam, he did not interfere. It was the director Jeethu Joseph's vision.
Which film presented a greater challenge?
I had a great experience working in Uttama Villain.
The film is a musical, so despite the challenges, there was greater scope.
For a newcomer to be working with Kamal Haasan, with the added bonus of a musical, is an opportunity few are blessed with.
Was it more pressure working with a perfectionist like Kamal Hassan?
I would not describe it as pressure; it was more like interacting with a lecturer.
While studying at the LASALLE College of the Arts, Singapore, I was mentored by an Australian composer, Lindsay Vickery, for three years.
He was a wonderful teacher and working with Kamal sir felt the same.
He was a great inspiration, constantly giving me new tips, ideas, and encouraging me.
He got just as excited when I came up with something new.
It seemed more like a mutual effort. It was not a scary experience, but rather an adventurous one.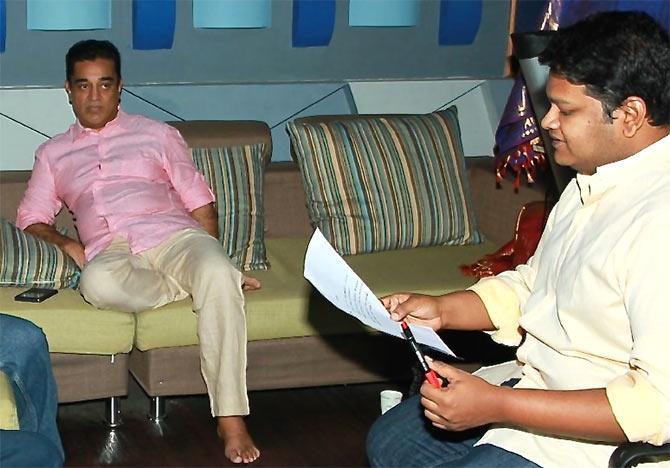 Now that you have entered the big league, are you being treated differently?
People take me more seriously now.
Working with Kamal sir has opened up a whole new dimension.
I feel enriched and this reflects in not only my music, but everything.
Within the industry, my inputs are taken more seriously.
People realise that maybe this person has got something.
Recognition from someone of the calibre of Kamal Haasan lends more credibility to your work?
To a certain extent it does. Success and recognition do matter.
I feel that 50 per cent of a song's reach depends on the music and the other 50 on the success of the film.
Unfortunately, despite appreciation for my music, the box office was not very kind to my films. In this industry, box office success and getting projects definitely go together.
I feel that Uttama Villain will change all that.
This film is Kamal sir's precious gift to me. He has given me what the box office has denied me.
Tell us about this short film, Swayer Corporations that you have been associated with.
Swayer Corporations is a short film by a very close friend of mine, Rathindran R Prasad.
He narrated the script to me and I loved it. But when I asked him what he expected from me from the music perspective, he said that there would be no music in this film.
So I took on the role of executive producer.
It was just four days of shooting – a 30 minute socio-thriller about an angry young environmental activist on a journey to kill the CEO of a chemical company.
We sent it to Cannes and, surprisingly, a week ago, we got a mail stating that it has been selected to be screened for the Cannes International film festival 2015.
What challenges do musicians face today?
The real challenge is to get into the director's mind, understand his vision for the film and give him what he desires without compromising too much on your creativity.
One contemporary musician you admire?
Santhosh Narayanan is a very good friend of mine. I admire his work.
We talk to each other often. We also discuss and comment on each other's work.
Earlier, a select few musicians dominated the music scene. A whole lot of youngsters are competing for space today. Do you feel threatened?
I don't believe this is a trend unique to the music industry. It is happening in all fields - lifestyle, clothing, food.
Today, when we visit iTunes, we have Rahman sir's music; we have the music for Uttama Villain as well as the Interstellar soundtrack.
The whole world is open to us. We have to accept this fact as a part of life.
There is no use feeling bad about it. We just need to do our best and leave the rest to God.
We are heading towards a future where everyone will be entitled to their 15 minutes of fame. As Andy Warhol said, "In the future, everyone will be world-famous for 15 minutes."