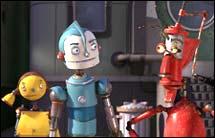 Machines ruled the box-office all right, but the three-day gross for Robots was far from sensational.
The film, with the voices of Robin Williams, Halle Berry, Mel Brooks, Ewan McGregor and a raft of other well known names, is sure to make a lot of money but its $36.5 million weekend gross was certainly on the lower side of expectations. The gross would have been smaller still, if not for the trailer for the newest Star Wars installment added on to the movie.
Still, Fox executives were widely quoted as saying that Robots did exceedingly well. They pointed out that another family-oriented film, The Pacifier, is continuing strongly in its second weekend. With spring vacations around the corner, Robots would have strong legs at the box-office, the executives reasoned.
One reason the expectations for Robots were very high was due to the advertising campaign with the line: From the makers of Ice Age. A surprise hit in the year 2002, Ice Age, which did not feature celebrity voices of the caliber of Robots, opened with a weekend gross of $46 million, and ended up with $178 million in North America.
Meanwhile it was a disappointing week for Mel Gibson, who failed to resurrect The Passion Of The Christ. Unleashed in 954 theatres to exploit Easter season, the new version, The Passion Recut, with its violent scenes edited out, grossed just about $240,000.
Distributor New Market Films was quoted in USA Today as saying that it expected Recut to gross at least $25 million in its new release. Going by the weekend's tally, the new version needs a miracle to go beyond $1 million!
The other wide release of the week, Hostages, proved that while Bruce Willis's best years are far behind him, he cannot be written off. The movie opened to a so-so $9.8 million, but was not the disaster some thought it would be. The film, which cost about $40 million, could still be profitable if it enjoys a decent run abroad and is a hot seller in the DVD and video markets.
While Robots opened to upbeat reviews, Hostages had mixed reactions.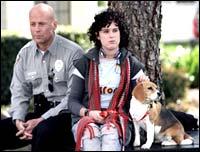 'Much of the drama is wrung so hard,' noted Atlanta-Journal Constitution of Hostages, 'the film borders on the ridiculous.'
As for Robots, the best review came from Newsweek. 'A blend of artistry and anarchy!' said the review. 'It's the best piece of computer-animated eye candy any studio has ever produced.'
You may think the Newsweek comment was a bit too high, but there is no denying that Robots has many good moments and is visually dazzling.
Among the holdover movies, Hitch showed the best legs. Unlike Be Cool which tumbled by a scary 56 percent in its second week, the Will Smith comedy slipped by just about 28 percent in its fifth week. With $8.7 million grossed over the weekend, its total has reached almost $150 million. The film, marching towards $100 million abroad (a rarity for a film with African-American artists), has a good chance of reaching $180 million in North America. It further consolidates Will Smith's reputation as one of Hollywood's bankable stars, and keeps him in the league of Tom Cruise and Tom Hanks.
At the 10th position on the chart, Cursed is bleeding heavily and living up to its title. The Wes Craven film -- about siblings who gain supernatural powers after a werewolf bites them -- is struggling to reach $20 million. Though most horror films released in the past year have done excellent business, Cursed has been luckless. And its failure is even more surprising since its maker Wes Craven has a solid reputation.
In its fifth week, the Aishwarya Rai and Gurinder Chadha musical comedy Bride & Prejudice went up by 17 percent with the addition of 103 theatres, taking its total count to $3.8 million. It also jumped from the 19th position to the 15th.
With about $790,000 grossed over the weekend, the movie has remained steady, but its per screen average hasn't been that good during the recent expansion. This week it was just $2,800, and that number raises the question: how wide can the film go?
At the current rate of surge, the movie might be able to reach $8-$10 million, less than one-third of what Chadha's previous sleeper hit Bend It Like Beckham, which arrived in America without much fanfare, grossed over two years ago. But even a $8 million final gross in North America is not a small thing for Bride & Prejudice. The movie has grossed about $19 million worldwide, and has covered its basic $7 million cost. 
Losing ground fast, The Aviator could disappear in a few weeks, but currently is at number 11 and has reached $99 million. It still has some steam left in it to make a few millions more.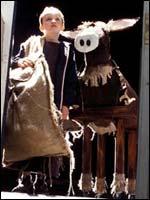 Among the films in limited release, scorching domestic comedy The Upside Of Anger had a solid opening, grossing about $225,000 in nine theatres. Though the film was made on a modest $12 million budget, it has a long way to go before it breaks even. It will add several dozens theatres this Friday.
The delightful and thought-provoking fable Millions, a British import, also had an auspicious opening in half a dozen theatres. Like Upside Of Anger, the Danny Boyle film -- revolving around two boys coming across a pile of cash -- received solid reviews.
'One of the best reasons to go to the movies this year,' wrote Time magazine, 'and a reminder of how affecting a film can be when a magical child takes hold of it.'
The magical child here is Alex Etel, who is making a 'sensational debut,' according to The New York Times. While younger brother (Alex) is living in a fantasy land carrying on conversation with saints about his dead mother, his older brother (played brilliantly by Lewis McGibbon) is full of real life fantasies. The movie is going for a small expansion next week.
Box-office estimates for North America, Mar 11-13
| | | | | |
| --- | --- | --- | --- | --- |
| Rank | Film | Weekend gross | Total gross | Number of weeks |
| 1 | Robots | $36.5 million | $36.5m | New |
| 2 | The Pacifier | $18 million (down 41%)  | $54.2m | 2 |
| 3 | Be Cool | $10.3 million (down 56%) | $38.4m | 2 |
| 4 | Hostage | $9.8 million | $9.8m | New |
| 5 | Hitch | $8.7 million (down 28%) | $149.7m | 5 |
| 6 | Million Dollar Baby | $5.1 million (down 38%) | $84m | 13  |
| 7 | Diary Of A Mad Black Woman | $5 million (down 54%) | $44m | 3  |
| 8 | Constantine | $3.6 million (down 40%) | $66m | 4  |
| 9 | Man Of The House | $1.8 million (down 50%) | $16.5m | 3 |
| 10 | Cursed | $1.5 million (down 60%) | $18m | 3  |