Director Adam Shankman scored his fourth hit in a row, with family comedy The Pacifier, starring tough guy Vin Diesel. His film rattled the John Travolta starrer Be Cool and pushed the sequel to the 1995 hit Get Shorty to the second place. The weekend also saw a solid rise for Oscar winners Million Dollar Baby and The Sea Inside.
The Aishwarya Rai starrer Bride & Prejudice had yet another decent week, with its $700,000 gross indicating a 17 percent fall from the previous week. The film hasn't taken the box-office by storm, despite the hype it got from the media. It has grossed $2.8 million in four weeks, and the next few weeks will be crucial to determine whether it will expand from its current 179 theatres to 400 theatres.
Bride is still at the end of the 20 top list. To achieve longevity like Gurinder Chadha's previous film Bend It Like Beckham did (with a $32 million American gross), it is crucial for Rai's movie to jump into the top 10 list. And that won't be a small task.
The weekend belonged to The Pacifier, with Diesel as a Navy Seal who has to fight bad guys and also take care of five orphaned children.
It grossed $30.2 million, while trade observers said the film opened more impressively than they had expected. Never mind what critics had to say about Diesel's acting ability, the kids in particular are discovering that he isn't just a muscleman. Older audiences and critics were also reminded of the Arnold Schwarzenegger hit Kindergarten Cop which saw the tough Arnie having to manage a bunch of tougher kids.
Thus shows up another success in Shankman's list of hits after Bringing Down The House, A Walk To Remember and The Wedding Planner.
Meanwhile, Be Cool didn't have to sweat much to grab a decent $23.5 million.
Most critics did not have anything good to say about The Pacifier and Be Cool. And the futuristic suspense film The Jacket, which managed to find the last place on the top 10 list, also received bad reviews.
'Vin Diesel doesn't have a clue to play comedy,' complained New York Post while Hollywood Reporter cribbed, 'Diesel is out of his element in this lame family comedy.'
The movie cost about $56 million, about 30 percent more than Shankman's previous hit, Bringing Down The House. The new film could become profitable with its North American gross alone.
With a fairly attractive cast led by John Travolta (returning as Chili Palmer) and Uma Thurman, the crime comedy Be Cool in which Travolta seeks to save a young singer from the clutches of a music industry mobster opened promisingly. If it doesn't go for a big drop next week, it could become a medium range hit, grossing about $70 million in North America.
While Get Shorty was well received, major critics torched Chili Palmer's new adventure, based again on an Elmore Leonard novel.
Atlanta Journal-Constitution wrote, 'This stunningly inept movie is an early contender for worst film of 2005.' And Chicago Tribune called it 'a bright, colourful misfire.'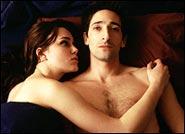 Yet another newcomer The Jacket -- starring Oscar winner Adrien Brody with Keira Knightley -- failed to connect with audiences, grossing just about $2.7 million in its opening salvo. The movie cost $20 million, and, to break even, it has to do good business abroad and have a decent DVD run.
The film revolves around a military veteran suffering from bouts of amnesia. When he is accused of murder and thrown into an asylum, a doctor puts him on a heavy course of experimental drugs and locks him away in a morgue. The vet now starts a journey into the future, where he can foresee his death in a few days. A mysterious woman is also part of the future he foresees. The suspense is based on the question whether the woman can save the veteran.
Though a handful of critics including Boston Globe and The New York Times praised a few performances in the film and grudgingly admitted that it holds interest to a certain extent, many critics complained it was too much of a gimmick.
In Chicago Sun-Times, Roger Ebert wrote, '...you can sense an impulse toward a better film...'
Among the holdovers, two comedies with a predominantly African cast were at the third (Hitch) and fourth (Diary Of A Mad Black Woman) positions on the top 10 chart.
The Will Smith starring comedy Hitch slipped by 39 percent and has grossed $138 million in weeks, helping it recover its $70 million budget.
Though it plummeted from the first to fourth position in its second weekend, Diary Of A Mad Black Woman was still potent with $12 million. A story of revenge and resilience, the Gospel-inspired comedy has become the surprise hit of the season. Having cost just about $5 million, the already profitable Diary is headed for a $50 million gross. It also became one of the few movies to recover its basic cost in its first week.
The drama-comedy is based on a script by Tyler Perry from his play of the same name and features him in three roles, including a cross-dressed and feisty grandmother. Perry, 35, was a huge hit with his inspirational yet funny plays, drawing big African-American audiences across the country. But with the big success of his first film, Perry, homeless till a decade ago, is getting national attention. 
Hot on the heels of its commanding Oscar performance, Million Dollar Baby shot up by 16 percent and its total reached $77 million. The movie has a good chance of reaching the $100 million mark in North America.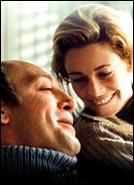 Though The Aviator won five Oscars, the film, now at number 11, went down by 37 percent and is inching towards $100 million.
The admirable Sideways, which won just one Oscar (for best adapted script), also came down by about 38 percent and is heading towards a solid $70 million run in North America. With no stars and little studio hype, Sideways, which cost about $15 million, is a solid hit already. And it could have a new life when its DVD comes out after a few months.
The other Oscar losers -- Finding Neverland, Hotel Rwanda, Vera Drake and Being Julia -- are fast approaching their exit. Most of them would be out of most theaters in two or three weeks.
The Spanish film, The Sea Inside, which won the best foreign film Oscar was on life-support at the box-office before the nominations, which helped it to survive on some 100 screens. It gained new life and reached about $1 million but with the Oscar, its gross jumped by about 80 percent and now it has about $1.2 million. Even then, the film, which is a big hit in Spain and is doing well in many European countries, could gross just about $2 million in North America.
Box office estimates for North America, March 4-6
| | | | | |
| --- | --- | --- | --- | --- |
| Rank | Film | Weekend gross | Total gross | Number of weeks |
| 1 | The Pacifier | $30.2 million | $30.2m | New |
| 2 | Be Cool | $23.5 million  | $23.5m | New  |
| 3 | Hitch | $12.5 million (down 39%) | $138m | 4 |
| 4 | Diary Of A Mad Black Woman | $12 million (down 45%) | $38m | 2 |
| 5 | Million Dollar Baby | $8.5 million (up 16%) | $77m | 12 |
| 6 | Constantine | $6 million (down 50%) | $60m | 3  |
| 7 | Cursed | $3.8 million (down 60%) | $15m | 2  |
| 8 | Man Of The House | $3.5 million (down 60%) | $14m | 2  |
| 9 | Because Of Winn-Dixie | $3.3 million (down 48%) | $27m | 3 |
| 10 | The Jacket | $2.7 million | $2.7m | New  |