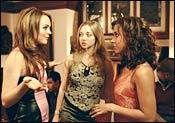 In what was considered a weak week at the box office, Mean Girls turned on the heat, pushing Denzel Washington's Man on Fire to second place.
The arrival of the new teen-oriented film shook up 13 Going on 30 so strongly that the hit comedy fell from second to third place while losing 52 per cent of its audience in its second weekend.
But 13 Going on 30, which has an admirable performance by Jennifer Garner, is by no means a dud. Like Mean Girls, which was budgeted at $20 million, it too did not cost a lot. It ought to recover its $30 million production cost in a month.
With Mean Girls opening with an estimated $25 million over the weekend, Paramount Pictures was poised for its biggest hit in nearly seven months following School of Rock and a string of disappointing films. Its success has established Lindsay Lohan as quite a powerhouse of an actress. It has also brought attention to her lucky director, Mark Waters. They previously worked together on last year's hit Freaky Friday.
As Man on Fire declined by a reasonable 32 per cent, its ten-day total reached a healthy $44 million. Most action-oriented films fall by 40-45 per cent in the second week, but fans are standing by Man on Fire because of its emotional content. The friendship that develops between a heavy drinking loner (Washington) and a sharp young girl (Dakota Fanning) who is always people-oriented is one of the film's highlights.
Though by next Friday it will face big competition from the action-packed, hi-tech Van Helsing, Man on Fire is still expected to hold well and exit with at least $80 million in North America. When foreign grosses and video and DVD sales are factored in, the $70 million Man on Fire is expected to be quite a profitable venture, further consolidating Denzel Washington's reputation as one of Hollywood's more bankable stars.
Despite its big fall, 13 Going on 30 accumulated $35 million in 10 days.
Three newcomers that performed weakly in the range of $6 million to $7 million occupied the fourth, fifth and sixth places: Laws of Attraction, Godsend, and Envy.
Mean Girls received reasonably good reviews while the other newcomers opened to mixed or negative reviews.
The film revolves around Cady Heron (Lindsay Lohan), who arrives in a Chicago school after having been home-schooled in an African country. But the 15 year-old has to go through psychological warfare and unwritten social rules enforced by domineering girls before she learns a few life lessons.
"Mean Girls is a pitcher of Kool-Aid with a drop of acid...," wrote Welsey Morris in the Boston Globe while in the Chicago Sun-Times, Roger Ebert noted: 'In a wasteland of dumb movies about teenagers, Mean Girls is a smart and funny one.'
Several other reviewers, including Chicago Tribune's Robert K Elder, agreed that the film was not a perfect comedy, but its performances were decent enough and that it had many funny situations.
'From wide-eyed innocent to queen of mean, Lindsay Lohan's comic journey makes an above-average teen comedy,' wrote Kirk Honeycutt in Hollywood Reporter. And in The New York Times, Elvis Mitchell conceded that it was 'tart and often charming'. Among the few dissenting major critics, New York Post's Lou Lumenick complained the film wasn't working as a comedy and 'the happy ending is depressingly predictable'.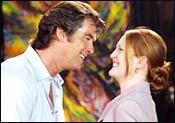 An homage to romantic comedies of the 1940s and 1950s (especially Adam's Rib, starring Katherine Hepburn and Spencer Tracy), Laws of Attraction might have made some viewers think its battle of the sexes angle had something in common with Intolerable Cruelty. But Laws of Attraction deals with not one attorney as in Intolerable Cruelty, but with two New York divorce attorneys (Julianne Moore, Pierce Brosnan), who are often competing against each other, but end up in a relationship nonetheless.
The movie poses the question: When they get married, can they avoid the same issues at home that lead people to provide them business at work?
To most reviewers, the film lacked sparks and novelty. Also, the talent of its lead players seemed utterly wasted. 'Watching actors labour so strenuously to re-create the feel of vintage Hollywood deflates the cause rather than exalts it,' wrote Mike Clark in USA Today. But William Arnold of Seattle Post-Intelligencer liked the film: 'A movie that flies in the face of the current box-office wisdom that to be successful a romantic comedy must be both crude and dumb.' He was in a minority among the critics.
A medical thriller, which tries to deal with ethical and moral questions, Godsend was dubbed by one critic as a god-awful film. The movie is yet another disappointing turn by Robert De Niro, who hasn't had an artistic or box-office success in quite some time.
After their young son is killed in an accident, a couple (Greg Kinnear, Rebecca Romijn-Stamos) approaches an expert (Robert De Niro) in stem cell research. They want the boy brought back to life through experimental cloning. But a few chilling surprises await when the cloned boy comes back to them.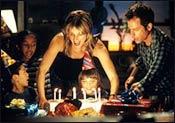 Directed by Nick Hamm, the movie hardly satisfied any critic, and the audience had little to like in it. 'There's no excuse for a thriller as lame, leaden and unthrilling as Godsend,' wrote New York Post's Lumenick. The New York Times's Elvis Mitchell found it '...portentous and quickly disappointing...'. In Rolling Stone, Peter Travers wrote: 'Every scare is telegraphed. Every surprise is recycled from a better thriller.'
The story of friends whose bond is tested badly when one of them (Jack Black) suddenly becomes rich thanks to an invention, Envy is anything but a film to be proud of. Despite two popular artistes Ben Stiller (Along Came Polly, Starsky & Hutch) and Black (School of Rock), the film is far from funny. It does not work as a modern-day fable either.
'It lurches erratically and joylessly from heavy satire to hokey slapstick,' complained Jonathan Foreman in the New York Post, 'and from sourness to saccharine sweetness.' And in The New York Times, Stephen Holden felt that 'Barry Levinson's attempt to match the Farrelly Brothers in adolescent goofiness has its laughs, but it's really a movie that's afraid of itself'.
The box office this week:
Rank

Film

Weekend gross

Total
gross

Number
of weeks

1

Mean Girls

$25 million

$25m

New

2

Man on Fire

$15.2 million (less 32% from the previous weekend)

$44.5m

2

3

13 Going On 30

$10 million (less 52% from the previous weekend)

$35m

2

4

Laws of Attraction

$7 million

$7m

New

5

Godsend

$6.9 million

$6.9m

New

6

Envy

$6.1 million

$6.1m

New

7

Kill Bill Vol 2

$5.8 million (less 44% from the previous weekend)

$52.6m

3

8

The Punisher

$3.4 million (less 46% from the previous weekend)

$29.6m

3

9

Home on the Range

$2.2 million (less 38% from the previous weekend)

$45m

5

10

Scooby Doo 2

$2.1 million (less 37% from the previous weekend)

$79m

6
Click here for
More Box Office Reports