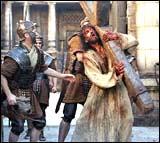 Violence-soaked films, including The Passion Of The Christ, dominated the box office led by the supernatural thriller Hellboy.
The comic saga revolves around a satanic boy rescued from the Nazis and raised as a noble creature by an American scientist. Hellboy stars Ron Perlman as an older superman who helps the Americans fight paranormal evil agents. The film did not see heavenly numbers, as it grossed $23 million in three days and secured the top spot, replacing the cartoon film, Scooby-Doo 2.
Box-office experts had expected it to gross $27-$29 million. But the sci-fi fantasy, which cost about $60 million, is clearly on its way to a profitable run.

One of the best reviewed of films in recent months, Hellboy was called in Boston Globe as 'one of the best big-screen comicbook adaptations of recent years'. The Chicago Sun-Times declared: 'It's vibrating with energy and you can sense the zeal and joy in its making.'
Many reviewers praised the film's lead (Perlman) and the dark, brooding look. The New York Times found the film to be 'daffy, loose and lovable'. But many found plenty of things amiss. In Hollywood Reporter, Kirk Honeycutt wrote, that 'humour proves tonic in this otherwise stale tale of demons who hunt other demons.'

In second place, Walking Tall -- the story of a small town sheriff who seeks to rid the place of evil men using unorthodox means -- fell short of a few expectations by earning about $15.3 million. Scooby-Doo 2 was a few thousand dollars behind.

But given the film's potential to earn a hefty amount from video and DVD sales, not to forget its international appeal, Walking Tall may be yet another profitable film for Ashok Amritraj.
Incidentally, Amritraj's Hyde Park Entertainment produced the film for $56 million, far below the Hollywood average of $100 million per film.

Reviewers, who remembered the 1973 film of the same name, thought the first film surprised audiences by showing a hero who looked ordinary but risked his life to fight hoodlums. The critics suggested that now, by casting a well-known personality like The Rock in the title role, the film had glamourised its hero.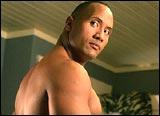 There was also a chorus of complaints that the vigilante film was too violent. Even then, some major publications had a few good things to write about the film. 'A leaner version of the original, devoid of melodrama but just as simplistic in its emphasis on cathartic violence,' wrote Hollywood Reporter. The New York Post called it 'exciting stuff in its primitive, predictable way.'

Rolling Stone was one of few publications that thought The Rock made the film work better. 'It's The Rock's star quality that gives this headbanger a heartbeat.'

Last week's champ, Scooby-Doo 2, did far less barking over the weekend, having lost nearly 50 per cent of previous week's audiences. Yet, it was still good for $15.1 million and a $50 million total. The film is headed for a decent $85-90 million gross in North America. But it certainly isn't going to be as profitable as the first film which grossed about $225 million worldwide.

The new Scooby-Doo was followed by another newcomer Home On The Range, the story of a herd of cows who come together to save their farm because the widow who owns it cannot pay her mortgage. Afraid they will be sold to the local meat-packing plant, the cows, led by Oscar-winner Judi Dench, devise a way to save the farm and themselves.
The family horse, played by another Oscar winner, Cuba Gooding Jr, has an idea of his own to save the farm. A former bounty hunter, the horse has heard that in the nearby town, there's a bandit afoot (Randy Quaid), with a big bounty on his head.

Many reviewers felt the film was not funny enough but kids must have had a decent time with it.

Continuing Paramount Pictures's disappointing track record in over six months, The Prince & Me opened with less than a royal $10 million at the fifth place on the chart. Though the film would eventually make profits, its opening indicated that it is far from being the kind of hit Paramount badly needs.
It is about Paige (Julia Stiles), a free-spirited American college student (and motorcycling enthusiast), starting her education at an Indiana university. She falls in love with her classmate, but what she doesn't know is that he is a Danish prince, Frederick (Luke Mably), spending his 'gap year' (before having to perform his princely duties) by hiding in America.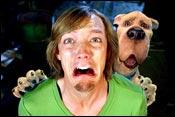 The movie barely garnered any decent reviews, except Boston Globe that declared: 'This is a smart piece of revisionist fluff that dares to question what happens after the royal honeymoon is over.'

But Chicago Tribune wrote that Prince & Me is 'one of those movies where talented filmmakers waste time with stale, phony material.' The New York Post called it 'interminable and hackneyed fairy tale.' And The New York Times declared it is 'a cream puff with a melted marshmallow inside it.'

In anticipation of the Easter holiday sentiments, Newmarket Films added 300 theatres to Passion Of The Christ, taking its total screen count to 3,800. The movie, by now, has grossed about $330 million in North America and was at sixth position over the weekend.

Overseas, the film is not as popular as in America. Yet, it is expected to end its run with a solid $200 million. But many American films earn 50 per cent more abroad than their American run.

Abroad, too, the film is just as controversial as in America, where many Jewish groups had accused filmmaker Mel Gibson for whipping up anti-Jewish sentiments by showing Jews as being collectively responsible for the crucifixion of Christ. While many Catholic leaders abroad have welcomed the film as a fine presentation of the suffering Christ underwent, French bishops called it offensive because of its obsession with violence.
Arab commentators in the Gulf and elsewhere suggested the film should make Jews more sensitive to the suffering of others. "The Jews are most upset with the movie because it reveals their crimes against the prophets, the reformers and whoever contradicts their opinions," said Hamza Mansoor, secretary-general of the Islamic Action Front, a hard-line political party in Jordan, according to Associated Press.
About a week ago, Yasser Arafat, who saw the film at a private screening, had said it was not anti-Semitic. This week his aide Abu Rdeneh issued a statement: "The Palestinians are still daily being exposed to the kind of pain Jesus was exposed to during his crucifixion."

The Catholic leaders in France, who saw the film in another light and criticised it for being too violent, included the archbishop of Paris, Cardinal Jean-Marie Lustiger. He described the film as 'ridiculous' for its graphic attention to the beatings and abuses suffered by Jesus.

Many other Christian leaders, while welcoming the film for trying to revive Christ's message, also cautioned Christians against reviving anti-Jewish sentiments, adding that anti-Semitism was an offense against Christian belief.

Struggling at the box office, The Ladykillers, which lost about 45 per cent of its hold, reached $27 million cume in 10 days. Though the film may be marginally profitable in the long run, its estimated $45-$50 million gross in North America will be considered disappointing considering it stars Tom Hanks, one of the few bankable stars of his generation.
The box office this week:
Rank

Film

Weekend gross

Total
gross

Number
of weeks

1

Hellboy

$23.5 million

$23.5m

New

2

Walking Tall

$15.3 million

$15.3m

 New

3

Scooby Doo 2

$15.1 million (less 50% from the previous weekend) 

$50m

2

4

Home On The Range

$14 million

$14m

New

5

The Prince And Me

$10 million 

$10m

New

6

The Passion Of The Christ

$9.8 million (less 22% from the previous weekend)

$330.m

6

7

The Ladykillers

$7 million (less 45% from the previous weekend)

$23m

2

8

Jersey Girl

$5 million (less 38% from the previous weekend)

$15m

2

9

Dawn Of The Dead

$4.3 million (less 60% from the previous weekend)

$51m

3

10

Eternal Sunshine Of The Spotless Mind

$3 million (less 47% from the previous weekend)

$22m

3
Click here for More Box-Office Reports