The dark supernatural film Underworld flew to the top of the box-office chart with encouraging grossings of $22 million over the weekend. The movie stars Kate Beckinsale and marks the feature film debut of Len Wiseman.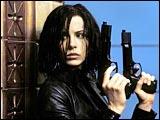 Set in the world of vampires and werewolves who have been at war for centuries, Underworld also tells the story of a romance between a tough female vampire warrior, Selene (Beckinsale), famous for her strength and werewolf-hunting powers, and a peace-loving mysterious human Michael (Scott Speedman), who wants to end the war.
The R-rated film, made for about $25 million, received mostly negative reviews. But it is clearly an audience-pleaser and could end its run with a healthy $60 million gross.
Sharon Stone's survival thriller
Cold Creek Manor
took a meagre $8.3 million at fifth position.
The Woody Allen-directed Anything Else, which was publicised without him even though he has a prime role in it, grossed just about $1.7 million. Not even Jason Biggs, who plays the young lover and whose still running American Wedding has grossed $105 million, could give the film a decent opening.
Biggs plays Jerry Falk, an aspiring writer in New York who falls in love at first sight with seemingly free-spirited Amanda (Christina Ricci). Though Jerry has heard the phrase life is like 'anything else', he finds it difficult to accept that Amanda in reality isn't like anything else.
The movie, which was well received at the recent Venice Film Festival, drew decent reviews from some of America's top publications, including The New York Times and Chicago Tribune, but was criticised by equally well-known publications like the New York Post and San Francisco Chronicle.
Michael Wilmington wrote in Chicago Tribune that it was 'one of the best, most smoothly executed Woody Allen movies in recent years', while The New York Times thought 'a gratifyingly high proportion of the piled-up one-liners actually raise a laugh'.
But the audiences decided to go with the pans. The New York Post called it 'relentlessly mediocre' and the Boston Globe found it 'wretched, condescending, and sad'. The San Francisco Chronicle called it a 'disaster'.
Allen must be one of the most envied filmmakers in Hollywood. Despite the huge fall in grosses for his films in the last 15 years, he has never run short of producers who still come forward to invest in his movies. Of course, his films don't cost too much. Even then, somebody must still love his work a great deal to cough up $20 million for each of them.
The big news of the week was the success of the minimalistic story of an enigmatic love affair, Lost In Translation. Directed by Sofia Coppola and starring the sharply insightful Bill Murray and luminous Scarlett Johansson, the low-budget film increased its screen count from 23 to 189.
The $5 million film, which generated an Oscar buzz at the recent Toronto International Film Festival, is the second film directed by Coppola and was produced by her famous father, Francis Ford Coppola. It will be on at least 400 screens by Friday, according to distributor Focus.
Fighting Temptations, with its rousing musical score, including gospel and R&B, tells the story of a pleasant New York conman who is fired from his executive job. He moves to a small southern city following his mother's death. He is unable to claim her money unless he trains the church singers to be a winning choir.
The film tempted mostly African-American audiences. Starring Cuba Gooding Jr and singer-actress Beyonce Knowles (the sexy creature in Austin Powers in Goldmember), Fighting Temptations was made for $25 million.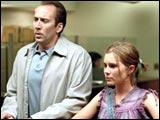 At second place on the chart, it grossed an encouraging $13.2 million. If the audiences yield to it in significant numbers in the next two weeks, it could earn a decent $50 million.
Secondhand Lions, made at $20 million, was at third position, drawing family audiences to a tale of the unexpected and unlikely bonding between two grouchy uncles (Robert Duvall and Michael Caine) with their nephew (Haley Joel Osment), who is forced on them by his negligent and greedy mother. Unlike the horror and big-budget actioners, films such as Secondhand Lions, which open with modest numbers, often turn into sleeper hits. Distributor New Line expects the film to gross $50 million.
The dark comedy about conmen, Matchstick Men, plummeted by about 40 per cent in its second weekend, earning a disappointing $24.5 million in 10 days. Unless the film, starring Oscar-winner Nicolas Cage and directed by Oscar nominee Ridley Scott, does better business abroad and has a robust video and DVD sale, it will not recoup its reported $70-$80 million budget.
The box office this week:
Rank

Film

Weekend gross

Total
gross

Number
of weeks

1

Underworld

$22 million

$22m

New

2

The Fighting Temptations

$13.2 million

$13.2m

New

3

Secondhand Lions

$12.8 million

$12.8m

New

4

Once Upon A Time In Mexico

$11.5 million (< 52% from previous weekend)

$41.4m

2

5

Cold Creek Manor

$8.3 million

$8.3m

New

6

Matchstick Men

$7.8 million (< 40% from previous weekend)

$24.5m

2

7

Cabin Fever

$3.9 million (< 56% from previous weekend)

$14.7m

2

8

Dickie Roberts

$3.8 million (< 25% from previous weekend)

$17.3m

3

9

Pirates Of The Caribbean

$3.5 million (< 22% from previous weekend)

$292.5m

11

10

Lost in Translation

$2.8 million (> 180% from previous weekend)

$4.1m

2
Click here for More Box Office Reports