After films like Gaja Gamini and his yet-to-be released film Meenaxi, the controversial painter, M F Husain is all set to make a comedy film with Bollywood actress, Urmila Matondkar in the leading role.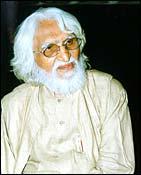 "The film will not be a typical slapstick comedy but reflect the Indian humour that we find in day to day life," says Husain after the launch of an exhibition of his paintings at the National Gallery of Modern Art in Mumbai.

"There is humour everywhere in our country, in the bylanes, in the kitchen. And my film will attempt to capture this aspect," he adds.
Husain disagrees that the new film is unlike his image, that of a serious painter. "Humour is a very serious aspect. Real humour is when people are brought to tears after a bout of laughter."

Urmila, who won acclaim for her intense performances in films like Bhoot, Tehzeeb and Pinjar in 2003 appears to be an unlikely choice for comedy. Husain says, "Urmila was the right person for the role. Her body language conveys something very funny. Her face has that kind of expression. I choose an artiste according to the requirement of a film."
About his forthcoming film, Meenaxi, he says," While my earlier film Gaja Gamini captured the image of a woman through
history, my current film revolves around the modern woman. And my future film will look at humour through a woman". 

"I prefer to express myself through a woman rather than a man. A woman is an unending source of energy. She is shakti," he says.


| | |
| --- | --- |
| | More on Rediff: |
| | |
"Meenaxi looks at the dilemma and constant conflict between a writer and the characters of his or her work," he says." It tries to capture the various layers revolving around the confrontation between a writer and the characters. There is a hero within every writer and there are various layers in the relationship that a writer shares with his or her characters, which the film tries to explore," he adds.  

"I chose Tabu for the role because she suited the character. Earlier, I had chosen Madhuri [Dixit] because her face had the classic look that I was looking for. My next film will have Urmila because she suits the role."

"I do not have a fixation for a star", says the painter, known to have seen Madhuri Dixit's films innumerable times.

"The casting for a film is very important. If you choose the right person one does not have to do anything. They know their work and hence 50 per cent of my work is over," he adds.
Commercial success doesn't mean much for the filmmaker. "I am not making a film for the box office," he says. "It is like a concert, where people come and watch. People still want to see Gaja Gamini."

"Filmmaking," he says, "is another medium of expression for an artiste, which combines various facets, including music, story telling. The advantage that an artiste has through this medium of films is its tremendous reach."

Click here for More Features