Actress-politician Umashri must have acted in over three hundred films in the last nearly three decades, but that has not deterred her from taking up fresh challenges. One such challenge is Girish Kasaravalli's Kannada film, Gulabi Talkies, which she triumphed by winning the Best Actress award for the same at the Oceanic film festival recently. The film also won the Best Feature Film award at the festival.
Now the actress, who made her debut in Pattanakke Bandha Pathniyaru (directed by A V Sheshagiri Rao) and winner of numerous prestigious awards, talks about her experience of working with Girish Kasaravalli, and the award that has given her international recognition.
Did you expect an international award while you were acting in Gulabi Talkies?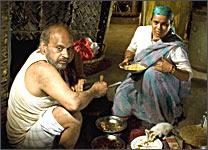 Nothing came to my mind when I started working on the film. I was quite excited about the fact that Girish sir chose me for such an important role. That itself was as good as an award for me. I had always dreamed of working with him even in a small role. But when I got a phone call from the film producer asking me whether I was available for working in a film of Girish Kasaravalli, I was in seventh heaven.
It is true that I have worked in more than three hundred fifty films with directors of totally different mindsets and different approach. But this opportunity made me unlearn many things I had learnt earlier. I was like a fresher in front of Girish sir and I just followed his instructions.
You were also busy with your political career when you started working on this film. How did you manage to balance your time between politics and this film?
I am an active member of the Congress Party. I have taken up issues relating to the weaving community and commercial sex workers. I have never shirked responsibilities assigned to me by my party. Madam Sonia (Gandhi) has been kind enough to instruct me to contest the recent elections.
But I did not want to say 'no' to this film. I decided that this offer has to be accepted and I have to give it my hundred percent. When I am committed to a project, I would not do anything that would create problems for the film unit.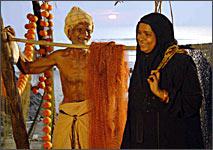 We shot the film in Kundapur and its peripheral villages and towns. Since I was playing a major character, I was needed throughout the shooting of film. Whatever accolades that I have received for this film should be credited to Girish Kasaravalli sir.
Do you think Gulabi's character was one of the most complex characters you have played so far?
I cannot go into the complexities of the character. But there was something in Gulabi that matched my mindset. Frankly I have a great zest for good life and I am not unduly depressed during adverse circumstances. You might have observed in the film that Gulabi also carries passion for good life, and there is no dull moment in her life.
In most of your films, you have played the same type of characters. Did it not affect the creative urge in you to achieve greater heights?
In the beginning of my career, I played a lot of comedy roles. That was out of compulsion. I had to accept all those films to make a living and take care of those who were dependant on me. But I have always been a director's actress.
There are many directors like Ravichandran who have used my talent perfectly in commercial films.
But talking about Gulabi Talkies, I have to say again that my experience has been totally different. As I said earlier, I had to unlearn many things.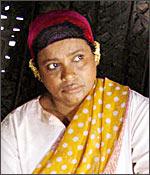 You are still regarded as one of the best theatre artists in the state. Your role as Sakamma in Odalaala (a drama written by Devanooru Mahadeva) is still considered as one of the best seen on the stage. How do you think the experience in theatre helped your performances in films?
If I have achieved something as an actress in the film industry, it is only because of the rich experience I have obtained from theatre. I have also learnt from the adversities and difficulties I have faced in life.
Will you continue to accept artistic films like Gulabi Talkies in future?
Of course. I was working in too many films earlier. I have worked in as many as eighteen to twenty films in some years. Because of my political career, I am working only in five- six films these days. I want to focus more on quality now than quantity.