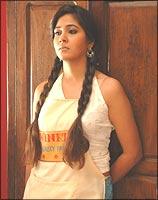 In the recent past, the controversial and somewhat weird ad campaign has generated a lot of bad publicity. There are photographs of ladies with moustaches going around in search of Twinkle Beauty Parlour, and they do make you feel slightly uneasy.
With the initial hype created, Twinkle Beauty Parlour is set to rock the small screen on SAB. A prime time serial, it is expected to turn the channel's fortunes. Pitched around five lady protagonists, the story deals with the lives and times of these women. Coming from different strata of society, the only common point for them is TBP, where they come to meet friends, chat and also become prettier in the process.
The owner of the parlour – Ranjana (Narayani Shastri) leads a happy life with her three friends, Ragini (Manini De), Niyati (Smita Bansal) and Sameera (Simple Kaul). While Ragini is a busy lawyer, Niyati is a housewife and Sameera is an unsuccessful model. Fatima Bi (Sulabha Arya), a 55-year old, is the owner of the house where Ranjana had taken refuge and opened her parlour. She is finicky, but also a lot of fun to be with.
TBP is a women's lib delight being an all-woman team – director, producer, five protagonists, programming head and two women writers! Says Priya Mishra, programming head, SAB, "As opposed to other shows in the slot, TBP will be a welcome change. The treatment of the show is completely different from the rest and we have tried to make it thought provoking as well. We are confident this will do well."
Says Manini De, "It is a challenging character and a difficult one to portray. People who are close to me will know how serious I am in real life. When I was offered the role, I grabbed it immediately."
The odd one out among the four protagonists is Smita Bansal, who plays a mother in her late thirties. "When I was offered the role, I was sceptical because it involved playing mother to two grown up college-going kids. I was unsure about whether it would be good for my career." She finally understood the significance of the role though. "It is so nice a serial that the audience will accept it."
The show also has its share of male protagonists – Rajeev Paul, Vikramjeet, Pankkit Thucker and Hasan Zaydi.
Twinkle Beauty Parlour will premiere on May 15, on SAB at 9 pm, and will be telecast Monday through Thursday.