It appears to be comeback time for the small screen baddies! If Sasha (Chetan Hansraj) of Kahani Ghar Ghar Ki made a recent comeback, Komolika (Urvashi Dholakia) will soon set the Basu family on fire with her return. While the Agarwal family will find it tough to cope with Sasha and the new set of problems they will face, what Komolika -- perhaps the most well-known and sexy vamp on the boob tube -- is back for is anybody's guess. Balaji and Star authorities are keeping a tight lip on what the old baddies are up to.
Saarthi appears to be a serial with a difference, in more ways than one. While most of its counterparts happily celebrate their 100th, 500th or 1000th episodes by cutting a cake, telecasting a collage of old scenes and having celebrity guests, the dopahar-ka-badshah from Star celebrated its 350th episode by battling it out on the football field! The cast and crew played an actors v/s technicians match at a Mumbai suburb. Hosted by Asit Modi of Neela Telefilms, the match generated much enjoyment. "Such an event helps increase the unit's motivation. We are a very young team and enjoy sports and parties. It is a great stress reliever as well!" says Modi, who was captain of the tech team. Nawab Shah aka Man Singh led the actors' brigade. With the pretty heroines as cheerleaders, it was no surprise the actors won the match 9-5!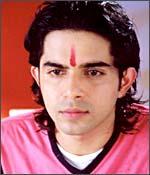 If you thought Remix saw the end of Rajsingh Arora, you are wrong. With the character of Ashutosh Mehra (Parvati's stepson) in Kahani Ghar Ghar Ki climbing up the popularity charts, his seems to be a character that is here to stay. A London-returned good boy in reel life, Arora has changed his looks slightly to suit the new role. "My curly hair has given way to a straight, gelled look," he says. If Arora is to be believed, he rejected four Bollywood offers to take up the role in Kahani. Will he be in the serial for a long time? The actor replies, tongue-in-cheek, "As long as they don't want me to take a leap and grow old!" In the serial, Ashutosh Mehra is a guy who values relations and has extremely high regard for Parvati. He believes that, with the coming of Parvati, his family will be complete.
Manoj Vohra (better known as Prem in Kasauti Zindagi Kay) is ever grateful to his girlfriend Teejay Sidhu for making his character what it is today. "My entire look was designed by Teejay. The earring, eyebrow ring and jacket with a hood - everything came from her. Though there were a lot of sceptics, she proved everyone wrong!" Teejay, apparently, also dabbles in fashion designing when she's not walking the ramp.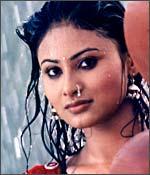 Balaji's latest sensation Mouni Roy (Krishna Tulsi from Kyun Ki...) left her studies midway after being chosen by Ekta Kapoor for the mega-serial. Mouni was a student of Jamia Milia Islamia University in New Delhi. She was doing her Masters in Mass Communication when the Balaji bug hit her hard and she shifted to Mumbai. She wants to complete her studies though, and Balaji is all for it. In fact, if the grapevine is to be believed, they are going out of their way to let Mouni finish her studies, but it is the University that is playing spoilsport by asking her to attend classes. Knowing the impossible schedules daily soap stars keep, there's no way Mouni can heed that request.
Actor Manav Vij, who plays Jaideep in Kyun Ki..., seems to be out of the radar completely. While his role was portrayed as one of the major characters in the post-leap serial, there were a few occasions when we could see him on screen. The guy from Ferozepur is a trained psychiatrist and claims to have a number of patients (whose names he is not ready to divulge due to obvious professional reasons) from the film and television industry. We are not surprised. Are you?