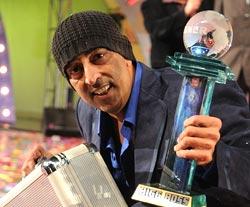 The third season of Bigg Boss came to an end last weekend with Vindu Dara Singh emerging winner.
Thanks to his antics and drama in the house, the actor seems to have finally emerged from his father Dara Singh's shadow. He took home a car and Rs 1 crore.
Pravesh Rana was the first runner up, followed by Poonam Dhillon.
During his chat with Amitabh Bachchan, Vindu seemed overwhelmed. "This is the best day of my life," he said. "If you ask Amitji (Bachchan), even he would have said that I deserved to win because I am a good man. He can't say it because he is the show's host and has certain limitations. But he knows me personally (smiles).
"Though I had been nominated to be evicted several times, the audiences didn't let me go because they knew I was a good person. I am really grateful to the audience, who have supported me throughout. I was confident that I would win from day one because I was not fake. But after a few tasks, I realised it was not as easy as I had imagined. A few weeks before the finale, I felt Poonamji (Dhillon) might win. She deserved to win but not the rest," he continued.
Talking about the Rs 1 crore prize money, Vindu said honestly that he had never earned so much in a single day. "I feel on the top of the world," he said. "I don't know what I will do with the money but I want to give whatever share I can to my co-contestants because they shouldn't feel left out."
So what prompted him to take part in Bigg Boss? "I liked the first two seasons and felt I could win if I took part in the show. It's all thanks to Akshay Kumar; he introduced me to the Colors channel," Vindu said.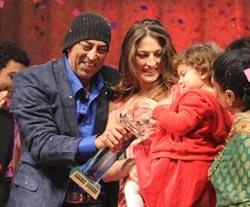 Vindu felt that all the housemates were good at heart but circumstances forced them to plot against each other. In the end, they just wanted to save themselves from getting evicted.
He added that he made some friends too, like Ismail Darbar, Raju Srivastav and Poonamji. "Rohit Verma was a good person but thanks to the profession he is in (fashion designing), he is known for backbiting and gossip," he said.
But why did he cry so often on the show? "The last time I cried was when I watched the film Kuch Kuch Hota Hai," Vindu said. "But the emotional breakdown in the show was because I couldn't trust anybody. To me, Amitji is like God. That's why I would cry while speaking to him."
Vindu hopes that the big win will turn his career around, like it did for Shilpa Shetty when she won the UK-version of the show, Celebrity Big Brother. "I have been working with friends so far but now everyone is calling me, telling me that I have become the star of television. I hope this will boost my career and help me get better roles," he said.
But Vindu has no political ambitions yet. "I'll be happy to do anything for the country but it (politics) is very hard. I have seen my father struggling with politics when he was a member of the Parliament."
For now, Vindu is just happy to spend time with his wife Dina and daughter Amelia, without whom he lived for 84 days in the house.