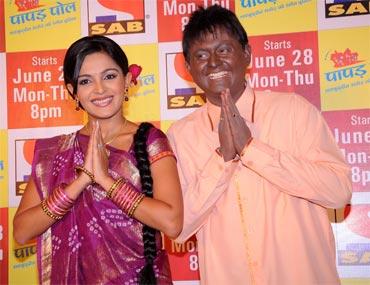 SAB channel's new show Papad Pol -- Shahbuddin Rathod Ki Rangeen Duniya is based on the writings of Gujarat's legendary writer, comedian and humorist Shahbuddin Rathod.
It stars Swapnil Joshi and Ami Trivedi in lead roles.
Papad Pol -- Shahbuddin Rathod Ki Rangeen Duniya is a show based on story of the imaginary world of characters created by Shahbuddin Rathod like Vinaychand, Kokila and Jayantilal etc.
The story revolves around the Parikh family who, are searching for a perfect match for their 32-year-old son Vinaychand, who is a school dropout and the apple of his mother's eyes.
There are several families who stay near the Parikhs. They all stay together like one big extended family. The show begins with the entire community of the Pol coming together to search for a perfect bride for their beloved Vinaychand.
Swapnil Joshi, who has done shows like Shri Krishna, Amanat, and Comedy Circus plays the role of Vinaychand. He says he always believed in doing out-of-the-box roles.
Over to Swapnil
It's has been a long time since you have done such shows. What made you say yes to this one?


I have not done fiction for last five years apart from one sitcom Ghar ki baat hai. I feel that every actor is like a package that comes with an expiry date. The smartness of the actor lies in how he gets himself packaged in a new look before he gets expired. After every 2-3 years I present myself in a new avatar which is a big challenge for me as well.  I believe in doing out-of-the-box roles.
You did Comedy Circus for quite sometime and ended up doing only female roles.
Comedy Circus was something new and refreshing. Each act gave me newer scope. Actually it all started when we were stumped for scripts. The creative said we they had a script that had Rakhi Sawant and Ravan as characters. Now Rakhi can be changed to some other item girl but the gender of the character was irreversible as it was very tight script.
So, to save the audience from disgrace we decided not to make VIP (stand-up comedian) a girl but me. It clicked with the audience. After that I got greedy which is why I tried out different women characters. On the finale Shekhar Suman (one of the judges) complimented me.
Why did you again choose to do comedy?


You should do what you are best at. When people have given me so much appreciation for my comical abilities why should I try something else? Why be different just for the heck of it? I would rather be in same genre and carve a niche for myself. No one asks Shah Rukh Khan why he plays romantic roles so much.  And why should he when people love him that way.

Have you read the original novel of Papad Pol written by Shahbuddin Rathod?


I can't read Gujarati but I have heard his audio CDs.

So tell us about character Vinaychand in Papad Pol.

I am finally back to being a man [smiles]. It's a great compliment when Vipul Shah (producer) sir said that when he was conceptualizing the script, he thought of only me. 
Vinaychand is a very endearing person. He is dark, but he is not ugly to look at. We wanted him to be approachable, likeable but at the same time not good looking.
It was important that Vinaychand looks like a common guy. So we have maintained the innocence in his eyes and have kept the smile very much intact. So with inputs from everyone in the team Vinay was created.
It's a task to portray this character because the book is widely read and well accepted by Gujarati's. They already have a perception about the character so I have to play it convincingly. I am so glad that people who have watched it have given me a positive feedback.  
How long does it take you to get ready?

It takes around two and a half hour for me to get ready. Now Ami (lead girl) and I take around the same time to get ready [laughs].

How many papads have you rolled so far?

Many [smiles]. Every audition is full of testing times for an actor. So I feel blessed that after rolling out so many papads, today I am considered worthy of people's love. If people can remember a TV actor's real name, it's an achievement in itself.

How would you describe your career till date?
Thrilling.

Papad Pol -- Shahbuddin Rathod Ki Rangeen Duniya premieres today.
Image: Ami Trivedi and Swapnil Joshi