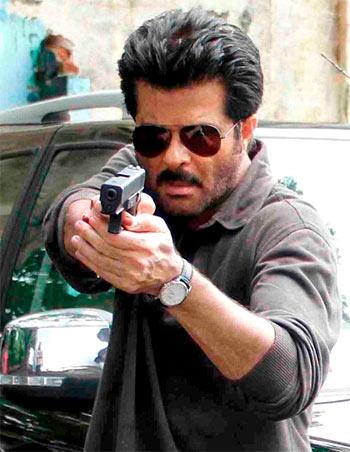 Jack Bauer would approve, says Raja Sen.
The first two episodes -- or the first two hours -- of the second season of the Indian adaptation of 24 make for mostly tight and compelling television, shouldered by Anil Kapoor, Sikandar Kher and a pretty decent cast.
Directed by Abhinay Deo, the series is without question slicker than what we are used to on Indian primetime television and, thanks to the series format, there isn't enough time for storytelling fat with the clock ticking away.
The situation is naturally one that involves many a juggled time-bomb.
There is a deadly virus terrorists are threatening to release on Mumbai and, by extension, all of India, and then the world.
There is Jai Singh Rathod, the recently widowed Indian Jack Bauer, who is getting out of alcohol rehab and, for some reason we don't yet know, attempting to break a terrorist Roshan Sherchan out of prison.
There is a young lady in charge of the anti-terrorism unit while Jai's away.
There is Roshan Sherchan's brother. Haroon, who wants to unleash viruses, ride horses and traumatise young women. And, as always, there are a few people whose allegiances are fantastically unclear.
The story begins at 10 am and, with Roshan Sherchan scheduled to be hanged at 7 the following morning, the urgency is built right into the mechanics of the plot.
A lot of the show's strength comes from Anil Kapoor's instantly compelling vulnerability as he growls through the motions and comes across as both deadly and inscrutable.
Something is up with Jai Rathod, and all will be revealed to us in good time, but for now it is undeniably enjoyable to watch Kapoor turning up the intensity slowly as he goes through the motions and lends credibility to what could well have been a B-movie plot. He nails the cheesy filmi lines -- how his watch is broken but it is his enemy who is in for a bad time -- and the only reason we don't laugh at Rathod is because Kapoor doesn't either. The part is played for tautness and the actor delivers with straight-faced panache.
The villain of this season is Haroon Sherchan, played quite impressively by Sikandar Kher. Kher, who has a beefy and towering presence, is wonderfully menacing as the ruthless bad guy with a funkily-shaped phone, and it's fun to watch him rage.
Other fine performers include Neil Bhoopalam, as the young prime minister of India, Surveen Chawla, a character who has made three pivotal cross/double-cross turns in the space of two episodes, and various men in police uniform.
Sapna Pabbi, as Rathod's daughter Kiran, has found herself tied up in something rather weird and I'm intrigued by what unfolds in the next episode.
Sakshi Tanwar plays Mallick, the head of the ATU (with Rathod in absentia) and while her performance isn't bad, she does appear more perturbed than genuinely in crisis -- her irritation is as if the plumber hasn't arrived, not as if the virus is about to kill us all. With a name like Mallick, however, I keep thinking of Don and wondering is Tanwar herself will turn out to be the baddie in charge.
The officers under her appear amused, which brings us to the problem of Sudhanshu Pandey, a wooden actor given horrible lines in the name of comic relief. Someone calls Mallick sexy and Pandey's response is to redundantly add "and very hot too" and, in the next episode, he's explaining why saying 'bro' is so five years ago. It helps, I must say, that characters around him roll their eyes almost as hard as we do.
There is an interesting plotline in the mother-son dynamic of Anita Raaj and Neil Bhoopalam, as the power-accustomed mother and her smart PM son, with Raghav Chanana as her nephew and her son's aide. This is a potentially intriguing dynamic with three restrained actors and I just wish the dialogue in this section wasn't as melodramatically overwrought.
Episode Two ends with a character logging out of what may be nicknamed 'Villain HQ' as if leaving a cybercafe, but impressive enough, in true 24-style, even this moment sets up another cliffhanger. And so the show rolls on, punching its way efficiently. Jack Bauer would approve.
Rediff Rating: