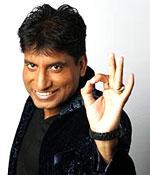 Raju Srivastav's comic antics could not save him from eviction from the Bigg Boss house.
This is the first time he had been nominated but the audience clearly preferred the other nominees Vindoo Dara Singh and Pravesh Rana over him.
Raju tells Rajul Hegde that it feels great getting out of Bigg Boss.
It seemed like you were not prepared to go out.
That's not true. I was mentally prepared to go out because I knew it was my turn. People have had enough of comedy, they want drama and fighting. And I was not doing that.
You were one of the most popular housemates in Bigg Boss. Why do you think the audience voted you out?
I was there for 63 days and I'm thankful to the public to keep me there so long. There have been many ups and downs in life; you can't be happy all the time. People want more aggression and arrogance on the show. Maybe that's why they saved Vindoo and Pravesh. I have no complaints because I am satisfied with the duration of my stay.
I was feeling low of late because of the verbal spats between Vindoo, Pravesh and Kamal Khan. That definitely troubled me.
You dressed like a woman for a week. Didn't that make you uncomfortable?
Nobody wished to take the hand grenade which Rohit Verma was to offer one of us. So I decided to take it up. I always wished to do things the rest wouldn't do. This task was a challenge. I decided to entertain the viewers dressed up like a woman. I tried to project rural as well as urban women. I borrowed lipstick and kajal from Poonamji (Dhillion). I had fun.
Who do you think played dirty games?
I would not like to take any names. Everyone is insecure. All of them are making mistakes and playing for money.
I want Vindoo to win because he entertains people. He has a good heart.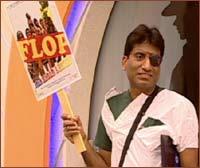 Would you like to go back to the house?
Yes, if I have the dates.
Tanaaz Irani and Aditi Govitrikar pulled off your pyjamas near the swimming pool, which created quite a controversy.
I was shocked. They should not have done it but I knew it was an accident, so I forgive them. I am told that the media aired the clipping and it certainly was controversial.
Sri Adhikari Brothers sent a legal notice to you when you were inside the house.  Can you talk about that?
They are launching a channel later in the month and I am doing shows for them. No dates were decided when I entered the house. I had informed them that Bigg Boss would wind up towards the end of the month.