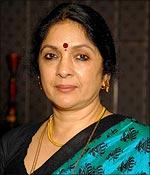 Actress Neena Gupta last seen in Sony's Ladies Special is back on television in Zee TV's new show Dil Se Diya Vachan which premieres tonight at 7pm.

It is a story about two women and the indisputable trust that binds them together.
Actor/producer, Neena Gupta is essaying the role of Dr Kalyani (mother-in-law) and Vandana Joshi from Zee TV's Dance India Dance Season 2 will portray the role of Nandini (daughter-in-law). The cast also includes actor Ayub Khan and Gaurav Khanna.

Gupta talks about the show, her daughter and why she will not be able to make TV serials any more. Excerpts:

Why did you take up this show?

I liked the story, cast and the director. I had worked with the director earlier in Saloni. Most importantly they agreed to my work timings from 9-6. I get tired if I work for long hours. The place where we shoot is also not very far from my place, so everything fell into place.

What kept you busy post Ladies special?

Now that I am married I need to spend some time with my husband who is in Delhi. So I shuttle between Delhi and Mumbai. Plus I am looking after my daughter's business. I help with accounts and such like. Actually I was very busy with her designing work before this show.

Does your daughter design clothes for you as well?

Yes. I have received compliments for the saris she designed for me. When I took up the show, I told the producers that I wanted her to design my clothes. We have a similar tastes [smiles].

Your daughter was never interested in acting?

She wanted to become an actress but realised that she doesn't have a typical Indian face. When she asked me I also told her the same thing. I told her that she could study acting abroad and work there. In the meantime she enrolled for SNDT fashion designing. When I told her that she is good at designing she continued with it and is happy with the result.

Did she participate in HDIL India Couture Week in Mumbai?
No. She has just finished Lakme Fashion Week and has got many orders. She doesn't have time because she has to complete her orders. Plus, I also told her to go slow and take up more shows only next year.

What kind of relationship do you share with your daughter, Masaba?

We're friends as well as being mother and daughter. Sometimes we fight like mother and daughter and sometimes we talk like friends. Thank God I have a daughter for we have a great bond -- we share clothes, makeup and thoughts. She is like any other teenager and doesn't tell me about her boyfriend. I kind of respect her privacy. I remember my days, I wouldn't tell my mother about certain things.
Did you ever plan to do a Saans sequel?

Not a sequel. But I had a very nice project -- it was contemporary but none of the channels wanted it. Earlier they would politely refuse but later when my partner went and asked, they straight away told him to bring something regressive. I don't think like that so I can't make anything like that. I am not modern in thinking but I can make contemporary shows. Television has grown business wise but the content has become regressive.
Your last show Ladies Special was a nice concept. Why do you think it didn't work?
Nice concepts don't work [smiles]. The writer was directing a film so he left the show. This could be one of the reasons. Plus one actress also wanted to leave the show (there were four parallel leads) so something went wrong otherwise I was very fond of that serial.  
Most of the shows are based on Indian families but they show it in a negative way...
I feel in daily show you need drama and it's very difficult to create drama everyday. That is why I didn't take up anything for so long. I could not do a role which is not realistic. I took up this show only because I found it interesting and real. I am enjoying playing this role. Whether this works or not, it's a different thing.
What if the track changes? Will you still do it?
I will not do it. I am very open and I can argue. I will compromise a little bit but not completely. I will not do something which I don't like. Whether I act or direct I ensure that there is a social message attached. I take audience reaction very seriously. People have still not forgiven me for the game show, Kamzor Kadi Kaun, which I hosted a few years ago. This made me reject an offer of extremely negative character on television in a show which is currently running quite successfully [smiles].
How was your relationship with your mother?
My mother was a freedom fighter, Gandhian and a double MA so she was very principled. I am more like my father.

Do the actors have creative liberty to experiment with the roles and how important is it for you?
I have worked with many director who are very open. But there is a line that you cannot cross. To me it's important. You should know when to put your foot down. 

Do you watch any TV shows?
Yes I watch Uttaran so I was happy to work with the same director. I watch lots of American shows like Desperate Housewives and so on.
Do you watch reality shows?
I was glued to first season of Bigg Boss, second season was okay but this season I don't like it. I was offered Bigg Boss twice but I can't do such shows.
Any promising talent you have seen on TV recently?
My all time favorite is Surekha Sikri. She is a great actress. In fact all the actors of Balika Vadhu are good. I watch Surekhji to learn something from her. She is my senior and we would go to watch the plays just to see her act.
Are you doing any films?
I did Veer and Na Ghar Ka Na Ghat Ka but both didn't do well.
Catch Dil Se Diya Vachan every Monday to Friday at 7 on Zee TV.