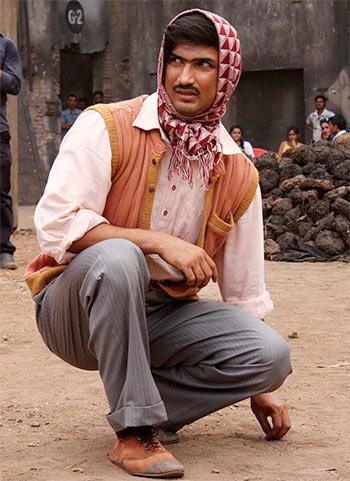 Will this be yet another Dibakar Banerjee masterstroke? Raja Sen reviews the trailer of Detective Byomkesh Bakshy!



What is a detective?
The theatrical trailer for Dibakar Banerjee's upcoming film opens with the definition of the word in English and Hindi before briskly moving on to the words 'detective story', which, while they must involve detection, don't always involve detectives.
Or at least people who call themselves thus.
"Are you a detective?" a voice asks.
"Not at all," says the voice of Sushant Singh Rajput as the background beat speeds from a canter to a gallop.
"A cop?" asks another disembodies voice.
"Not at all," says Singh's voice, unflappable and cool.
"Then what in the world do you do?" asks someone in a voice coated with skepticism.
We see Rajput's Byomkesh sitting in a classroom as the lights gradually go out, and the answer isn't given.
The answer may not be given but it is more than implied.
Saradindu Bandhyopadhyay's character Byomkesh was repelled by the word 'detective' and what it stood for, and always corrected those who called him thus, telling them that he was a satyanweshi -- a seeker of satya, of the truth -- instead.

Dibakar's film seems true to this; despite being defiantly titled 'Detective Byomkesh Bakshy!', it appears that he's being called detective by those observing him, by their lacking the protagonist's own clarity to commitment, and what the trailer serves up, rather thrillingly, is a man in pre-independence era Calcutta searching vitally for the truth.
"Your truth isn't enough to light my cigarette, Byomkesh Babu," says a female voice while we see Bakshi leaned over a girl with a wet, bare back all set to arch, and it is this line straight out of hardboiled noir that strikes the tone likely to resonate through Banerjee's adaptation.

Here is a period thriller with a modern, hard rock soundtrack -- with Sneha Khanwalkar ladling on the grunge quite generously -- and there are dames and bullets and questions and Chinese gangsters and, in the centre of it all, our gumshoe.
Will this be yet another Dibakar Banerjee masterstroke? We can't wait to put it to the sword.
Detective Byomkesh Bakshy! releases on April 3.