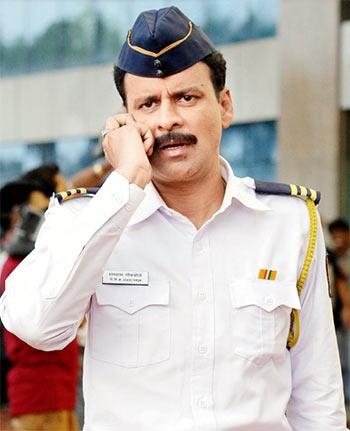 Traffic is muddled and lacklustre in its set-up, feels Sukanya Verma.
In Traffic, practicality and sentiment not only co-exist but collaborate to fulfill a higher purpose of saving lives.
Through its multiple narrative threads that convene at a crucial juncture in the vein of Alejandro González Iñárritu's 21 Grams and Amores Perros, director Rajesh Pillai, who passed away due to a liver ailment in February, aspires to tell a human story with elements of a thriller.
Pillai's inspiration stems from reality.
In September 2008, nine-year-old Abhirami got a new lease of life following a timely heart transplant consented by the parents, both doctors, of teenager Hithendran left fatally-injured in a road accident in Chennai. Their decision of multiple organ donations saved more than one life but Pillai's story focuses on the aforementioned transplant expedited by Chennai's traffic efficiency.
It's a subject he's familiar with.
Traffic is a remake of his critically-acclaimed Malayalam film of the same name noted for its hyperlink storytelling. I haven't seen the original and after this, I am not sure I want to.
Set in 2008, one uniformly rainy-day of Mumbai and Pune -- the lapses in detailing are glaring what with theatres playing 2013's Gravity, cell phone models belonging to a later time -- Traffic moves to and fro between multiple storylines.
There's a doctor planning a anniversary surprise for his wife along with the omnipresent best friend, a young journalist's live-in relationship with a divorcee that might tick off his aloof father, a workaholic movie star's career is not going down well with his neglected wife and daughter, a disgraced traffic constable is looking to redeem himself before his embarrassed daughter and a senior cop gets on a mission to facilitate a medical emergency against peak rush and substantial distance.
Despite its 104 minutes running time, Traffic is muddled and lacklustre in its set-up.
Its crowded scenario feels even more tedious around monotonous acting and hackneyed characterisation.
For a good period, Traffic emptily meditates on the grief and anticipation of two sets of parents whose respective children are caught in a life and death situation.
In both the cases, the fathers are guilty of not bonding with their brood but neither the parallel nor the flaw is of any consequence. Even so, Sachin Khedekar lends heft to his portrayal of a father unwilling to give up on his son as well as doctor who knows better as opposed to Prosenjit Chatterjee's impersonal delivery of an influential man gathering his resources to save his critically ill daughter.
The mothers, played by a restrained Kitu Gidwani and heart-rending Divya Dutta, appear suitably distraught and connected in their inconsolable grief. Dutta's emotional appeal to Gidwani on the phone achieves the poignancy Traffic itself cannot.
It's only when Traffic picks its pace and hits the road owing to urgency of transplant and unavailability of quicker transport that it truly engages.
Having said that, the obstacles it manufactures are often too contrived and far-fetched.
This segment of the script heavily relies on Manoj Bajpayee's eagerness and Jimmy Shergill's frustration, the pressure they build around their telephonic interactions, to work. Bajpayee could play the character in his sleep and sometimes it seems he actually is. Shergill's kohl-lined eyes do not belong in this movie but he's serviceable enough.
In the same arc, also features Parambrata Chatterjee whose wishy-washy characterisation provides momentary distraction.
Traffic doesn't have people but causes to care for. Besides advocating organ donation, it also pitches in the ineffectuality of religious differences when health is concerned through its model depiction of the Hindu-Muslim chord.
At the same time, it's also a bitter reminder of how medical aid is a privilege only a few can avail at the cost of reckless driving and inconvenienced public.
Traffic doesn't address its ethics or anything profound. It doesn't aspire to be anything beyond a bumpy ride to half-hearted glory. And in that it is entirely successful.
Rediff Rating: