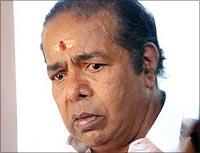 The latest controversy to have struck Malayalam filmdom is the one involving veteran actor Thilakan, who has openly declared a war on what he describes as a 'mafia' of film organisations which was trying to browbeat members to toe their line or face 'banishment' from filmdom.
Thilakan took the tough stance after the makers of a new film Christian Brothers excluded him from the film on a directive from Film Employees Federation of Kerala (FEFKA), apparently irked by the actor doing a role in a film by director Vinayan, FEFKA's bete noire.
Vinayan had led a group of technicians who split the first technicians' body, Malayalam Cine Technicians' Association (MACTA) last year. This led to FEFKA's formation with support of associations of film producers, distributors and actors, who had the blessings of superstars to serve their own interests, industry sources said.
The splinter MACTA group led by Vinayan, which later got affiliated with pro-CPI AITUC, could not click with all the key players in the field arrayed on the opposite side. The group soon split with its founders including directors leaving it to join FEFKA in a bid for survival, leaving Vinayan in isolation.
FEFKA also reportedly directed its members not to co-operate
with Vinayan, who had to bring in technicians from outside the state for his new film
Yakshiyum Nhanum
. This, Thilakan says, is with the support of 'some executive members' of the actors' outfit,Association of Malayalam Movie Artistes (AMMA).
Thilakan told PTI here that the producer of Christian Brothers from which he was excluded at the last minute, had told him that he was being replaced by another actor (Saikumar) on a direction from FEFKA. Subair, the film's producer, confirmed the actor's charge.
"They (FEFKA) told me to exclude Thilakan and though I had given him an advance, I had to change him to get on with my film," he said when contacted. Thilakan said his friends in AMMA, who had talked with office-bearers of AMMA and FEFKA, got the reply that it (dropping Thilakan from the film) was the prestige issue of a superstar.
"Is Malayalam cinema the domain of superstars only?" he asks in fury. FEFKA general secretary and director B Unnikrishnan was being controlled by certain superstars who had their own narrow interests, Thilakan alleged.
Unnikrishnan, however, refused to comment on the actor's charge. Asked whether "trade unionism" had crept into the industry, Thilakan said the 'backstabbing' politics in Malayalam filmdom had made film outfits worse than trade unions.
"Trade unions at least have a framework within which they work. The film outfits, formed for the welfare of its members, are serving only the superstars who in turn get the backing of producers and distributors," Thilakan said. He also sees an irony in not effecting the 'unofficial ban' on singers K S Chithra and Vijay Yesudas and lyricist Kaithaprom, FEFKA members who had worked in Vinayan's film.
On his part, Vinayan says those who were working behind the undeclared 'ban' on eminent actors like Thilakan were 'slaving' for the superstars. "These people do not show even the courage to openly say that there is a ban," he said. Vinayan said actors should not be made victims for doing roles in his film.It was shameful if Thilakan's charge that a superstar was behind the ban on him was true,he said.
Vinayan also said MACTA was ready to help Thilakan if he went forward with his threat that he would stage a sit-in at the location of 'Christian Brothers' if he was not allowed to act in the film. AITUC leader Kanam Rajendran has also offered support to Thilakan in his fight against the `undesirable tendencies' of film organisations.