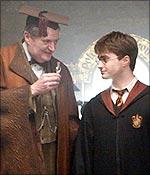 The commanding worldwide success of Harry Potter and the Half-Blood Prince -- which grossed nearly $400 million worldwide in just five days -- is yet another example of Hollywood summer movies continuing to do smash business worldwide.
The sixth Harry Potter movie becomes the second tentpole film this summer following Transformers: Revenge of the Fallen to recoup its investment in less than a week -- each film costs $200 million. In the first week of a big budget film's release, the studios get about 65 percent of the gross, the remaining goes to the theatres. While Harry Potter is headed for $950 million-$1 billion, Revenge of the Fallen could end its worldwide run with over $850 million. 
There may not be a film as big as Half-Blood Prince and Transformers this summer but Hollywood is sure to unreel quite a few successful films in the next six weeks.
Friday will see Disney's 3-D comedy G-Force, which follows the studio's endearing hit Up destined for a $500 million-plus global run. G-Force offers the adventures of a team of adorable guinea pigs trained as government secret agents. It features the voices of Penelope Cruz and Nicolas Cage, among other Hollywood notables.
Armed with the latest high-tech spy equipment, the guinea pigs 'discover that the fate of the world is in their paws,' Disney notes. Darwin (voice of Sam Rockwell) is the guinea pig squad leader determined to succeed against all odds. Blaster (Tracy Morgan) is having attitude problems as the weapons expert while Juarez (Penelope Cruz) has plenty to do as on-the-wall
reconnaissance expert, Mooch. And then there is the mole, Speckles (Cage), the computer and information specialist.
'I'm always in touch with my inner mole,' said Cage at a press conference in New York, discussing his role as a nearsighted mole. 'I have what I call my stress voice... It comes when I've worked a lot or done a lot of night shoots and haven't slept. Rather than resorting to profanity or yelling I raise my voice an octave or two.'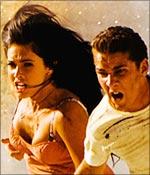 However adorable the guinea pigs are, Cage did not want to lend his voices to them. He said he 'likes the way they (the moles) look. They have a purpose, they have a personality, they have an opinion. They're not cute domesticated little furballs.'
Also to be released soon is Judd Apatow's Funny People, starring Adam Sandler and Seth Rogen. Apatow, of course, is known for his raunchy but sweet comedies, Knocked Up and The 40-Year-Old Virgin. But his new film, Hollywood insiders say, is a dramedy. It has more of drama than comedy.
Sandler plays a successful stand-up comic who, after discovering he has terminal cancer, takes a lowly young comedian (Seth Rogen) under his wing and gets him to write jokes.
'How successful this move is remains to be seen, but one cannot make the argument that Apatow has never ventured into "serious" territory before,' wrote Hollywood observer, Charles Taylor. 'The scenes between Paul Rudd and Leslie Mann in Knocked Up are piercingly accurate depictions of marital discord. But cancer is a much more tricky subject, especially when it comes to humour. Go gentle and you risk sentimentality; go dark and you risk making the ravages of the disease so potent that no one feels like laughing.'
The film was made for $70 million which is $10 million more than the combined budgets of Knocked Up and The 40-Year-Old Virgin.
'I don't see Funny People as going in a different direction, but rather as going further in the same direction,' Apatow told The Wall Street Journal last week. 'The first movie I directed was about sex and love, the second one was about marriage and babies, and the third is about illness and love and mortality. I'm basically out of topics.'
Some Hollywood insiders say though the film is darker than Apatow's previous hits, it is nevertheless going to do decent business, thanks to the star cast and heart-tugging moments, not to forget some wildly funny situations.
Among the other big hits of the summer season is Ice Age: Dawn of the Dinosaurs which could grab at least  $800 million worldwide and become the third highest grossing film of the summer.
The summer will also be known for the huge success of a comparatively little film The Hangover (which cost less than $50 million) without stars. The genial but utterly crazy comedy has accumulated $300 million worldwide, with plenty more to come in the next few weeks.
Another film that did not cost a fortune The Proposal, a romantic comedy starring Sandra Bullock and Ryan Reynolds, has also become more than just a winner. It could end its worldwide run with $300 million.
Paramount is releasing on July 31 the effects-driven G.I. Joe: The Rise of Cobra. The film's trailer is attached to the Paramount-DreamWorks smash hit Revenge of the Fallen giving it a very high profile.
The summer has been exceptionally good for Hollywood since no mega budget film (anything costing over $150 million) has crashed.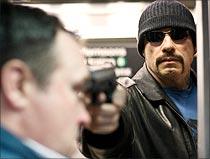 Among the losers this summer are the high profile films, Year One, Land of the Lost, and Taking of Pelham 123.
'The Jack Black vehicle Year One largely was a victim of its release slot: two weeks after the unsuccessful -- and awkwardly similar -- comedy Land of the Lost and a week before box office behemoth Transformers: Revenge of the Fallen,' The Hollywood Reporter wrote. 'A PG-13 rating for crude language and a few drug references turned off too many family moviegoers (from Lost), and a big-screen adaptation of a whimsically cheesy 1970s children's TV series never was going to be an easy sell with.'
Bruno could be termed a disappointment, as the raw, shocking and controversial comedy written by and starring Sacha Baron Cohen nose-dived in the second week in North America, Europe and Australia dropping by about 70 percent. Even then the film is headed for $150 million worldwide and could make a decent profit. That would be half of what Baron-Cohen's surprising hit Borat took in over two years ago.
Another big summer disappointment, The Taking of Pelham 123, is a setback to Denzel Washington, who like Will Smith, has a huge following worldwide. But the remake of the 1960s classic thriller would be lucky to recoup its $100 million budget.
Several films that got mixed or dismissive reviews have done decent business in America and extraordinary business abroad. Critics poured wrath over Ben Stiller's Night at the Museum: Battle of the Smithsonian, but the special
effects-driven comedy became an audience favourite worldwide grossing nearly $380 million.
Some of the biggest hits this summer were not big performers in North America but did extraordinary business abroad.
'In a notable misfire, Warner Bros' pricey sci-fi actioner ($200 million) Terminator Salvation topped out at $123 million domestically, but foreign rights-holder Sony did significantly better with $228 million,' The Hollywood Reporter wrote. Similarly, Sony's Angels & Demons, which is heading for a robust $500 million worldwide, did most of its business
abroad. The film, featuring Tom Hanks, was a big success in Catholic countries including Spain, Italy, Mexico and Brazil.