'It is very easy for me to choose different genres, but a lot of actors are still stuck in the same rut.'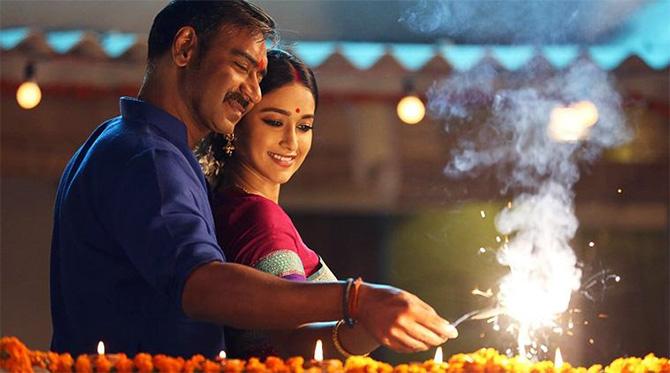 IMAGE: Ajay Devgn and Ileana D'Cruz in Raid.
30 questions in 15 minutes.
Only Ajay Devgn can do this in Bollywood.
The man of *very* few words gets ready for Raid, where he plays an income tax officer.
Based on a real life character, the film co-stars Ileana D'Cruz and is directed by Raj Kumar Gupta.
Devgn discusses Raid, and being a seasoned player in the movie business. Rediff.com's Patcy N listens in.
We have seen you play a cop many times, but this is the first time you will play an income tax officer.
I don't think anyone has played an income tax officer, at least I don't remember it. It is a very interesting role.
The morals for both characters (police and IT officers) are the same, but the attitudes are different.
A policeman's attitude is physical, but an income tax officer is very calm, not physical at all.
Thanks to the Nirav Modi scam, it seems the raid season is on.
The raid season is on through the year! (Laughs.)
Actually, raids have happened earlier as well, but you know about it now because of the media.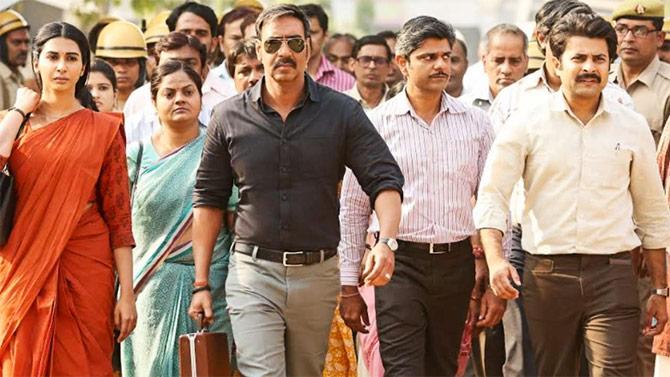 IMAGE: Ajay Devgn in Raid.
What impact will this film have on society?
I never think about that. I don't know what people will take away from the film.
I want to make a film which says good things and people should like it. It should be entertaining. I don't want to lecture people.
But yes, the film says you must be honest about paying your income tax, and be honest towards your country.
Your earlier films had a lot of song and dance, but now, there aren't as many. Why is that?
Earlier, songs were an important part of the film. Even if they did not fit in, films would have at least six songs. But all this has changed now.
Nowadays, the way a story is told, and the way the audience watches a film has changed.
The tagline 'Heroes Don't Always Come in Uniform' is nice.
The idea of this tagline came from me. It's not necessary that only those people in uniform are heroes. Without uniform also, the common man does good work. There are so many stories in the newspapers.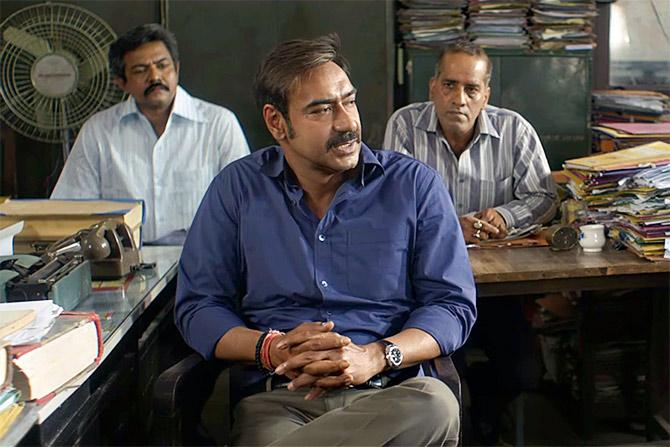 IMAGE: Ajay Devgn in Raid.
What kind of preparation did you do for the film?
I have not done much homework, but I have met the person on whose life the story is based.
I heard his story. I saw his approach towards life. I have kept that in mind, followed it and shaped it according to my style.
What cinematic liberties have you taken?
No film on a real life incident should be made without taking cinematic liberties.
If you add background music to any real life incident, it means you have taken cinematic liberties because there is no background music in real life.
So how much of the story has changed?
We have kept the story the same, but haven't used real names of the other officers involved.
We have also changed the place where the story is located as well as the name of the person whose house was raided.
Income tax raids are very secretive.
Yes. We show that in the film as well.
Even half an hour before the raid, no one knows there will be one.
In fact, my (on screen) wife, played by Ileana, doesn't even know what is happening.
You are not an Angry Man in this film. Can your fans expect some stunts from you?
My fan expect a lot of things from me, not just fights and stunts.
When I do a film, I do it according to the character given to me.
If an actor does just one type of work, what's the use?

IMAGE: Ajay Devgn and Ileana D'Cruz in Raid.
This is your second film with Ileana after Baadshaho. How much do the two of you understand each other?
I don't know. When you're working with someone, you understand that person in the capacity of an actor, not more than that.
Waise aadmi toh ek doosre ko zindagi bhar nahi samjha, husband and wife bhi nahi samjh sakte (Human beings can't understand each other their entire lives, even husbands and wives can't understand each other).
How would you rate Raj Kumar Gupta as a director?
Raj Kumar is a sorted man. He is simple and hardworking. He understands characters and drama. After a couple more films, he will go places.
As you grow older, do you think acting options narrow?
No, they open up.
Earlier, they were not making films for people our age. Today, people are making films for only people of my age.
Everything has evolved. Now, there are different kinds of characters.
Earlier, we thought heroes can do only college roles. Even senior actors were playing young roles.
But now, things have changed. Most of the heroic stories are after the age of 40.
Women-centric roles are also being written. So it has opened up in every way.
How important is to act your age on screen?
It depends. It is good to act your age; you can't make a fool of yourself.
But when you do a character that starts from younger to older, you can do that.
Also, if you can justify playing a younger character.
How difficult is surviving as an actor in this industry? Do you think an actor is as good as his last film?
Not anymore. Not if you are working for the past 26 years.
You know the audiences have accepted you. They will forgive a flop.
You will work with Madhuri Dixit in Total Dhamaal after 18 years. You last worked with her in 2001's Yeh Raaste Hai Pyaar Ke.
We have been in touch. I met her recently at the film's mahurat, but it doesn't feel like we are meeting after a long time.
It will be fun working with her, she is a fabulous actor.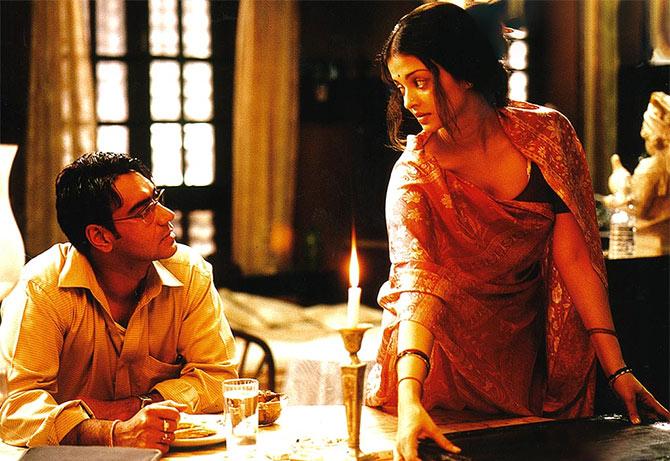 IMAGE: Ajay Devgn with Aishwarya Rai in Raincoat.
You experimented with offbeat films like Zakhm and Raincoat.
Exactly. If Zakhm or Raincoat released today, they would have done different business altogether.
As I told you, audiences have evolved. Other actors have started doing this kind of cinema.
I started doing this in the 1990s, so I am happy that I started it.
Today, people say one should not get typecast but do a variety of films. When did this shift happen?
For me, it was a natural shift in the 1990s. I never thought about it.
I was lucky to get different kinds of films and roles, and they worked as well.
Today, it is very easy for me to choose different genres, but a lot of actors are still stuck in the same rut.
They cannot do all genres and if they try, they have to struggle a lot.
You have produced Marathi films like Vitti Dandu and Apla Manus. Any more Marathi films coming up?
If I get a good script, I will certainly do it. I am not making films just for the heck of it.
As a producer, how much opportunity do you give women in fields other than acting?
It depends on the film and the story. I produced Parched (directed by Leena Yadav) because the story was good.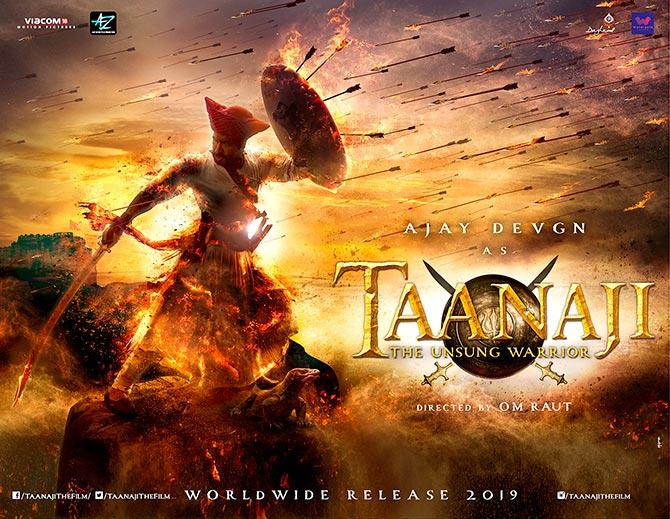 IMAGE: The Taanaji poster.
It has become difficult to make films on historic characters after the Padmaavat uproar. You are making Taanaji next. Is there any sort of fear?
No. I think if you stay away from controversy and stick to history, things can be tackled.
People do create trouble, but I think it can be handled.
Will Taanaji be made in 3D?
We are trying to work that out. Mostly, it will happen.
When will you direct next?
I am working on something.
You have two films releasing, Raid and Total Dhamaal.
I may have many releases, but I do one film at a time. I finish one and then start another.
After a long time, I will be doing two films because the scheduling of one film happened soon.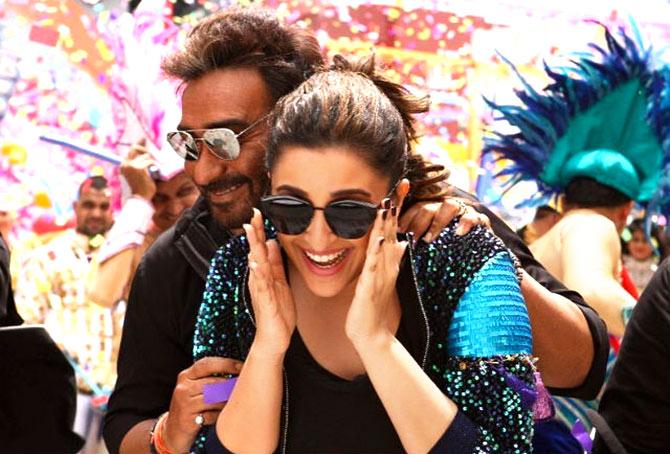 IMAGE: Ajay Devgn with Parineeti Chopra in Golmaal Again.
You are doing a film with Tabu again, after Golmaal Again.
It is a sweet comedy between a younger girl, a girl who is my age, and and a boy in his 40s. It is a rom-com between the three of them.
Tell us about Eela Kajol's film with Pradeep Sarkar.
It is a slice-of-life comedy with a good story.
Has anyone approached you to write your biography?
Yes, but I don't want to write one, not even in the future. I'm not interested.