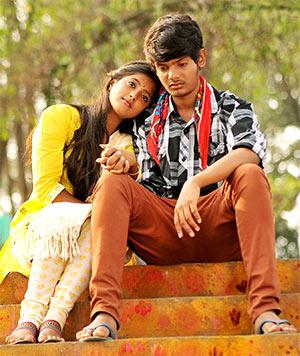 The Prasad Group, founded by L V Prasad, is well known for its studios and laboratories where the post-production of many films is done.
Ramesh Prasad, son of the founder, carried forward his father's legacy by building the IMAX theatre in Hyderabad, which has the largest IMAX screen in the country.
He also revived the Prasad Productions banner in 2012 with the Telugu film Rushi, directed by Raj Madiraju. (The last film produced by the company before that was Ek Duje Ke Liye, in 1981.)
Ramesh Prasad's next film as producer is the forthcoming Andhra Pori, the Telugu remake of the Marathi hit Timepass. It will release on Friday, May 22.
Ramesh Prasad tells Radhika Rajamani/Rediff.com why he chose to remake this film.
Why did you choose to remake the Marathi film Timepass in Telugu?
Timepass was a successful film. Its content is similar to that of my father's earlier films.
The films my father made were family dramas. He did not believe in too much action and sex.
My father remade several Marathi films into Telugu. He liked Marathi films.
I thought it was worthwhile to remake Timepass.
In what way was it worthwhile?
It was in terms of comfort. It is a low budget film. It did not require any shoots overseas. We could comfortably make it here.
Timepass is a fine teenage love story with old middle class values.
It is about a family – parents and children. Commercially what tempted me was the success of the Marathi film.
Why did you choose Raj Madiraju again as director?
I selected the film. When Raj saw it, he also liked it and wanted to be involved. So we bought the rights.

What was your contribution to the film besides being producer?
My involvement was zero.
I bought the rights and became the financier of the project.
There was no problem. Everything was taken care of.
I am looking forward eagerly to the release of Andhra Pori.