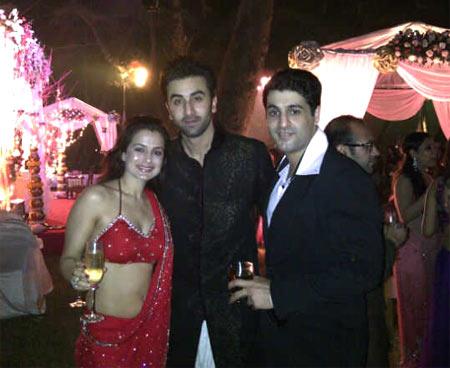 This is a case of Goa-revelry-gone-wrong!

If a report in an English daily is to be believed, Ameesha Patel and Maanyata Dutt, who were the best of friends until not so long ago, are the newest frenemies in tinseltown.

The actress reportedly was involved in a spat with Maanyata's husband Sanjay Dutt in Goa, where most of the filmi junta was attending Rohit Dhawan's wedding.

Reports have it that Ameesha turned up in a particularly revealing outfit at the sangeet ceremony and that didn't go down well with Dutt.
The actor, after his requests to cover up went unheard, went ahead and wrapped Ameesha's dupatta to cover her bosom.

This didn't go down well with the actress who was miffed that someone would try to control what she deems wearable.

The actress tweeted a picture of herself with friends in the said outfit (left).
We leave it to you. Do you think the outfit was TOO skimpy or do you think Sanjay Dutt was right in covering her up? VOTE!
In the picture: Ameesha Patel chats with Ranbir Kapoor and boyfriend Kuunal Goomer