'Every one of us can achieve what we set out to do, we just need to work in the right direction, and eventually we will succeed.'
Wise words from Theri director Atlee.
Atlee, a former associate of ace filmmaker Shankar, made his directorial debut with the brilliant Raja Rani in 2013.
The young director returns with his second venture with one of top stars of Tamil cinema, Vijay.
The film and its director have been in the news ever since it was announced last year.
Amy Jackson and Samantha play the female lead, supported by veteran actors Prabhu and Raadhika Sarathkumar.
In this interview with Rediff.com contributor S Saraswathi, Atlee talks about working with the elusive Vijay, his equation with GV Prakash and why we should not miss his film.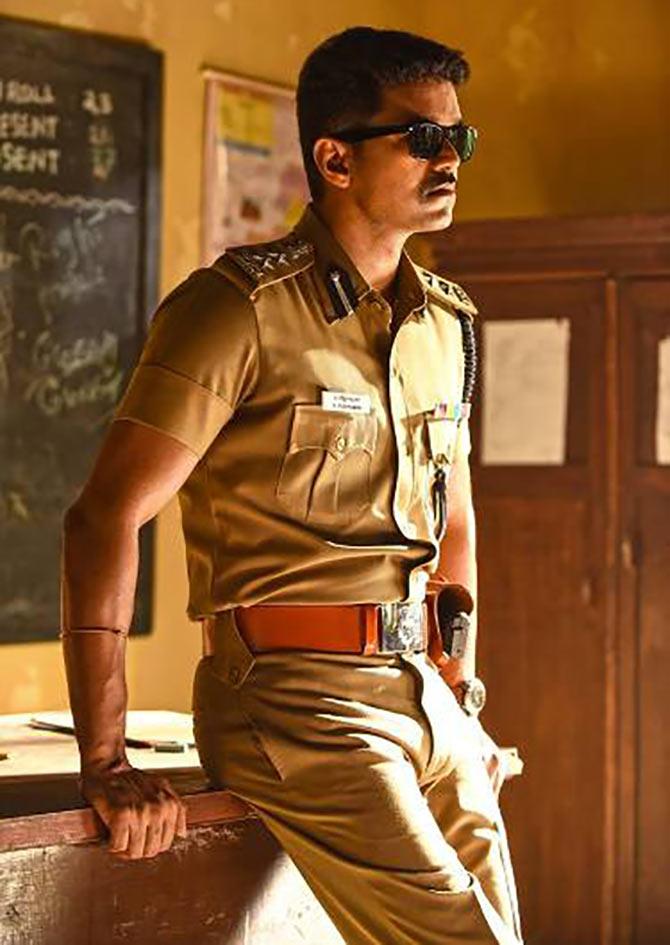 IMAGE: Vijay in Theri.
Expectations for your film are sky high. Are you nervous?
I would be lying if I say that I am not nervous. But I would rather describe it as an immense happiness mixed with fear.
How different is Theri from your first venture?
It is a completely new genre for me. Raja Rani was about love, romance and heartbreak. Theri is an action entertainer. But I have infused the flavours of love into the narrative.
Personally, I love the concept of love. It is something we see around us every day. Action is relatively distant, something we read about.
My strength is in romance. I understood action in the course of this film.
Did you choose to make an action film for Vijay?
As a creator, you have to try different genres; you cannot stick to one perspective. You have to evolve to reach a larger audience.
My next film could be a historical, but I could still maintain my USB, my style in the film. The challenge lies there.
Besides, for Vijay to accept a film, I needed all the elements in place. He is a superstar.
During the making of Raja Rani, I once told him that my next film will be with him and his response in typical Vijay style was, 'I am waiting' (a popular dialogue from his hit film Kaththi).
Later, I narrated the one-liner of the story to him and he was impressed. I took it to him again after I completed my script and he immediately agreed to do the film.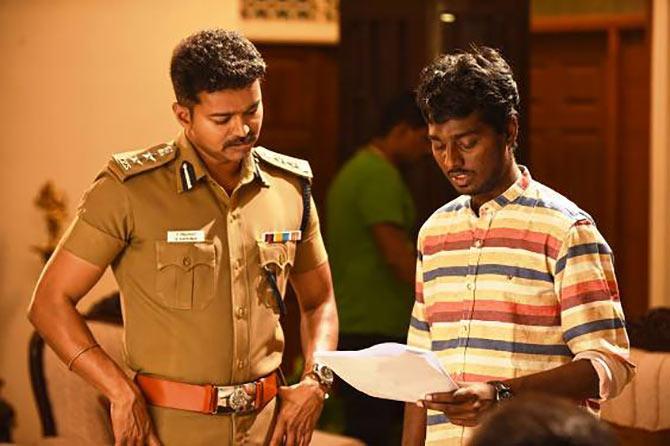 IMAGE: Vijay with director Atlee on the sets of Theri.

For a relative newcomer, you seem to have your pick of stars, Arya and Nayanthara in your first and now Vijay….
It is all about the content. If you have the right content for the right person, they will not refuse you.
Your past success does play a role to a certain extent, but it can only act as a visiting card. You have to back it with a solid script. Your story, your vision, how you are going to portray it, everything plays a part.
Do you feel that since you have worked with Shankar, it is easier to approach big stars?
It is all about working towards what you want. I don't come from a film background, but I have reached here.
I did my visual communications and worked on a few short films. My film En Mel Vizhundha Mazhaithuli won two awards at the National level.
It was at that time that I realised I needed more practical experience. I wrote to Mani Sir (Mani Ratnam), Shankar sir and Gautham Menon sir. It has been my longtime dream to work with them.
The first call I got was from Shankar Sir. We had an interview and I was selected to assist him in Enthiran, and later in Nanban. Now, here I am with my second venture with Vijay.
I believe that every one of us can achieve what we set out to do, we just need to work in the right direction, and eventually we will succeed.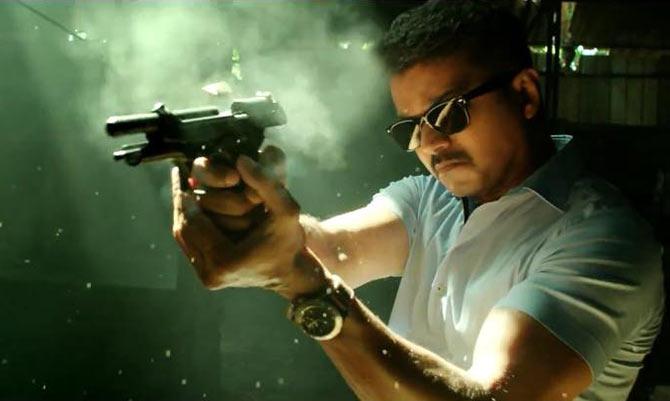 IMAGE: Vijay in Theri.
Tell us about working with Vijay.
Vijay is a legend. He is good at everything, a superb dancer with great comedy timing. But beyond all this, beyond the Vijay we know and have seen innumerable times, this film will portray a different side to him.
He plays a father in the film and I am confident that everyone will love this new side to him.
There is lots of scope for him to perform, and everything has worked out great.
Vijay does not experiment much with his looks, how did you convince him to try three new looks?
As I mentioned, the film portrays a new side to Vijay and we felt a different look would probably work well. But there was no deliberate attempt to create three different looks. We just focused on the requirement and the rest just followed.
Now that everybody is talking about it, it feels good to have made the attempt.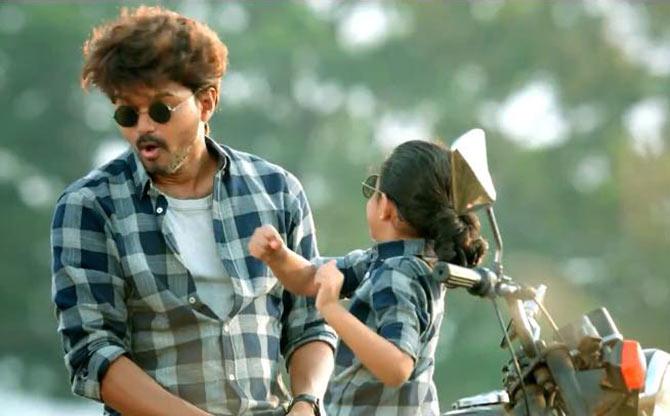 IMAGE: Vijay and Baby Nainika in Theri.

What is it like to have a child artist on the sets?
If you are directing a child, you have to become a child yourself. You have to understand their mood and know when you can go for the shot.
To capture the perfect moment, the child has to be ready and you have to very patient and understanding.
But it has been a beautiful journey, a fun-filled project that we all enjoyed.
Do you see a growing trend for the two-heroine subject in Tamil cinema? When solo heroines have little to do in a film, how do you justify this concept?
If you have space in your content for your characters, it should not matter. I worked with two heroines in Raja Rani too, and it turned out well.
I understand the concerns with this perception, especially in a film with a top star. Nonetheless, I believe it is all about having the scope to perform and the individual's role in supporting and taking the film forward.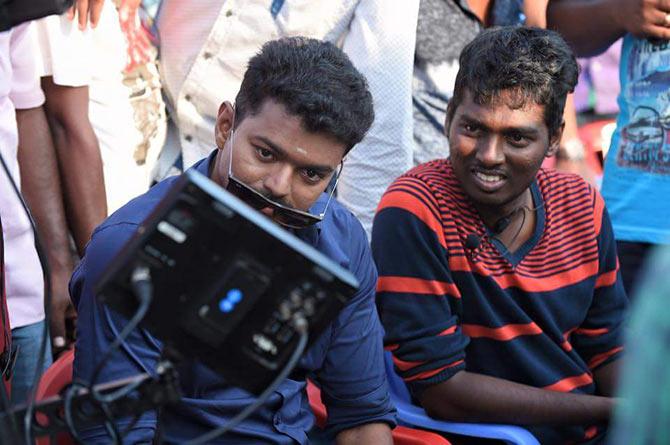 IMAGE: Vijay with director Atlee on the sets of Theri.

At the audio launch, producer S Thanu announced that you were given the choice of working with Rahman, but you opted for GV Prakash.
Working with GV Prakash was predestined. He was my composer in Raja Rani and he always told me that his 50th film would be with me.
That was a time when neither of us had any clue what my next project was going to be or with whom. It was a promise made without expectations on both sides, and we stuck to it.
Tell us why we should watch your film.
It is a feel-good film that everyone will enjoy.
Though simple, the screenplay and dialogues will be fresh and we have some great performances and music.
Theri will definitely find a place in your heart.