'Is being successful someone who has made a lot of money?'
Or somebody who loves doing what they do?'
'Or someone who lives a balanced life and is happy with that?'
'I truly believe that I wake up every morning feeling successful, happy, grateful and thankful for the life I have.'
'Fifteen years, and I am still around and being offered films.'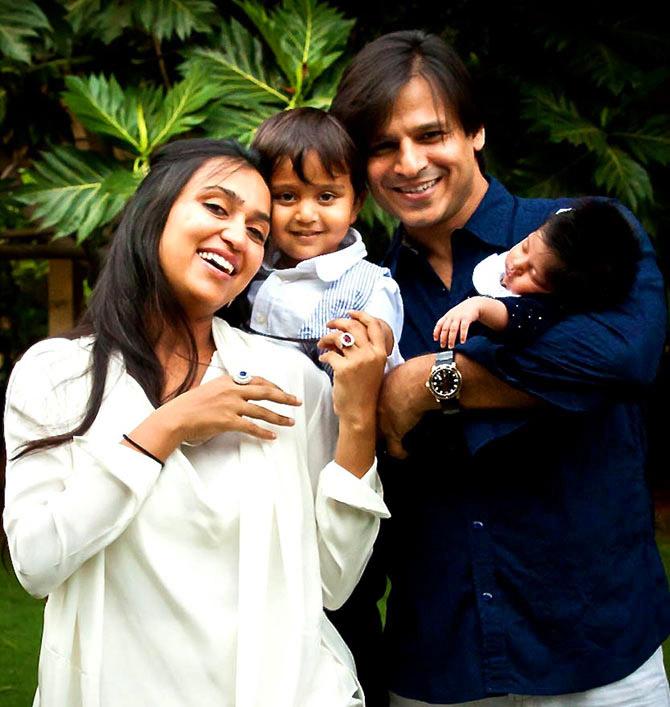 IMAGE: Vivek Oberoi with wife Priyanka, son Vivaan and daughter Ameyaa.
"The kids left this morning for a month, yaar," Vivek Oberoi tells Riteish Deshmukh, sounding very disappointed.
Riteish asks Vivek for suggestions of Web series that he can watch.
The Bank Chor co-stars catch up in between giving interviews to promote their film.
Maintaining a smile throughout the 50-minute interview, Vivek says, "I don't know how to do an interview; I do conversations. I believe I am having a conversation with peers. You are my contemporaries, just on the other side."
From his awesome debut in Company to his latest Bank Chor, Vivek Oberoi opens up.
Jahnavi Patel/Rediff.com listens in.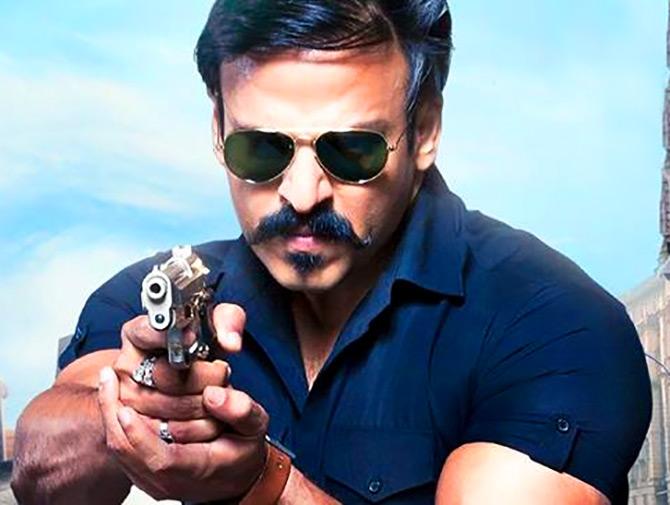 IMAGE: Vivek Oberoi in Bank Chor.
This is the first time you are playing a cop. Was it difficult to see yourself as a cop?
No, yaar, I have done almost 40 films and played so many roles.
Whether it is a bhai called Chandu (Company) or the simple, educated lover boy in Saathiya or Kesu Firangi in Omkara or Arjun in Yuva or Kaal in Krrish 3, whatever the character is, no matter how big or small the film is, I try to get into the character.
It doesn't matter if a Bank Chor has the capacity to do 100 crores or 20 crores.
If I am doing it, I will be as committed as I would be in a mega-budget movie.
Company was not an ideal debut in Bollywood.
When I started my career, everybody asked, 'How can you do a film like Company? What is wrong with you? You dance so well, why aren't you dancing in the film? Chehre kala kar diya hai, pagal ho gaya hai kya? (You have darkened your face, have you gone mad?)'
When I came back from New York after doing a master's in films, my father (actor Suresh Oberoi) being the typical dad, said, 'I have worked really hard to create a platform. Now, my son should get a platform.'
He decided to put his life's income in producing a film for me.
Abbas-Mustan were really sought after at that time. They had just delivered a blockbuster, Soldier. They started writing a script for me.
My dad said, 'Mere beta aisa action karega, aisa dance karega (My son will do action, dance)...' The film had everything you could imagine.
But I could not sleep.
After almost three-four months of going through the scripting and attending meetings, I went to my dad and said, 'I can't do it.'
I told him I was confident about acting, but could not have him invest in it.
If something went wrong and he lost his life's earnings, I wouldn't be able to live with that.
He told me he went through struggle so that I wouldn't have to go through it. I told him that I wanted to struggle.
I spent a year and four months dropping my last name.
I introduced myself as Vivek Anand instead of Vivek Anand Oberoi and struggled in every possible office.
My file had my portfolio, certificates and awards, but everywhere I went, people said, 'Tum hero nahi ban sakte (You can't be a hero).'
That's why I keep telling people that the one thing you get in India is a lot of free advice.
I went through a process of personal rejection. You start doubting yourself.
But it also made my resolve strong.
Then one day I heard of a film called Company being made.
I was a big fan of Ramuji (Ram Gopal Varma), and I landed up at his office. I showed him my file.
He went through it and said, 'I don't see you in this role. You are too polished.'
I requested him for another meeting after 15 days.
The first thing I did was go to a slum and hire a kholi (room).
I spent two weeks there and recorded everything.
I spent time with the people there to know their lingo and everything.
There was a photographer, who was also struggling.
I promised him that if I got through, my first big shoot would be with him.
But first, he had to shoot something for me for free because I didn't have the money.
He came and shot a day in the life on Chandu Nagre -- how he eats, sleeps, walks...
When I met Ramuji again, I dressed like the character -- rugged, messy with rough hair, a dirty shirt, a ganji with holes, chappals and smoking a beedi.
The first reaction I got was from the watchman was, 'Kya chaiye? (What do you want?)'
In my mind, I felt victory; I had convinced the first guy.
I said a prayer, went in, dragged a chair in front of Ramuji, sat down like I owned the room, put the beedi in my mouth and puffed.
I stared at him and put my legs on top of his table.
He was wondering what was going on.
I said, 'Abe thobda kya dekhta hai, photo dekh, photo (What are you staring at my face? See my photo).'
Then I took the bunch of photographs and threw them on the desk.
He looked at the pictures, then at me and then back at the pictures.
He told me it was the best audition he had ever seen.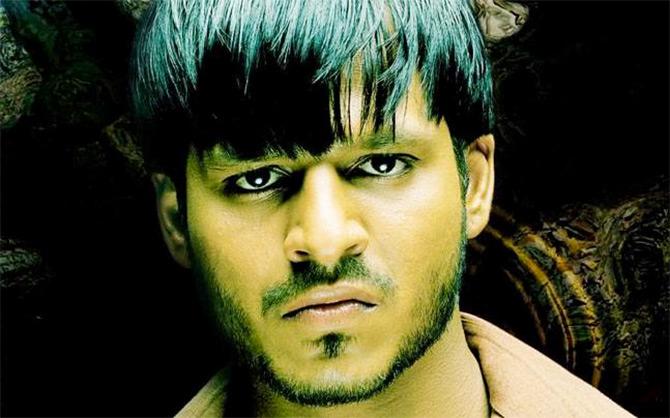 IMAGE: Vivek Oberoi in Company. It was arguably among the finest Bollywood acting debuts this century.
You were considered the Next Big Thing after Saathiya... But it didn't work out. Any regrets?
I don't know. It depends.
Do I believe I am nothing?
Do I believe that I have a body of work?
Am I successful or not?
Have I lasted in the industry for 15 years?
Do I still have work?
Am I in that position where every month I can say no to a couple of movie offers?
You have to define what success means to you.
Is being successful someone who has made a lot of money?
Or somebody who loves doing what they do?
Or someone who lives a balanced life and is happy with that?
I truly believe that I wake up every morning feeling successful, happy, grateful and thankful for the life I have.
Fifteen years, and I am still around and being offered films.
The day I write an autobiography, it's going to be an interesting one.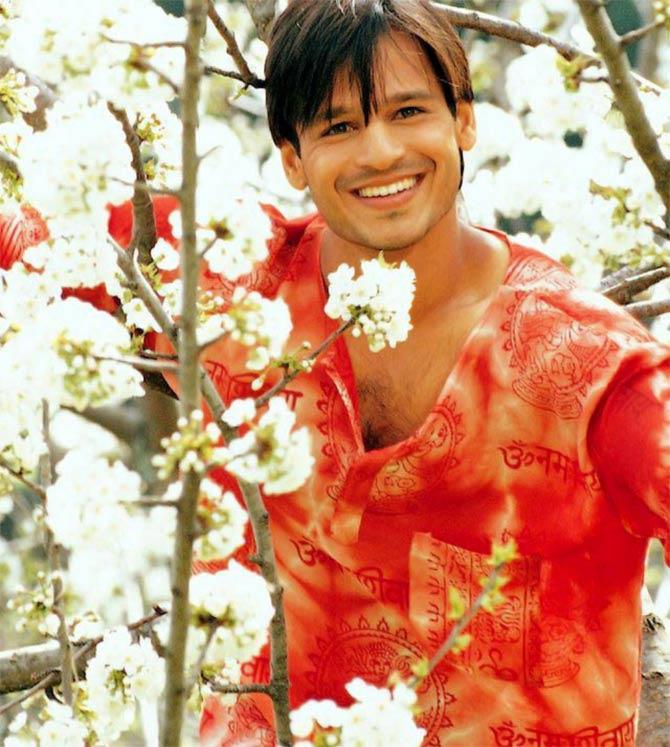 IMAGE: Vivek Oberoi in Saathiya.
Do you think it makes a bigger impact when stars talk about social issues?
It depends on how the media portrays it.
Fifteen years ago, I left films, money and the comfort of my home to live on a beach which had diseases and corpses after the tsunami. People said I was crazy.
The first thing the Indian film media said was that I was doing it for the publicity.
Sometimes, our media doesn't think if their story will break a family.
'This guy is having an affair with this actress', but how will the child feel?
I believe in karma. There's no escaping that.
The New York Times did an article on me. They sent a reporter, investigated, stayed with me for three days, saw the operation and saw that we had pulled out almost 1,800 families.
We gave them temporary structures, built homes, primary schools, built an old age home, an adult education centre and rebuilt the whole village.
After that, suddenly, I became a hero.
The desi media said 'Wah!'
Coming to the question, there are two things -- the intention of the star should be good.
If their film is on the verge of release and they want to be seen on a platform, I don't think it will do much.
But if you are genuinely passionate about it and be consistent, like I have been doing for 15 years...
Nobody questions my credibility now.
What makes you take up social causes?
Once, I was at a low point in my life, where things in my career and personal life just crashed.
I was in one of those self-pity moments. Borderline depression.
I did what every mamma's boy does.
I went to my mother, put my head on her lap and said I am really low and I don't know what to do.
She heard me out and said she's taking me out.
I thought she was taking me out to cheer me up.
She took me to the Tata Memorial Hospital, to the paediatric cancer wing.
That day changed my life.
I saw 40 kids from the ages of 5 to 15. They were laughing and joking with me.
I was supposed to go there for an hour, but spent six, seven hours with the kids.
I felt in love with their spirit. They were full of life.
The first thing I learnt was that I have no right to complain.
These kids are fighting cancer.
I had no right to be sad about some film career or some personal break-up.
We must look at the bigger picture.
I was about 27 years then.
The second thing I learnt was what God had given me.
You can be a phenomenal architect or engineer, but no matter what you build, it will not make people smile the minute they see you.
That's what actors have.
These two things defined my life.
I decided I would never be upset or crib or be unhappy or ungrateful about what god had given me.
Then I thought how I could use this stardom.
So I started to use whatever I had to put it behind things that meant something to me.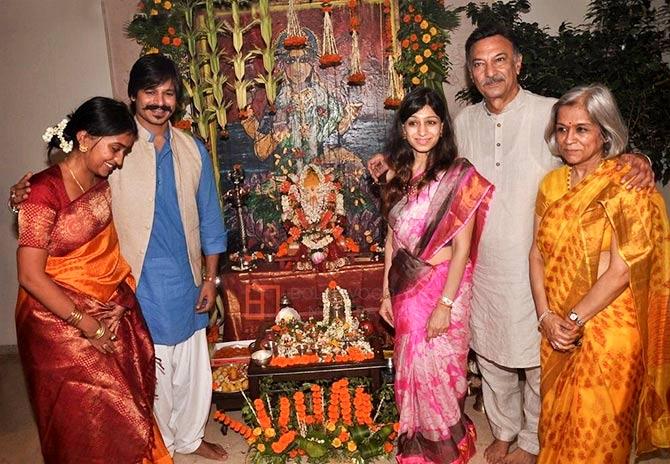 IMAGE: Vivek with wife Priyanka, parents Suresh and Yashodhara and sister Meghna. Photograph: Pradeep Bandekar
How do you look back at your journey?
I never look back.
When I turn 80, I'll sit on a rocking chair and have time to look back.
I have so much going on in my life that I constantly have to look forward.
My wife, poor thing, keeps saying, 'Don't take on anything more. Your life is too packed. I get tired looking at you.'