Acid attack survivor Lalita ties the knot with Rahul Kumar at a dream wedding.
Text and photographs: Hitesh Harisinghani/Rediff.com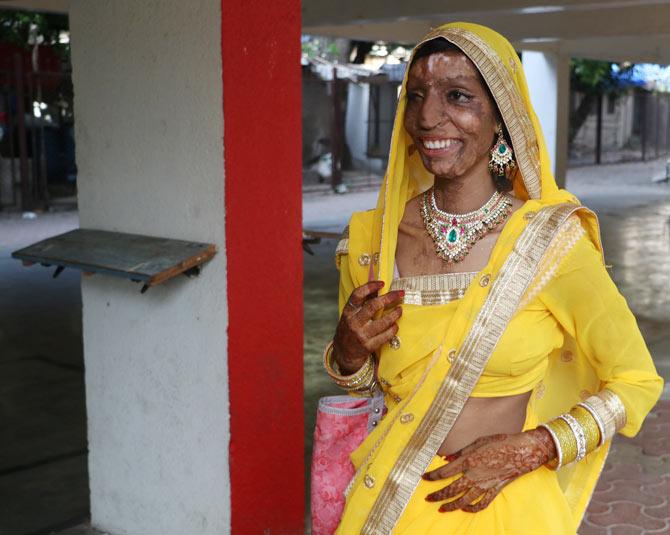 IMAGE: The happiness was evident on Lalita's face as she arrived at the venue.
Lalita Bansi, an acid attack survivor, wed the love of her life in a ceremony that could easily pass off as a dream Bollywood wedding.
There was a beautifully decorated mandap, a lavish food spread, celebrities in attendance, and the overwhelming media going click, click at the drop of a hat.
The wedding was held at the D'Silva Technical College in Dadar, central Mumbai, thanks to the efforts of Udyami Maharashtra along with the Acid Survivors Saahas Foundation, who made Lalita's dream a reality.
A resident of Kalwa, a township north of Mumbai, Lalita was attacked with acid by her cousins in her hometown, Azamgarh, Uttar Pradesh, in 2012, after a petty fight.
The acid attack scarred Lalita for life, but the braveheart refused to let her spirit die.
She underwent 17 surgeries at Mumbai's Bombay Hospital and has 12 more surgeries ahead of her.
She recently received a marriage proposal from Rahul Kumar, 27, who hails from Ranchi.
"Sirf ek wrong number ne meri zindagi badal di," says Kumar who works as a data entry operator in Malad, north-west Mumbai.
"Three months ago, I got a missed call from an unknown number. When I called back, I was scolded and I disconnected the call."
"I called again after 15 days to explain what had happened."
That's when the love story began.
"Within 15 days of talking to Lalita, she told me her face was burnt. I told her, 'Jinka chehra jala hota hai unki life nahi hoti kya? Tum bus tayaar ho, main tumse shaadi karunga (Does someone whose face is burnt not have a life? You get ready, I am going to marry you)' and she agreed."
"My parents had a love marriage so they didn't have any problem with my choice," he adds.
What does Rahul like the most about Lalita?
"Her frank nature. Nowadays, people don't even want to share their name, but she agreed to share her life story with me."
After two months of telephonic conversations, Rahul went to Lalita's house to meet her and as they say, rest is history.
Here are some photographs from their wedding: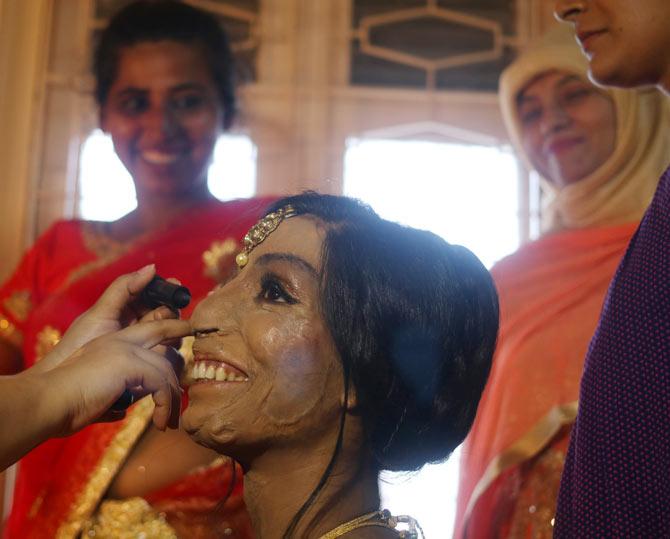 IMAGE: Lalita changed into a red bridal outfit and was joined by her make up artist.
Despite the chaos around her, not once did the smile vanish from her face.
The acid attack survivor had been preparing for this day for a month.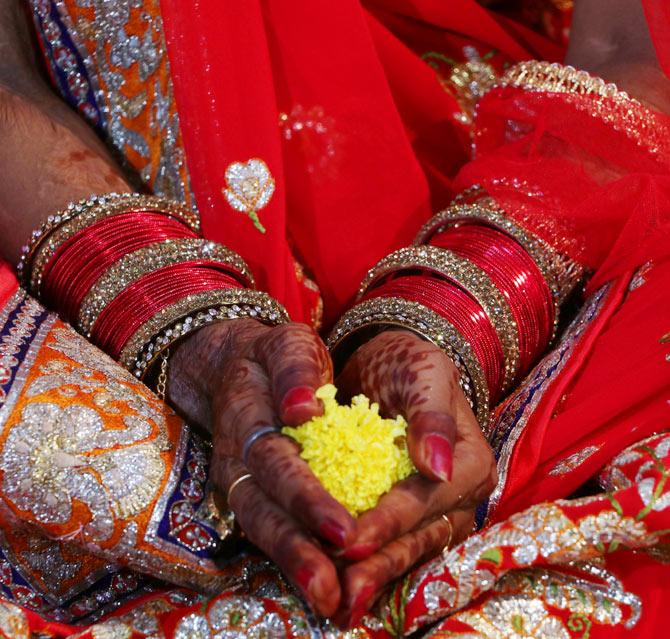 IMAGE: With mehendi on her hands and adorned with jewellery, Lalita is all set for the wedding ceremony to begin :)
Never in her wildest dreams did she expect her wedding to be such a grand affair -- there was a time, she said, when the thought of getting married was a distant dream for her.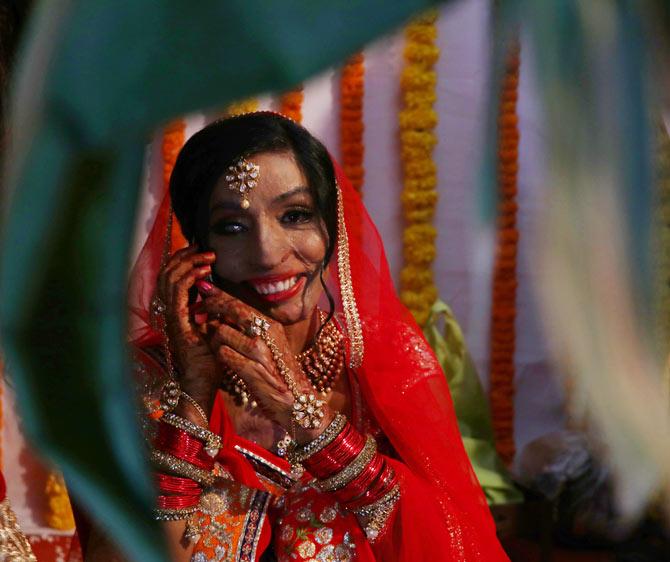 IMAGE: The bride takes a quick call from a well-wisher before the ceremony begins.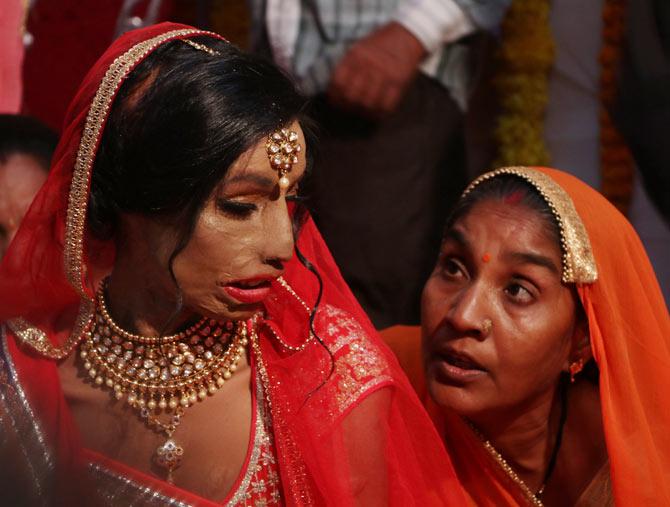 IMAGE: Her mother never left her side.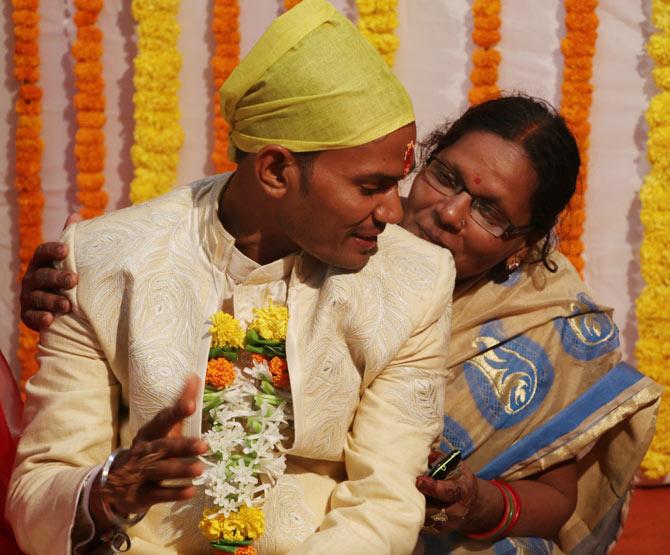 IMAGE: The groom shares a candid moment with his mother.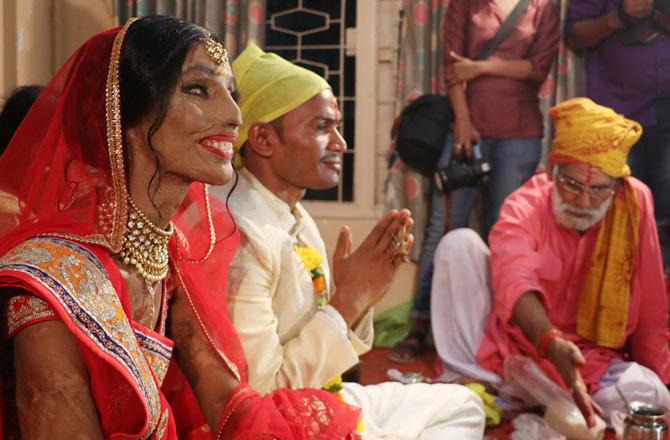 IMAGE: Lalita and Rahul take their positions at the mandap as the pandit begins the ceremony.
IMAGE: Rahul applies sindoor on Lalitha's forehead.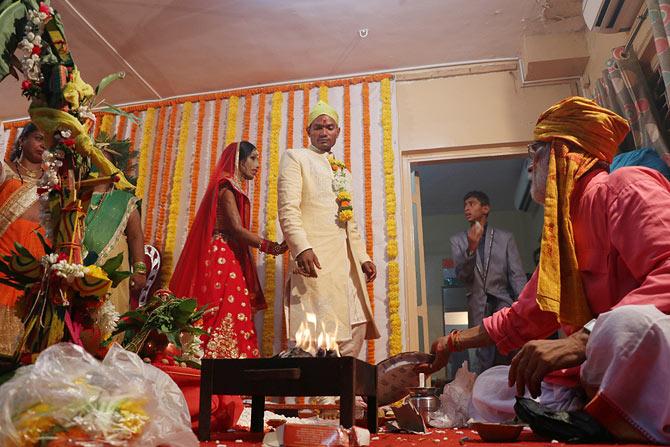 IMAGE: The pheras commence.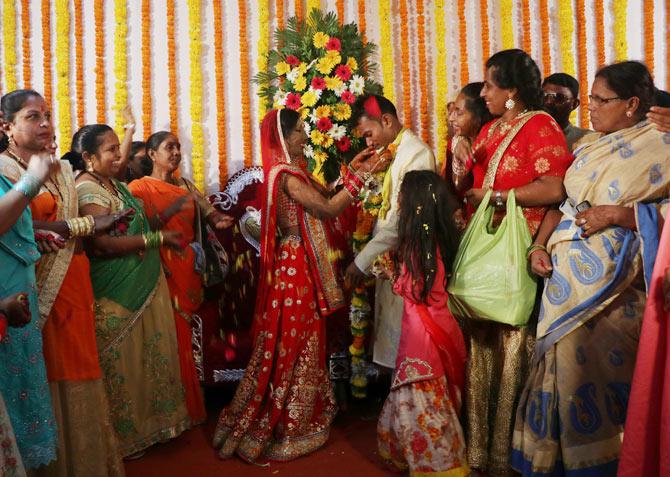 IMAGE: The crowd cheers as Lalita garlands Rahul.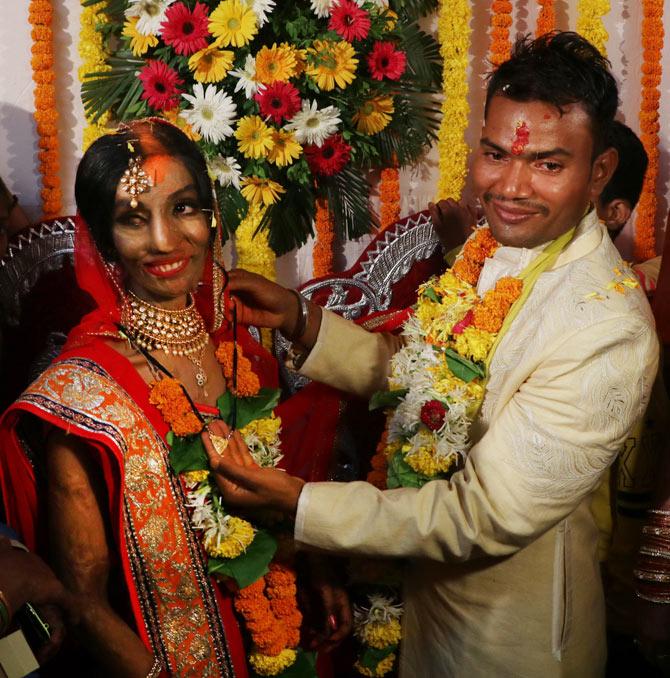 IMAGE: Rahul shows the mangalsutra which he tied around Lalita's neck.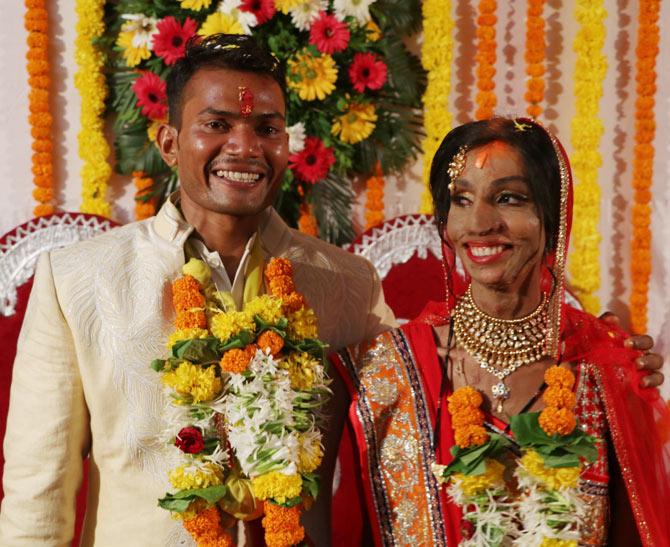 IMAGE: Meet the newly weds.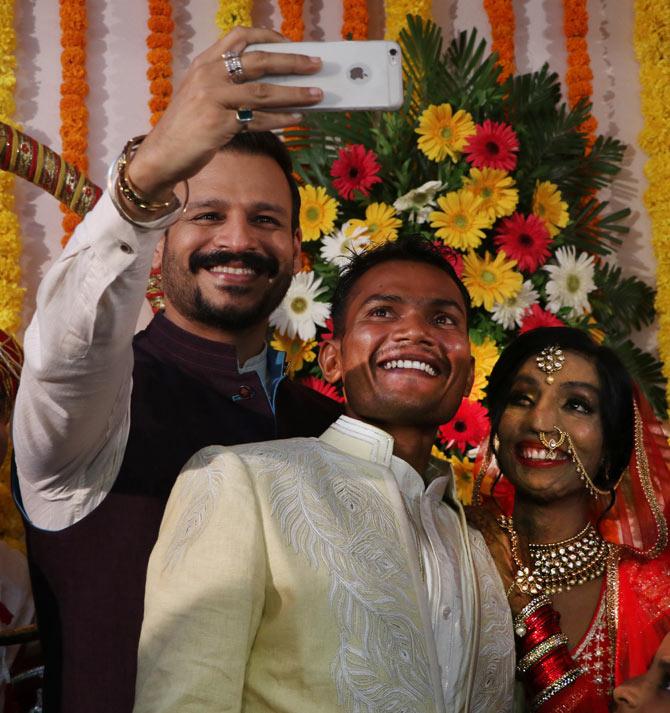 IMAGE: Bollywood actor Vivek Oberoi graced the wedding and generously gifted the couple a home.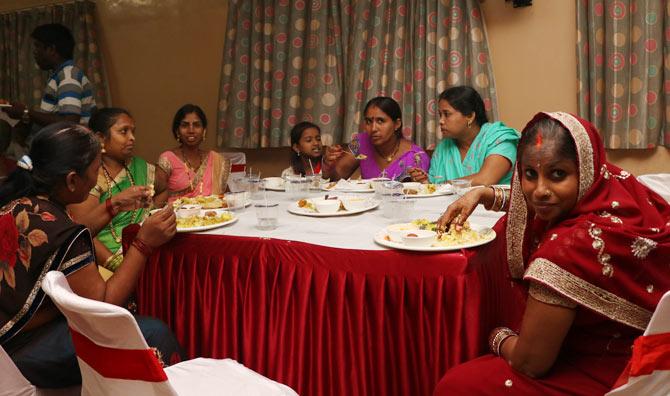 IMAGE: A wedding to remember! The guests enjoy the lavish spread.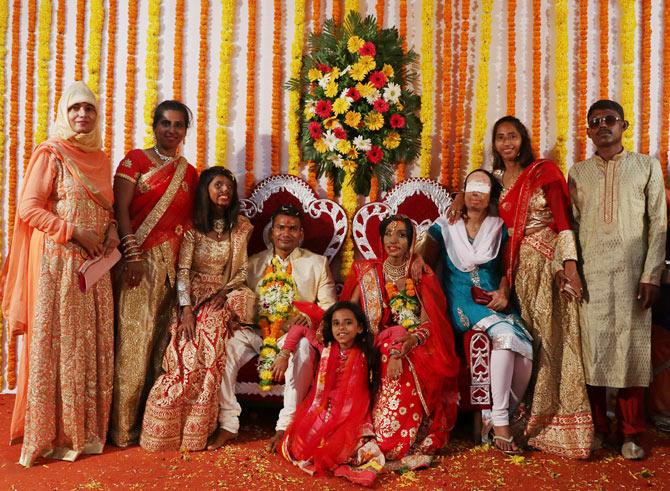 IMAGE: Rahul and Lalita with their extended family.
ASSF President Daulatbi Mohammad Hussain Khan, second from right, made sure that nothing went wrong on Lalita's special day.
From welcoming guests, answering calls, giving people directions, Daulatbi was by Lalita's side from time to time.
Each time Lalita spotted Daulatbi, she would ask, "Why are you not next to me? Where do you keep disappearing?"
And Daulatbi would say, "I'm right here with you."
It was an unfortunate day for Daulatbi; her home in Bandra, northwest Mumbai, was demolished.
But there was no way you'd figure that out from her smiling face.
"Right now my priority is the wedding. After this gets done, I will head home and find out what happened."