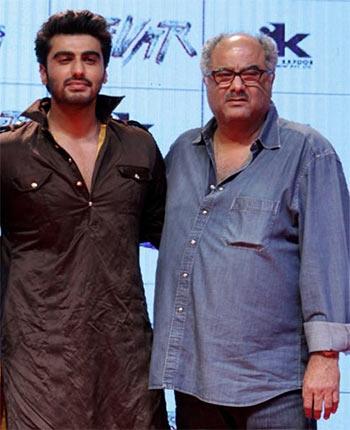 Film producer Boney Kapoor, who has worked with his actor son Arjun Kapoor for the first time with Tevar, reportedly broke down at the film's screening.

"Instead of giving his son a dream launch vehicle, Boney waited for him to make his mark in Bollywood first. He didn't want Arjun to be seen as another pampered star kid.

"It has been a long wait to do what any successful producer would have done without a thought," a close friend of the Kapoors, who was also present at the do, said.
Boney Kapoor had apparently resisted to watch any portions of Tevar before it was complete.

When he finally saw the film at the star studded screening, he was clearly overwhelmed with the end result.
"I'd been around when my brothers Anil and Sanjay (who makes his debut as a producer with Tevar) were launched. It wasn't so in Arjun's case.

"After working with him I can confidently say that I'm proud of my son. He has evolved as an actor and he doesn't need his father to produce films for him. There will be an even longer queue of producers at Arjun's doorstep after Tevar," an emotional Boney said.
If recent reports are to be believed, Boney is already planning another project with Arjun.

It could be a sequel to Tevar, depending on how big a blockbuster the home production turns out to be.

Image: Arjun and Boney Kapoor. Photograph: Pradeep Bandekar