'In today's time, everyone is distressed and we don't know with what mood a person will come to watch a movie.'
'So it is better to say whatever you want with humour.'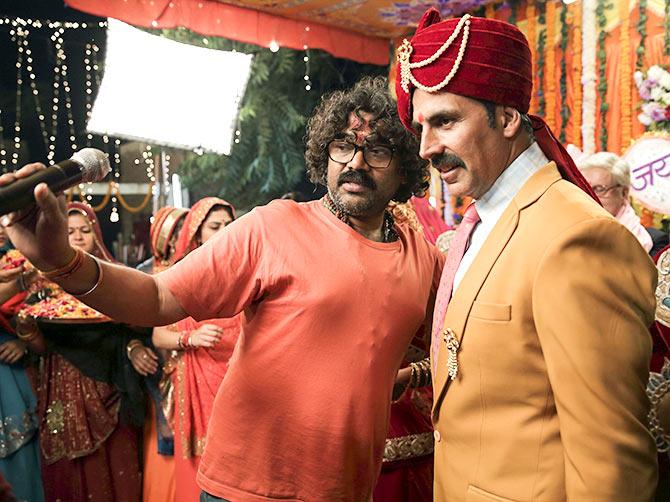 IMAGE: Akshay Kumar and Shree Narayan Singh discuss a scene on the sets of Toilet: Ek Prem Katha.
Directing a film is no mean feat.
But even after the movie is completed, there is still a lot of work to be done before a the film releases in theatres.
It's no different for Toilet: Ek Prem Katha Director Shree Narayan Singh.
"I have been running around since morning," Singh tells Rediff.com's Jahnavi Patel at his office in Andheri, north west Mumbai.
He has just returned from a meeting with the censors.
"I had not gone during the censor (ing of the film), so I wanted to meet them. Shakal dikhani thi, naya aadmi hoon, milna tha (I have to show my face to them, I'm new)," he says with a laugh.
He has several rudraksh malas around his neck and a tilak on his forehead. "I believe in God, he says. "Subah-sham puja toh karna hi hai, kuch bhi ho jaye (I have to pray morning and evening whatever happens)./p>
Tell us about yourself.
I come from Balrampur district in Uttar Pradesh.
During my graduation, I told my family that I didn't want to study.
I was average in studies so they thought I was tired of it.
I never went out. Meri duniya sirf school, ghar, tuition ye hi sab hota tha (my world was just school, back home and tuition).
My family thought I was bored, so they told me, 'jau kahin ghum ke aa jao (go travel and come back).'
My father asked what I wanted to do. I said I wanted to do something that no one in my family has done.
I told him I wanted to do something in this (movies) field.
So I came here (to Mumbai).
I was very interested in singing, and took admission in Sangeet Mahabharati (a leading music academy in Juju, north west Mumbai). My name was listed in the one-year waiting list.
During that time, I met Madan Kumarji, the director of Zee TV's then newly launched Parampara serial.
I had a very close attachment with him, and started assisting him on Parampara.
After his death, while doing Parampara, I started editing it as well.
Later, I met Deepti Navalji. She wanted an editor for one of her serials. (Director) Ashwini Dhir tested me and I passed.
That's how I edited Deeptiji's serial.
Then I met Mukul Anand and he had a lot of shows.
After a long time, I met Neerajji (Neeraj Pandey) and did one of his shows.
When Neerajji started A Wednesday, he called me.
I was working on the serial Mere Awaz Ko Roshni Mil Gayi and left that to work on A Wednesday.
I have edited and been an associate director of all his films since then.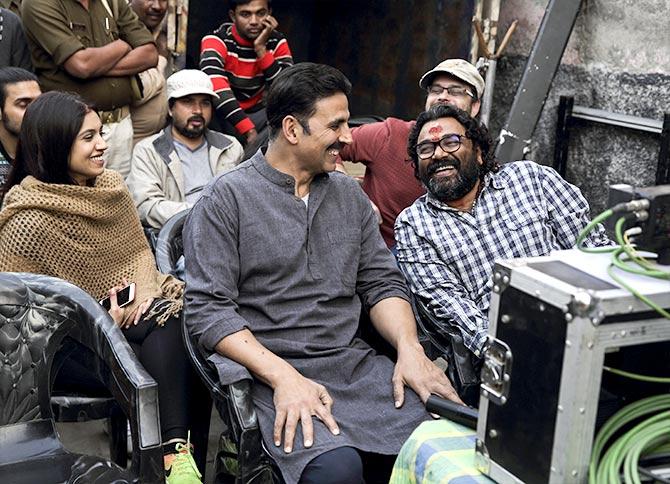 IMAGE: Bhumi Pednekar, Akshay Kumar and Shree Narayan Singh have a light moment on the sets of Toilet: Ek Prem Katha.
The title Toilet: Ek Prem Katha is very unusual. Who came up with that?
The title was first Sandaas: Ek Prem Katha. (Laughs)
It was right in the face.
We were having problems in registering the title (laughs continuously) so we changed the title to Toilet.
The story is around the toilet, but is a love story. The toilet is the conflict.
What was the inspiration behind the story?
My village is 5, 7 km from Balrampur.
Till a year ago, main agar aaj bhi jaata hu mujhe lota lekar bahar hi jaana padta hai (even if I have to go there today, I will have to defecate outside).
I love cleanliness, so even if I am going out in the open, I used to search for tidy places. That's why I used to go in the afternoons.
Neerajji introduced me to (writers) Garima (Wahal) and Siddharth (Singh) and asked me to listen to their ideas.
They told me two, three stories. When they narrated this (Toilet), I immediately connected to it.
I thought it needs to be told in our society.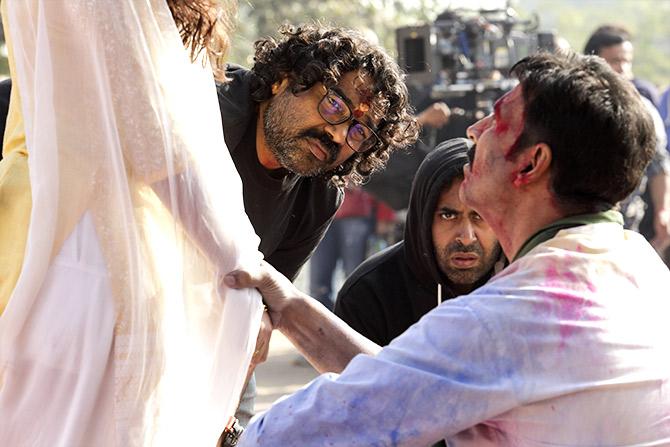 IMAGE: Akshay Kumar and Shree Narayan Singh discuss a scene on the sets of Toilet: Ek Prem Katha.
When a film with a social message is put across without being too preachy, do you think it connects more with people?
Yes, I think they listen to it more.
If you put your message across in a humorous way, kahin na kahin masti mazak mein hi unko samaj mein bhi aati hai, hit bhi karta hai aur bura bhi nahin lagta (thanks to the entertainment, people understand the issue, the film becomes a hit and no one feels bad).
In today's time, everyone is distressed and we don't know with what mood a person will come to watch a movie.
So it is better to say whatever you want with humour.
You directed your first film Yeh Jo Mohabbat Hai in 2012, but it didn't do well.
There are a lot of reasons for that.
Firstly, I was told to do the film four years before I actually did it. I had said no at that time because I didn't understand the story.
Then they changed the story and called another director.
After changing three directors, Ashim (Shakti Samanta's son who produced the film, as he was launching his son Aditya) said he would make the film himself.
I have a very close relationship with Shakti Films and Ashim Samanta.
He told me the story again at his elder son's wedding for which I was invited.
After listening to it, I told him it was still the same.
Aditya did not want to work with his father, and told me that he would do the film only if I made it.
Aadmi ko kitchen chalane ke liye bhi kuch karna padta hai (one has to do something to run his kitchen).
And I could not say no to him.
I tried to make as many changes as possible and shot the movie.
The boy was not serious. If the shoot was the next day, he would return from the US that day. So there was no preparation.
Ashimda was a little old school so to convince him wasn't easy.
Somehow, I was happy with the output. I don't have any complaints.
It released at the wrong time, with Jism.
The promotion started only a month before the film. The distribution was given to those who had done their earlier films.
They didn't know that today theatres are with the major studios. So we could not get shows of that film.
There were a lot of reasons; otherwise it wouldn't have been this bad.
I can proudly say that I made the film.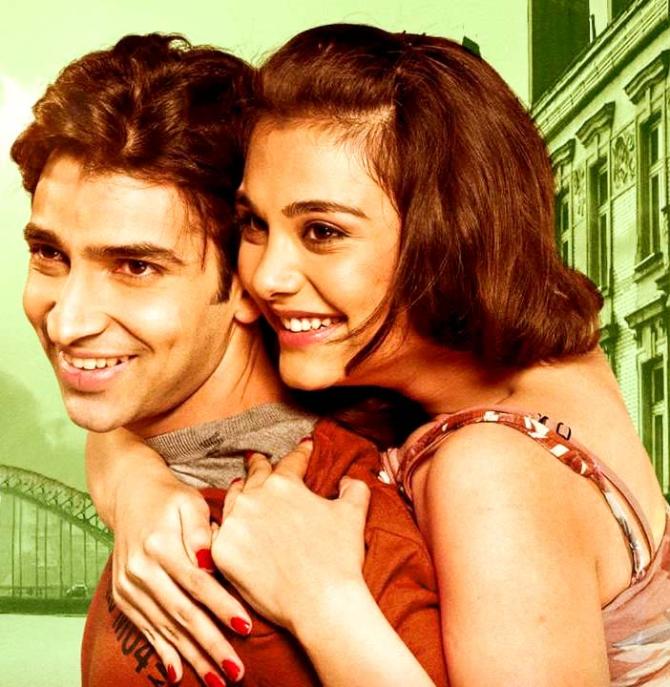 IMAGE: Aditya Samanta and Nazia Hussain in Yeh Jo Mohabbat Hai.
You have edited around 14 films. How much has being an editor influenced you as a director?
My guruji Madanji used to say that if a person doesn't know about editing and music, he can't be a director.
I got a lot of help because of editing. I shot only what was necessary.
Even if something goes wrong, I know how to improve on it.
Did you keep the Censor Board in mind while shooting it?
No. But at the back of my mind, there was always yeh mat karo, ultimately katne wale hai (don't do this, it will get cut)
Be it for Neerajji's films or this one, the editing is already done in my head on set.
Is there pressure in directing a big star?
Yes, a lot of pressure.
But I was lucky. Akshay sir was very cooperative and gave me a comfort level. I didn't feel like I was working with such a big.
I have done Baby and Special 26 with him, so that comfort level was there.
He calls me 'beta' and I call him Sir.
Did Akshay Kumar have his inputs for the film?
No, he did whatever he was told.
If he felt he could do something another way, he would do it.
If it looked good, we would keep it. If not, we would let it go.
He was very good and helpful. He would work 10 to 14 hours with me.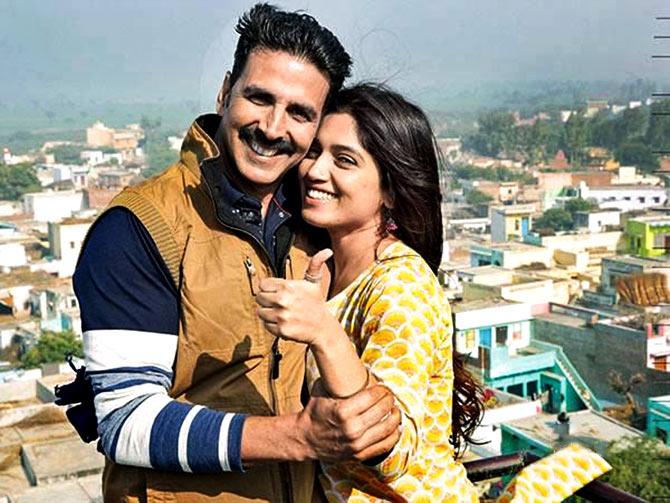 IMAGE: Akshay Kumar and Bhumi Pednekar in Toilet: Ek Prem Katha.
This is Bhumi Pednekar's second film. How did she come on board?
We wanted someone who we could show as Jaya.
We felt Bhumi would be best because she doesn't have any baggage.
She was completely different in Dum Laga Ke Haisha.
It would be easier to show her rather than anyone else as Jaya and convince people.
The pairing of Akshay sir and Bhumi was also good.
The film is tax free in Uttar Pradesh. Will making it tax free in other states also increase the footfalls?
Yes, definitely.
Today, if you go to watch a film in the theatre, you will spend a minimum of Rs 1,500 to Rs 2,000.
So now, three, four people can watch it in Rs 1,000. The reach will be more.
Why do you think movies aren't working at the box office any more?
The ticket prices are too high.
I can't expect an autorickshaw driver to buy tickets worth Rs 200, Rs 250, and watch with his entire family. Not too many single screens are left either.
How tough is it to become a director?
Very difficult.
I am here since 1991, and the struggle was there.
If there is passion, it's okay. Otherwise, it's better to stay away (from this job).
You never know. Today you have work, tomorrow you may not.
I am very choosy, but paisa bhi mangta hu thode bahut, koi deta hi nahi hai. Isme ghar ka kharcha bhi badi mushkil se chalta hai (If I ask for some money, nobody gives it. Home expenses run with great difficulty). (Smiles).
Everybody feels why is the editor getting so much money?
What does he do, sitting in the AC (room)? Why does he need so much money?
I have seen this happen.
If you want to survive in Mumbai with your wife and children, (a monthly expense of) Rs 1 lah to Rs 1.5 lakh is nothing if you don't have your own house.
I don't have my own house, I live in a rented apartment.
IMAGE: Akshay Kumar and Bhumi Pednekar at a promotional event. Photograph: Kind courtesy Akshay Kumar/Instagram
Do directors interfere with an editor's job?
I don't like interference.
I tell people that if you want to sit and do it, get an assistant and he will do it as you want him to. Why do you need me?
My take is to take the material and footage and do it my way.
When I am done with my work, I will show it. If there's anything, we can sit and discuss it.
If we feel you are right, we can change it.
Neerajji had given me that comfort level.
He would just ask how many days I would take and after everything was final, he would come and see it.