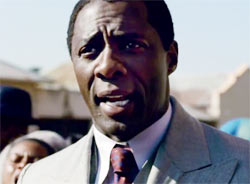 Mandela: Long Walk To Freedom is getting an emotional response in theatres. Rediff.com Arthur J Pais reports from New York City.

If you are eager to find out more about Nelson Mandela's incredible life, you may want to read his memoir, Long Walk to Freedom.

Or you may want to spend a couple of hours in a movie theatre watching Mandela : Long Walk to Freedom, a spirited (though slightly sluggish in places) biopic, which refuses to glorify Mandela.

South African producer Anant Singh had been trying to make the film for more than a decade but had not found enough funding till recently for the epic-scale film.

It follows Mandela's life from his childhood in a remote rural part of South Africa, through his years struggling against a system that created shantytowns for its majority black population, to his 27 years in prison and finally his election as the country's first black president in 1994.

Known for anti-apartheid films like Sarafina!, Singh took his inspiration for the Mandela film from Richard Attenborough's Gandhi.

"There is a lot in common between Gandhi and Mandela," Singh told me in an earlier interview. "Both resisted cruel white rule through non-violence. But Mandela's is a singular story. He never lost faith in his ideals and goal even when he was in prison for many years."

"This is finally a story of the triumph of the human spirit and should resonate with everyone who cherishes freedom and self-respect. There is a lot of tension, drama and triumphs in the film. It is never a dull history lesson."
The movie, which was initially to be directed by Shekhar Kapur, ended up in the hands of British director Justin Chadwik.
It is scripted by William Nicholson, who has Oscar nominations for Shadowlands and Gladiator.
At the Toronto International Film Festival, director Chadwick recalled how he shaped the film. "My instincts told me that I should concentrate the story on him as a man," he said.
"When I met his daughters and other people who were close to him and I discussed my approach to the film, all of them stressed: 'Yes, treat him like a man. Tell the story of him as a man.'."
Anant Singh, who has spent most of his six decades in South Africa, provided useful insights.
"Over the extensive period he (Singh) put this film together he formed deep and honest relationships with people who were involved in the anti-apartheid struggle," Chadwick said. "Anant sent me huge parcels of books and amazing imagery from this period."
"The Nelson Mandela Foundation has done a formidable job in cataloging that period of history and allowed me open access to it," the director added.
"I have viewed very shocking footage that has been broadcast, but also material that has never been seen, such as uncut interviews with Winnie (Mandela's former wife) and Madiba (Mandela's clan name)."
As a third generation Indian born in South Africa and classified as a 'non-white' citizen by the apartheid government, Anant Singh was part of the liberation struggle.
"Madiba was that icon for everyone in that struggle," Singh recalled. "When I started making movies, I believed that the story of this liberation was so profound, it had to be told."
Singh started his career in film production during the apartheid era. He brought the country's first anti-apartheid films (like Place of Weeping) to world audiences.
Ironically, he was prohibited from watching them in South Africa's segregated cinemas with a white director, he said.
Singh was introduced to Mandela by prominent anti-apartheid activist Fatima Meer, who wrote Mandela's biography, Higher than Hope, which was approved by Mandela when he was still in prison.
Six weeks after Mandela's triumphant release from prison, Singh had the most significant meeting of his life.
"Fatima invited me to her home and there sat Madiba! I had no idea he would be there," Singh, who spent an hour with Mandela at the very start of his freedom, recalled.
"What struck me was his humility, his knowledge of everything, and most notably his desire to know my point of view."
"He made everything so easy. Here you are with a person who you have been in awe of all your life, but you feel like you are talking to a friend. That was the day my relationship with him began."
Singh not only got Mandela's blessings for the film but also had a free hand in shaping it.
The movie will open in several cities in America and Canada this week and will play throughout the world very soon.
It had its British premiere in London on Thursday night just as news of Mandela's death reached the theatre.
The film opened to a good reception at the Toronto International Film Festival, creating an early Oscar buzz for the British actor Idris Elba who plays the older Mandela, and Naomi Harris who plays Mandela's controversial wife Winnie.
Mandela's death and the ensuing media coverage could draw more people to see the film.
Singh, who is also the distributor of the film in South Africa, says he visited a few cinemas over the weekend and experienced 'the emotional response to the film with audiences leaving the cinemas completely satisfied.'
'For me as a filmmaker, this is really fulfilling.'
The film cost an estimated $20 million, and earned about $500,000 in its first week in South Africa. It could end up with more than $5 million.
The film covers a much larger portion of Mandela's life than Invictus, the Clint Eastwood film that told the story of the newly elected leader's unconventional effort to heal South Africa's racial divide by backing the national rugby team led by a white man in 1995.
That film starred Morgan Freeman as Mandela and Matt Damon as the team captain. Made for about $35 million, it grossed a moderate $70 million worldwide.
In the photograph: Idris Elba as Nelson Mandela in Mandela: Long Walk To Freedom.