The young generation will find its own Mandela when they fight and struggle for a just society, says Tridip Suhrud, director, Sabarmati Ashram, Ahmedabad.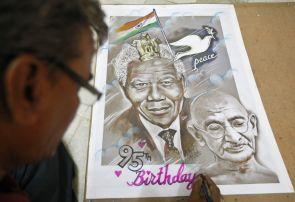 What is most touching about Nelson Mandela is that not only did he lead the struggle for freedom but he also created the State and the constitution on the basis of equality and freedom. He created the nation on the basis of his ideals.
Nelson Mandela will always remain relevant because the issue of equality and non-violence will remain relevant.
The question is not whether Mandela is relevant to India or not, but the question is, is peace relevant?
Is equality relevant?
Is justice relevant?
If these things are relevant, then whether it is Mandela or Gandhi or the Dalai Lama, they will come back to our lives.
Mandela's work may have been hampered, but our orientation should remain toward achieving his goals. It will happen tomorrow, if not today. The young generation will find its own Mandela when they fight and struggle for a just society.
I believe the idea of an equal society is always a work in progress. I don't think we should worry about how our young generation will look up to Mandela.
When they go through their own struggles and face issues of peace and equality they will find Mandela there, or they will find somebody else. But it will happen only when they go through struggles to find difficult answers.
Is violence a permanent state? Do we want to go through a violent stage?
Our society needs to sit down and think. South Africa took a very long time to think that they did not want a violent society. They wanted a certain kind of peaceful coexistence. They got it in a large measure.
We should not look for commonalities between Gandhiji and Mandela. They were two different leaders in two very different types of situations and confronted two very different structures. They responded to it with whatever political and physical resources they had within them.
Anybody who is struggling for non-violence will have deep faith in humanity, something Mandela and Gandhiji shared in abundance. Their life's message is that it is possible to change human hearts and it is possible to change deep and entrenched structures.
As told to Sheela Bhatt
Image: Artist Aejaz Saiyed works on a poster featuring Nelson Mandela and Mahatma Gandhi on Mandela's 95th birthday in Ahmedabad. Photograph: Amit Dave/Reuters