'She was a modern-day Tansen among the female classical vocalists of the country.'
Musicians and film folk pay rich tribute to Kishori Amonkar.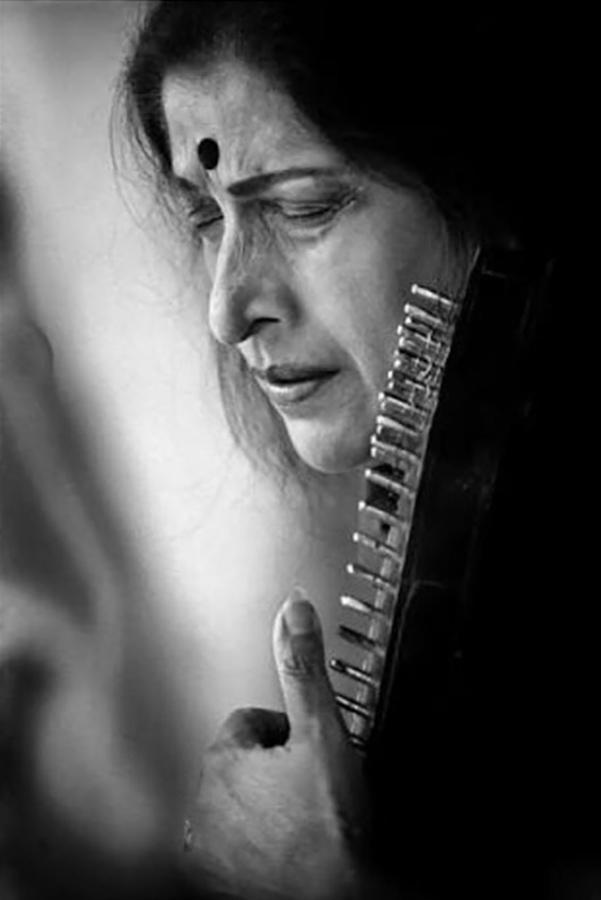 Legendary Hindustani classical vocalist Kishori Amonkar passed away into the ages on April 3, in Mumbai, after a brief illness.
Some musicians paid their final respects to her:
Ustad Amjad Ali Khan: "This is a great loss to the world of vocal music. Fortunately for us of the Sarod ghar, we honoured Moghubai Kurdikar and Kishori behn with our annual Haazif Ali Khan award.
"Her mother, who was also her guru, was the disciple of the legendary Alladiya Khan saab and the creator of the Jaipur Gharana. Kishoriji made classical vocal music interesting and appealing. She travelled all the way to Gwalior to receive our humble award.
"Kishoriji and I performed in many music festivals together. There was never a question of competitiveness or rivalry. I feel the loss personally. She was my elder sister. May her soul rest in peace."
Anoop Jalota: "She was a modern-day Tansen among the female classical vocalists of the country. The vacuum left by her loss can never be filled. The music world will remember Kishori Amonkarji forever.
"Two years ago, our Jalota Foundation awarded her the Purushottam Lal Jalota award. It was our honour and privilege."
Talat Aziz: "Another legendary classical doyen lost to the world of music! A great stalwart of the Jaipur Gharana, who charted her own course. Established her own stamp of singing infused with emotion in the rigid framework of the khayaal Gayaki and a true virtuoso. Her repertoire was grand in its sweep, including Khayal thumri bhajans and even film music. The world of classical music has lost an anmol ratan! May she rest in peace."
Prasoon Joshi: "I feel fortunate that I grew up listening to Kishoriji. Her Bageshwari aaj sahyo na jaye is unparalleled. It's an irreparable loss for the world of music. She was a pure genius, every rendition of hers is unique. In fact, I used to feel after her performance that you never listen to the same Kishoriji twice. She never repeated herself."
Some celebrities expressed grief on Twitter as well:
Lata Mangeshkar: 'Mujhe abhi abhi pata chala ki mahan shastriya gayika Kishori amonkar ji ka swargwas hua,ye sunke mujhe bahut dukh hua.Wo ek asaadharan gayika thi.Unke jaane se shastriya sangeet jagat ki bahut haani hui hai.Ishwar unki aatma ko shanti de.'
Shankar Mahadevan: 'The greatest KISHORI AMONKARJI is no more !! A very big loss for Indian Classical Music ! Her music will live on forever.'
Madhur Bhandarkar: 'Sad to know the demise of #kishoriAmonkar doyen of Indian classical singer, her music will remain immortal through her songs. #OmShanti.'
Salim Merchant: '#KishoriAmonkar ji has departed.. her music is immortal and will continue to influence generations. She is our Bharat Ratna! Will miss her.'
Shreya Ghosal: '#KishoriAmonkar ji no more. One of my biggest inspirations. Her voice and mellifluous gayaki has been a part of my life since childhood.'
Shabana Azmi: 'What a loss Hve been her ardent fan n consider myself fortunate 2 hve lived in a time I cud here Kishori Amonkar sing.'
Sonam Kapoor: '#rip #respect'
Vishal Dadlani: 'RIP the legendary #KishoriAmonkar ji. The world of music dims without her light.'
Shekhar Ravjiani: 'RIP #kishoriamonkar Ji ... Say hello to our Guruji #ustadniyazahmedkhan .. please tell him I miss him.'
Manoj Bajpayee: 'Shocked to hear the sudden demise of kishori amonkar ji.this void will be difficult to be filled up. RIP.'
Amjad Ali Khan: 'Deeply saddened to hear about the passing away of the great icon Smt. Kishori Amonkar. May her soul Rest in Peace #kishoriamonkar.'
Daler Mehendi: 'RIP #KishoriAmonkar ji... yet another jewel lost.'
Akriti Kakar: '#KishoriAmonkar tai ? Really ?? Someone please say it's all false ... all untrue.'
Ashutosh Gowariker: 'Been listening to your #RaagBhoop on repeat… RIP #KishoriAmonkar tai, you will stay in my heart forever!! Thank you for enriching my soul!'
Photograph: Shabana Azmi/Twitter