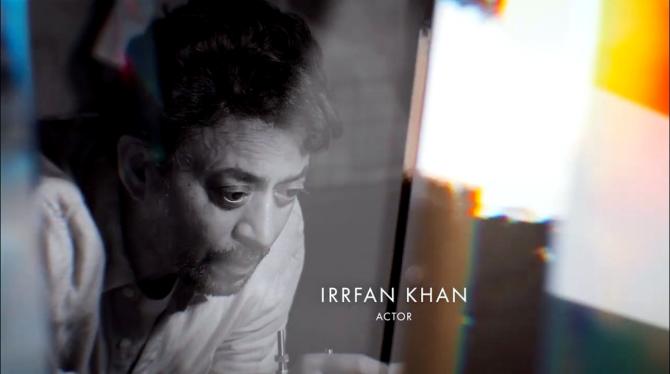 The 93rd Annual Academy Awards paid tributes to various artists across the globe, who passed away last year, for their significant contribution to the world of cinema.
In a special segment called In Memoriam, Irrfan Khan and Oscar-winning costume designer Bhanu Athiya were remembered alongside many Hollywood actors and filmmakers including Chadwick Boseman, Ian Holl, Sean Connery and Max von Sydow.
While Rishi Kapoor, Sushant Singh Rajput and Soumitra Chatterjee weren't shown in the In Memoriam video, they have found a mention on the official page of Oscars alongside other acting stalwarts.
Irrfan, who made his mark in Hollywood with films like Slumdog Millionaire, Life of Pi, The Namesake and a few others, lost his battle to cancer last year.
Freida Pinto, who worked with him in the Oscar-winning film Slumdog Millionaire, wrote on the official Oscar page, 'There was simply no one like Irrfan Khan. His grace and dignity along with his monumental talent as an artist, actor -- a portrayer of humanity in all it's shapes and forms -- made me not only have deep admiration for him but I instinctively wanted to emulate that grace in my career as well.'
She also mentioned six films of Irrfan which are closest to her heart: The Namesake, Paan Singh Tomar, The Lunchbox, Maqbool, The Warrior and Slumdog Millionaire.
Bhanu Athiya was the first Indian to win an Oscar award in 1982 for the film, Gandhi. She won the coveted trophy for Best Costume Design.
Athiya worked in over 100 films before she died at the age of 91 last year.
'How can I win over Glenn Close?'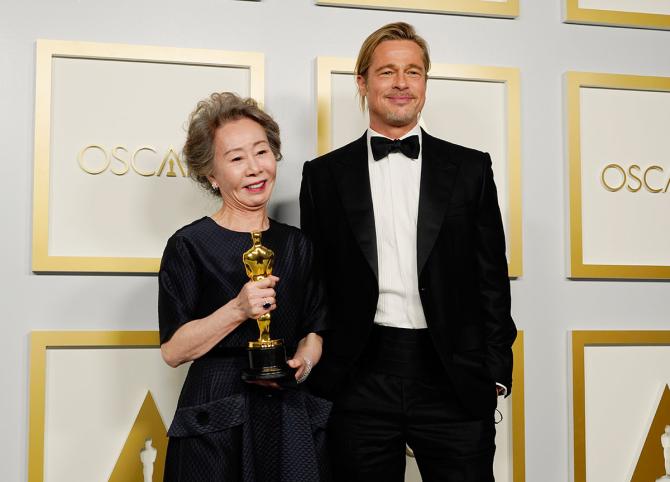 Veteran South Korean star Yuh-Jung Youn, 73, became the first South Korean actor to win the Best Supporting Actress Oscar for Minari, after Sayonara (1957).
In true Oscar tradition, Youn was presented her Best Supporting trophy by last year's Best Supporting Actor winner, Brad Pitt.
Pitt is also one of the producers of Minari.
Youn joked about people mispronouncing her name.
'You are all forgiven,' she said.
Youn thanked her Minari family and fellow nominees in her speech.
'Me being here by myself? This I can't believe,' a surprised Youn said.
'I don't believe in competition. How can I win over Glenn Close? I've been watching so many of her performances. I have a little bit of luck, I think. I'm luckier than you. Or maybe it's the American hospitality for the Korean actor, I'm not sure.'
The actor thanked her two sons 'who made me go out and work. This is the result, because mommy worked so hard.'
Youn teased Pitt, who announced her award, for not visiting the Minari set in Oklahoma.
'Nice to meet you,' she said, later taking his arm as she walked offstage.
She was nominated alongside Amanda Seyfried for Mank, Maria Bakalova for Borat Subsequent Moviefilm, Glenn Close for Hillbilly Elegy and Olivia Colman for The Father.
Youn's win comes a year after director Bon Joon Ho's film Parasite became the first South Korean film to win the Best Film award besides other accolades.
'I'd like to thank my mom. You gave me everything'
Daniel Kaluuya won the Best Supporting Actor award for his role as Black Panther activist Fred Hampton in Judas and the Black Messiah.
The actor was a front-runner in the category where he was nominated alongside his Judas... co-star LaKeith Stanfield.
Kaluuya played Chicago Black Panther activist Fred Hampton, who was killed in an FBI raid in 1969.
'I'd like to thank my mom. You gave me everything. You gave me your factory settings. So I could stand at my fullest height,' the actor said while accepting his award.
Directed by Shaka King, the Warner Bros movie is inspired by true events in the late 1960s that were one of the most tumultuous and pivotal periods in American history.
Hampton was 21 when he was assassinated during a coordinated raid by a tactical unit with orders from the FBI and the Chicago Police Department.
This is the first Academy award for Kaluuya, who is best known for movies such as Get Out, Black Panther and Queen & Slim.
'I have always found goodness in the people I've met everywhere I went in the world'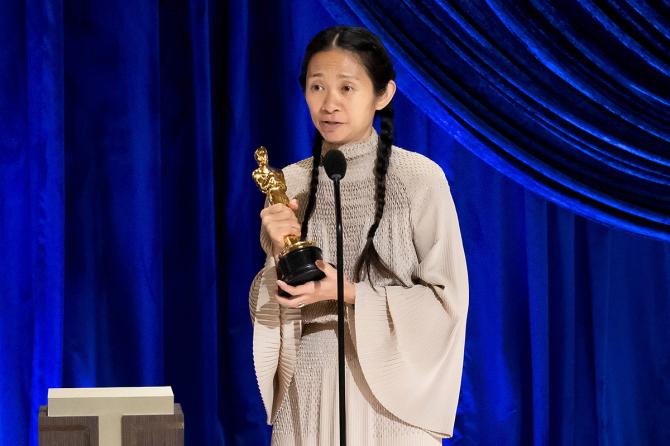 Filmmaker Chloe Zhao has scripted history at the 93rd Academy Awards.
The Nomadland filmmaker is the first woman of colour and only the second woman in the Academy Award's history to win the Best Directing Oscar.
Kathryn Bigelow was the first woman to win Best Director in 2009 for her film The Hurt Locker.
'I have always found goodness in the people I've met everywhere I went in the world. This is for anyone who has the faith and the courage to hold on to the goodness in themselves, and to hold on to the goodness in each other,' the director said after her win.
Zhao also spoke about her faith in humanity.
It is only the third film for Zhao, 39.
She was a clear favourite in the category, which has nominees such as Emerald Fennell for Promising Young Woman, Lee Isaac Chung for Minari, Thomas Vinterberg for Another Round and David Fincher for Mank.
Based on Jessica Bruder's book of the same name, Nomadland stars Frances McDormand as Fern, a woman who, after the economic collapse of her company town in rural Nevada, packs her van and sets off on the road to explore a life outside of conventional society as a modern-day nomad.
The filmmaker, who moved to the US when she was a teenager, started her journey as a director with 2015 movie Songs My Brothers Taught Me.
However, it was her second movie, The Rider, that brought critical-acclaim and global attention to her.
Frances McDormand's message during the pandemic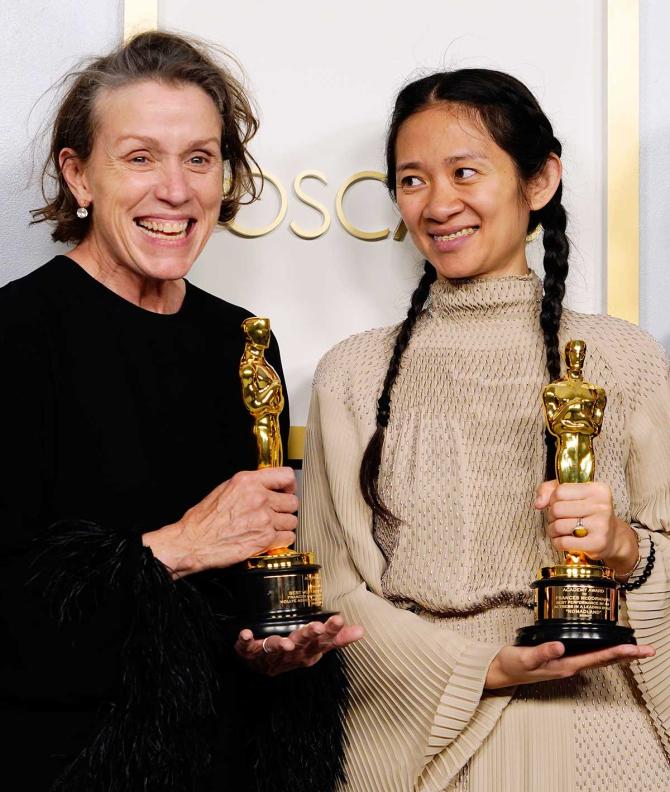 Meanwhile, Frances McDormand won the Best Actress trophy for Nomadland, her third in the category after Fargo and Three Billboards Outside Ebbing, Missouri.
MDormand struck a chord with her speech in a year that has seen theatres remain shut as people across the globe struggled with the coronavirus pandemic.
'One day very, very soon, take everyone you know into a theatre, shoulder to shoulder, in that dark space, and watch every film that's represented here tonight,' McDormand, who has also produced the film with Zhao, said in her speech.
Anthony Hopkins, not Chadwick Boseman, wins Best Actor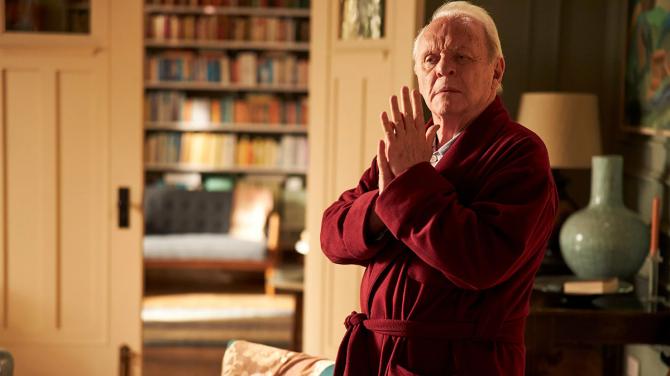 Anthony Hopkins won the Best Actor award at the 93rd Academy Awards for his role in The Father.
It was a surprise win for the actor as many expected the Academy to honour late star Chadwick Boseman for his performance in Ma Rainey's Black Bottom.
In the last few weeks, Riz Ahmed had also emerged as a challenger for his performance in Sound of Metal.
Boseman died in 2020 after a secret four-year battle with colon cancer.
Other nominees in the category were Gary Oldman and Steven Yeun.
It is the second Academy award for the 83-year-old actor after his widely loved turn as serial killer Hannibal Lector in 1991 movie The Silence of the Lambs.
Hopkins had earned nominations in the past for his roles in The Remains of the Day and Nixon and as a Best Supporting Actor for The Two Popes and Amistad.
Directed and co-written by Florian Zeller, The Father, is adapted from his own critically acclaimed play Le Pere (The Father), which takes a raw and unflinching look at dementia, examining how the lines between reality and delusion blur as the disease takes over.
It revolves around an ageing man, Anthony (Hopkins) who battles his own diminishing mind.
When his caring daughter (Olivia Colman) is forced to choose between the ailing parent and moving to Paris with her new found love, the duo's bond is put to the ultimate test.
The film also features actors Mark Gatiss and Imogen Poots.